San Diego Says Good Bye to an Icon, the Reuben E Lee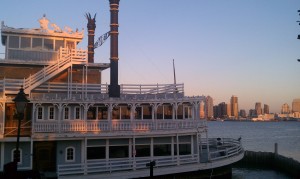 I was so fortunate to be there on Monday, April 23rd, 2012 the day that the Reuben E Lee was hauled away after 40 years of being docked on Harbor Island.  The Reuben E Lee is an iconic restaurant which was well ingrained in San Diego's dining history.  I bet every San Diegan born before 1990 spent some time aboard the Reuben E Lee.  I can remember it being the obvious choice for a family get together or birthday celebration.
The Reuben E Lee was built to resemble a Mississippi river boat back in 1969.  Contrary to popular belief, it wasn't a boat but a building built on a barge.  It closed down in 2003.  Over the past several years it became decrepit, unstable and unsafe.  The decision was made to disassemble it.
On the upside, it left a great view of the San Diego skyline.  This view will not go to waste; the plan is to build another great Cohn & Deborah Scott restaurant (I hear she's going Mexican).  The San Diego culinary scene says good-bye to an old friend, but welcomes a revived and fresh new dining establishment you know will impress!  The plan is to make this end of Harbor Island a dining complex.  It is about time San Diego builds good restaurants along the water.  Having lived in San Diego and San Francisco I see the potential San Diego has for dining along the water.  I have a feeling we are entering into a new and promising era in San Diego dining.
Below is the only video you will ever see of its fateful departure. Enjoy!