Perfect Pairings: Wine and Oysters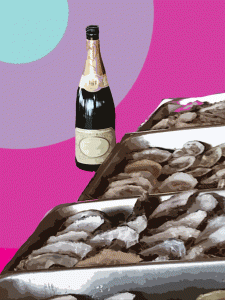 There is nothing better than sitting in a restaurant with a tray of oysters and a glass of white wine.  White wine and oysters is a classic pairing, unfortunately, so many people are turned off by oysters.  I just don't get it.  Maybe because I love wine so  much, it makes sense that I love oysters too.  If you remember seeing my posts of top kid friendly restaurants, they all served oysters.
An oyster is just like a grape.  An oyster is harvested in appellations, with the right growing conditions and over time produces sugars which give it body.  An oyster's flavor is influenced by its "terroir" or body of water.  Like wine, depending on the species of oyster, where it grows, how long it grows and when harvested will affect its flavor and texture.
Before we begin to pair wine and oysters we will need to have a better understanding of the different types of oysters.  In the US we consume mostly Pacific and Eastern oysters. Two other popular oysters are Kumamotos and now the up and coming cold water oysters from Baja's Rio Negro.
Pacific oysters are not native to North America, but brought here by the Japanese.  These are grown all along the western coast line of the US and Canada.  Pacific oysters are harvested in farms on trays, bags or lines.  These farming practices contribute to their curled shells and deep cups.  Pacific oysters are usually a younger species and their size a bit smaller than Eastern oysters.  In general their meats are meatier and crisper than those from the East coast.  These oysters spawn when the water gets warmer during the months of June and September.  The best time to consume would be between October and June.
By contrast, Eastern oysters are an older species and grow along the Canadian eastern coast all the way down into the Gulf of Mexico.  These oysters are indigenous to North America which is why we see more wild oysters.  However, in recent years more and more people are farming Eastern oysters.  Their shells are larger and flatter.  The reason being that many grow on the beach bottoms which allows the oyster's shell to spread out.  Their meat is smoother and fattier than Pacific oysters.  Since many Eastern oysters grow on beaches, the tides will have a huge effect on the age of the oysters.  The oysters that get washed out might be older when harvested than the oysters that are washed in.
Since Eastern oysters grow in different waters, the ideal time of consumption will vary according to where they come from.  Oysters from the Gulf of Mexico are best between October and April.  The oysters from the US mid-Atlantic are best between September and April.  Oysters from the Northeastern Atlantic are best between June and March.
Kumamotos are a smaller species of oyster and have deep cups.  They grow very slowly.  Where other oysters might be ready after 9 months to two years, Kumamotos take any where between 2 and 4 years to mature.  When they do, their meat has more sugar which makes these small gems sweeter.  While many oysters might develop more flavor with age, Kumamotos loose flavor and become fleshy and washed out.
Did you know that oysters were cellared?  Malpeques were harvested in November and cellared under wet hay for consumption in March.
Pairing Wine and Oysters
The two things you will need to consider when pairing wine and oysters are the body of the oyster and wine and the sweetness or saltines of the two.  Body is important in that one does not over power the other.  We try to match the oysters fleshiness with the wine's weight.  Both have levels of sugar which give them fruitiness and sweetness.  While oysters are salty, and some wines might have a salty character, we are matching the acid of the wine to the saltiness of the oyster.
Marin Miyagi (3-4″) are grown in the Tamales Bay in California.  They are grown in bags which gives them a rounded and deep cup.  Their meats are plump and sweet with flavors of melons.  Although they are plump they are still delicate so I chose a light bodied wine, Sancerre or New Zealand Sauvignon Blanc.  Sauvignon Blanc has a citrus flavor and can also taste of melons.  A Sancerre's acidity is about the same volume as the oysters salinity and makes for a great pairing.  The best part is that the Marin Miyagi comes from a non-spawning seed and is available year round.
Fanny Bay (2.5-4″) come from the Baynes Sound in Vancouver.  They are harvested using suspension and then transferred to intertidal area causing these oysters to have a unique shape of flaring ridges.  They are sweet, fleshy and fruity.  Try these oysters with a glass of Vermentino, a white from Tuscany.  It is fruity, light and shows bright acidity.  The body of the Vermentino matches perfectly with the weight of the oyster.  Both have a similar volume level and make for a great pairing.
Paradise (2.5-3.5″) is another Pacific Oyster that is available in the summer months.  It is farmed in the deep extremely cold waters of Baynes Sound in Vancouver Island.  These oysters are briny and have plump meat with a delicate sweetness.   I paired these with Chardonnay, not just any Chardonnay, but Chablis.  Chablis has the perfect body for this pairing because it is lean and will not overpower like other fuller bodied Chardonnays from the Beaune, Maconnaise or California.  The chalky mineral character of Chablis is an excellent match to the oysters' briny character.
Crystal Point (2.5-3.5″) come from the Hood Canal in the Puget Sound.  It is one of the only glacier fjord in North America.  These oysters are deep cupped and are very rich.  They have a delicate cucumber flavor.  A perfect match is Sake.   Be careful in your Sake choice.  I recommend a Junmai Daiginjo or a Junmai ginjo.  A clean, lighter sake with less alcohol.  Stay away from sweet Nigori Sakes and alcoholic Honjozu Sakes.  These Sakes mask that delicious cucumber flavor.
Kumamotos (2-2.5″) originally came from the island of Kyushi in Japan.  Today they are farmed in the Humboldt bay of Northern California.  These are the smallest of oysters and pack a sweet salty punch.  These oysters take anywhere between 2-4 years to mature, however, unlike other oysters, the older they get they begin to lose flavor.  This reminds me of Albariño.  You do not want to drink aged Albariño, it just doesn't get better with time.  However, you definitely need to drink Albariño with Kumamotos.  The sweet fruitiness of Albariño matches perfectly with these oysters.  But even more interesting is that Albariño has a salty character which also makes this a perfect pairing.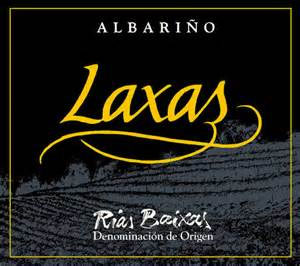 Beausoliel (2-2.5″) come from New Brunswick Canada.  This Eastern Oyster is firm and flavorful and holds a lot of liquid.  It has a salty flavor which I think works excellently with Blanc de Blanc Champagne.  This Champagne made with 100% Chardonnay is airy, light, creamy with bright acidity.  It gives this oyster lift and allows the oysters texture to come through.
Eastern (2.5-3.5″) are harvested in the Chesapeake area as far north as the Long Island Sound.  The  most famous oyster was the Blue Point oyster which grew wild in the waters of Long Island Sound.  Over time people began harvesting other types of oysters throughout this region and passing them as Blue Points.  Today these oysters are known as Eastern.  They are briny and meaty with plump meats.  That being said their meat melts in your mouth.  The wine I chose is a classic oyster wine, Muscadet from the Loire made with Melon de Bourgogne.  These wines are light bodied and have a salty sea shell mineral flavor.  Best of all they have intense acidity which cuts through the plump oyster meat.
Malpeque
(2.5-3″) are a great summer oysters which grow in the cold waters of the Malpeque Bay in Prince Edward Island.  The pristine waters of these islands along the east coast are free of pollution and attribute to the clean extremely salty flavors.  Malpeques are always easy to distinguish from other oyster because of their smooth pearl-like inside shell and long thin shape.  One of my favorite pairings is Brut Champagne with french fries.  Brut Champagne pairs excellently with salty foods.  When we drink Champagne with Malpeques the salty oyster causes the Champagne to gain sweetness.  Absolutely delicious.
Carlsbad Luna
(2-2.5″) are Pacific Oysters which are similar in size to Kumamotos.  These oysters are harvested on long lines in Southern California and have deep cups.  They have a crisp flavor of melon, mineral and slightly salty.  I look for a low intensity white that will not overpower these delicate oysters such as a dry Chenin Blanc from Vouvray in the Loire.  These oysters will benefit from the wines complimentary flavors of peach, melon and steel wool.  A demi-sec might be too sweet and it's flavor overpower the Carlsbad oyster, I recommend a Vouvray sec.
Kumiai (3-4″) are west coast oysters in Baja California in the waters of the Guerrero Negro Lagoon.  They are harvested in bags and racks.  They are large oysters due to the high phytoplankton production that surfaces from the bottom of the lagoon.  These oysters are plump, salty and sweet.  A complex oyster needs a complex white.  I recommend a dry Riesling either from Alsace or a dry Spätlese from the Mosel.  The Riesling has high acidity, petrol notes and when fermented dry will allow the oysters sweetness to come through.
Referrences:
Oyster information & profiles DeCarlo Seafood Co.
Bluepoint Oysterguide.com 
Oyster profiles Santa Monica Seafood
Oyster Pictures http://www.smshellfish.com/oysters.html
Crystal Point images LA and OC foodventures