I thought I knew Aussie wine. I knew that it wasn't only that wine with a yellow Aboriginal drawing of a kangaroo and boomerang. Isn't it high quality Shiraz/Cab blends from Barossa Valley?  The wines are big fruit bombs, right?  Or maybe austere Clare Valley Rieslings. They are light, fresh, petrol and lime driven, right?  My perception of Australian wine was turned upside down after the James Busby Travel trip I took in October. I felt like Doctor Strange entering Kamar-Taj for the first time. What I thought I knew slapped me on the palate and turned my olfactory bulb inside out. Here is what Australian wine is all about!
Cool Climate Terroir
Bill Downing makes some of the best wines in Australia.  His wines are all about terroir, wines made in the vineyard.  Most of his fruit is sourced from specific bio-dynamic growers.  His approach to making wine is not making it, but letting it become what it intended to be.  It is a hands-off approach resulting in unique mind-blowing wines.  Bill believes terroir is much more than just growing grapes in a particular soil type, but it is about the people, the climate, the animals and plants in that place which influence the wines.Winemakers in the Mornington Pennisula struggle with cool wet weather. Pinot Noir does extremely well.  With a minimal approach, whole berry and cluster ferments, they make wines that are aromatic and elegant. Story and Garagiste Vineyards source grapes throughout the Mornington and the Grampians.  Best part of cool climates is the ability to make sparkling wine. And I am not talking about Sparkling Shiraz, but proper method Champenoise with Pinot and Chardonnay.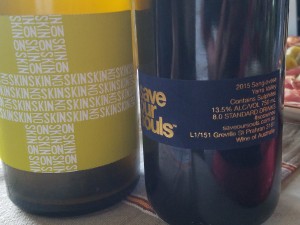 The Yarra Valley
The Yarra is located in Victoria and divided into the lower Yarra and the upper Yarra.  The region was once planted with grapes to make sparkling wines, today we find some of the best Chardonnay and Pinot Noir can be found here.  Yarra Chardonnay is unique and coming into its own. Tim Wildman gave 12 reasons why Yarra Chardonnay stands out: cooler sites, early picking, better clones, hand harvesting, whole bunch press, smaller ferments, old oak to mature, larger oak formats, no batonage, do not force malo, use of screw caps, sulfites are set in vineyard and natural winemakers are looking for textural Chardonnay.  The Yarra is home to some of the best wines in Australia, DeBotoli, Luc Lambert, Gembrook, Mac Forbes, Giant Steps, Yarra Yering and many more.
High Quality Dessert Wines
The first wines made in Australia were ports. The tradition goes back almost 200 years. As modern wine-making techniques began to develop, more and more wineries began creating dry still wines. Today there are a handful of wineries still focusing on their family traditions. Many of these are in the Rutherglen and Barossa Valley.  Muscat is the grape most commonly used. Wineries such as All Saints, Campbell's and Seppeltsfield pride themselves on fortified dessert wines of high quality.  Today, some young winemakers are looking back and experimenting with fortified wines with a natural twist.
Old Vines
Old vines is a loose term. In some places it can be a 10 to 20 year old vine. California may have 50 year old vines. France might have some 70 so years old. Both of these regions were devastated with phylloxera. Australia has been phylloxera free due to it's isolation from the rest of the world and sandy soils. Some areas like the Yarra Valley are under threat, phylloxera has started showing up. However, in places such as the Barossa. McLaren Vale and Grampians there wines being produces from vines which were planted on the 1840′-60's.  This old plant material produces very little juice, but the little it does produce is heavenly. If California calls wines from vines planted in the 80's old vines, then Australia should call them ancient vines. Stand out wineries producing old vine wines are Tahbilk, Darenberg, Best's, Langmeil, Cirillo, Penfold's and Yangarra.
Bio-dynamics & Natural Wine Movement
If there is one thing that stood out for me in Australia was to see how far ahead the Aussies are in regards of organic viticulture and natural wine-making.  You may have experienced natural wines from different regions in the world, but what many forget is that in order for a natural wine to succeed in the glass, its process needs to begin in the vineyard. Most of the young winemakers in Australia have embraced this concept. Their wines are not faulty, but fresh and bursting with acidity. Winemakers from all over Australia are fed up with flabby fruit juice called wines and are in search of structure. The Adelaide Hills are filled with garage winemakers producing some of the best Pinot Noirs on the planet. Their hands off approach to wine-making is best seen in their big reds, where the alcohol and fruit does not over power the pristine acidity and ripe fruit.
Sacredness
Lastly, there are few regions in the world which make wine from sacred sites. We can say that the vineyards of La Tache or DRC in Burgundy are sacred since they were once owned by the church. We might throw Elqui in the high desert in Chile as being sacred, however I haven't had wines from there that taste sacred. I came across one of the most interesting vineyards in the world, the Bindi vineyard in the Macedon ranges on the slopes of Mt. Gisborne in Victoria. Upon our arrival to the winery there were herds of kangaroos chilling and watching us approach as if they were guarding their sacred land. The soils are composed of quartz and rocky earth. There was a sense of serenity in the vineyard. At dinner our group bonded when we discussed what brought us into the world of wine. This sharing was magical. But to top it off the wines were outstanding. We tasted Chardonnay and Pinot Noir from 1991 to 2015, and each wine was divine.  This has got to be one of the most memorable tastings of my life.
To learn more about my journey in Australia visit THE BUSBY TRAVEL JOURNAL.