PRIME CRU WINE CLUB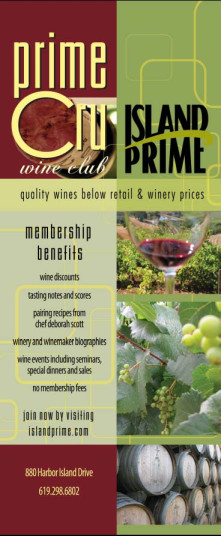 What is Prime Cru?  Welcome to Prime Cru, a wine club for everyone.  For some, wine is enjoyed on special occasions, for others it is a daily pleasure, and there are those who focus on enriching their collections.  Prime Cru is the wine club to satisfy all types of wine lovers.   Our intention is for members to receive the best wine for the best price, while maintaining a prominent quality to value ratio.
How does it work?  To join the wine club, simply fill out the Prime Cru questionnaire below.  This questionnaire will register you to receive periodic newsletters which will include the latest deals with tasting notes and winery and winemaker tidbits.  The wine specials featured on the newsletter are available in limited quantities and will be sold on a first come first served basis.  Once you decide to buy a wine you can send in the order form or contact our wine sleuth, Maurice DiMarino at maurice@islandprime.com.  You will have two weeks to pick up your wine at Island Prime, after that it will be released for sale to another wine club member.
What are the Prime Cru member benefits? 
Receive our periodic newsletter with discounts on wine below winery and retail prices.
All wines are listed well below winery prices and normal retail.
Be the first to hear about upcoming events such as wine dinners, wine seminars and our notorious wine sales.
Receive an extra 10% off your wine when purchasing 12 or more bottles.  Mix and match!
No corkage fee on bottles purchased through the wine club when dining at Island Prime.
Best of all, it is free…NO MEMBERSHIP FEES!