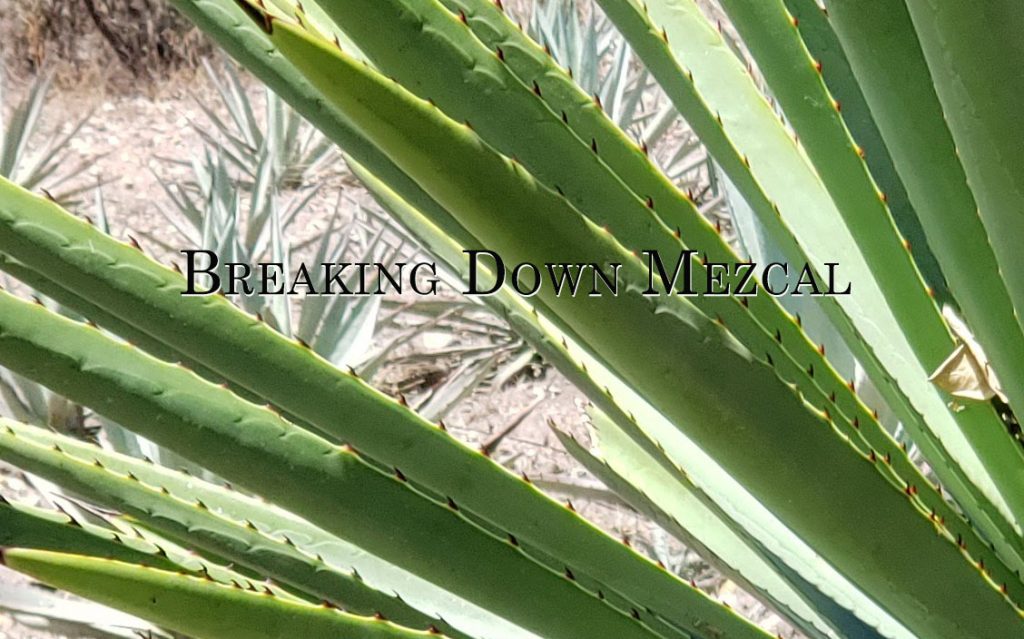 I was recently asked by my friends Javier & Jaime Mateo, owners of Los Javis Mezcal to write tasting notes for the release of their new "silvestre" (wild) mezcals.  I was excited to taste the new expressions; but more so, honored beyond belief that they would ask me to write the notes for their new bottles.  One evening I sat at my dining room table and poured out the mezcals. My approach to this was a bit different.  I decided to close my eyes and smell them first. I immediately wrote down where I imagine myself to be. Each mezcal took me to a different place. I then dove in and tasted the mezcals and jotted down a bunch of note in a stream of conscious manner.
Before I get into my notes, lets look at the process Los Javis uses to make their mezcals.  Javier Mateo Sr. is married to Gloria who was born in a different village. Being that they have families in two villages, they have access to more agaves.  Oaxaca is communal and agaves are only shared with those that belong to that community. Their humble distillery ins Santiago Matatlan, Oaxaca produces mezcal in the artesenal way. They cook their agaves in stone pit on top pf stones fired by a fire from white oak and mesquite. Most pits are covered with banana or palm leaves, theirs are covered with potato sacks and dirt allowing the agaves to breathe. The cooked agaves are crushed via stone wheel powered by a mule, known as a tahona.  The juice is fermented in wooden fermenters via the use of native yeasts. They use 5 direct fired small Alembic copper pot stills to distill. The purpose of distilling in small batches Javier says, "it's like making beans, the smaller the batch the more flavorful the beans taste".  Everything is hand bottled and hand labeled. See the gallery at the end of this post for a look at their process.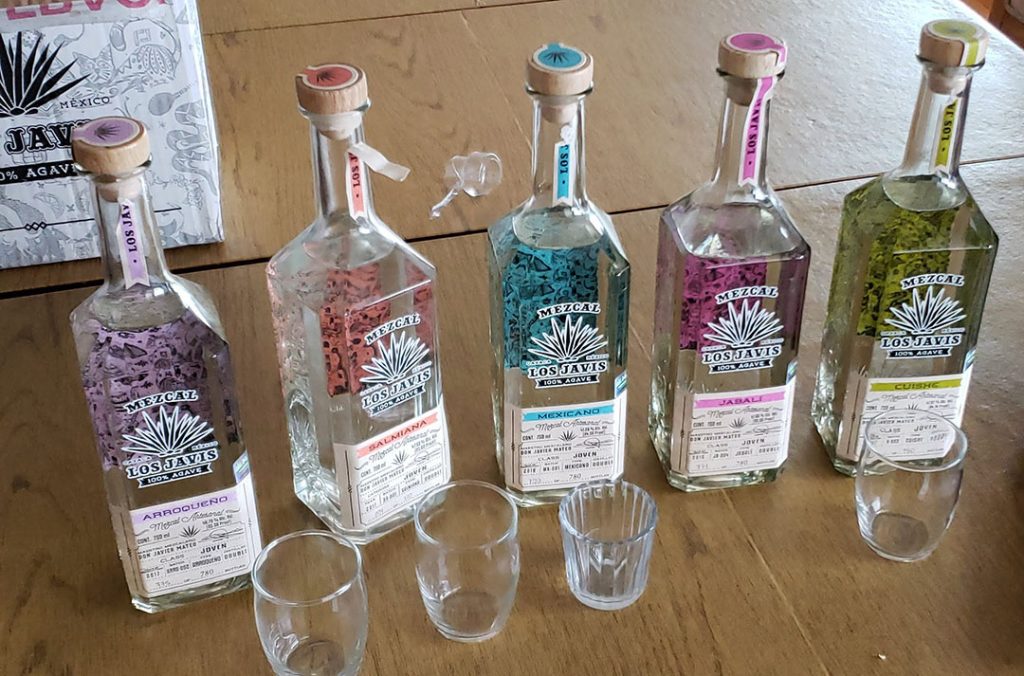 These mezcals they are refined and elegant. While some maybe more intense than others, they have a similar texture. They are rounded and balanced. Smoke is not the dominate characteristic. Not once do I make mention of the smoke, it is of a secondary importance to me when tasting mezcal. More important is how each agave species shows a unique character and flavor. They have been produced by a gentle hand and are more interested in showcasing the agave's uniqueness and not reliant on the note of smoke you may find in other mezcals.
---
KEY
Intensity: A scale from light to high, describing how prevalent and vibrant the aroma is
Aroma: The compounds we smell through the nose and the mezcal's bouquet
Taste: The flavors on the palate
Texture: The body and mouth-feel
Tongue map: This can relate to astringency or acidity, but it is my indication of where the mezcal sits on the tongue
Finish: A scale from short to long, of how long the spirit's flavors lasts on the palate
Sense of place: Close your eyes, taste the spirit, focus on a place in the world where it takes you emotionally
---
Arroqueño 2017
Batch Arro-002  46.75%
(Americana var. Oaxacensis)  Genetic mother of Espadin
Intensity: Medium
Aroma: Cola, sarsaparilla, Clay, Adobe, tree fruit, sweet apple, melon, dusty
Taste: Sweet, cola, candle wax, white flowers, agave honey, gentle
Texture: Simple, refined, gentle
Tongue map: Tip and front sides of tongue
Finish: Medium
Sense of Place:  Think cotton candy at the fair
---
Salmiana 2017
Batch SA-001 47.93%
Salmiana "Green Giant"
15-25 yrs old agave typically used for pulque
Intensity: High
Aroma: Herbal, candle wax, green, sap, tropical, clay, pear, yellow apple
Taste: Ripe tree fruit, herbs, piney, eucalyptus, rosemary, mouthwatering acidity
Texture: Intense, wild, untamed,
Tongue Map:
 Tip of tongue & mid palate
Finish: Medium plus
Sense of Place: Think pastures at the  edge of a forest
---
Mexicano 2018
Batch MX -001  47.28%
Agave Rhodacantha
Intenstity: Medium
Aroma: Sweet, spicy, pepper, chile, orange peel, bruised apple, caraway, earthy
Taste:
Citrus pith, earthy, mixture of sweetness and spice, umami
Texture: 
 Smooth, silky, rich
Tongue Map:
 Mid palate focused
Sense of Place:
 Think a market in Thailand
---
Jabali 2016
Batch JB-004  47.8%
A. Convallis
Aroma:
 Herbal, anise, green leaves, coconut meat, fig, green banana
Taste: 
 Floral, violets, lavender, tannins
Texture: 
 Silky, round, smooth, full bodied
Tongue Map:
  Tip of tongue and mid palate
Sense of Place:
  Think French Alps
---
Cuishe 2017
Batch K-003 47.07%
Karwinski
Aroma:
 Perfumed spice, sweet agave, baked peach, eucalyptus, chamomile
Taste: 
Spicy, mushroom, drying, earthy
Texture:
 Elegant, light bodied & racy
Tongue map:
  Back palate driven
Sense of Place: 
Think warm sunny day on tropical coastline
---
This slideshow requires JavaScript.