Best Spirits from the CRG Bar – Blind Tasted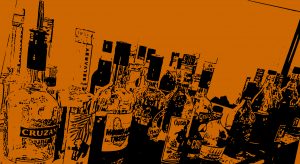 Cohn Restaurant Group has 22 restaurants with liquor licenses, it is my job to set up a beverage program which fits each of the individual concepts. This day in age there are so many new spirits bombarding the market. Each one comes with a unique story, production method and taste. But for most, the label and package is the most important element. This is true of most spirits in the market whether they are new or old. Branding takes time and if it sticks, can result in high sales.  The task of figuring out which spirit and which brand is best for each concept can be pretty daunting. So I decided to have the staff decide.
The secret to our success, is education. I try to keep the bar and service staff up to date and trained on the products we carry. For the past 6 weeks I hosted the CRG Spirit Academy. Each week I took one spirit, discussed the history and production methods. I then had brand ambassadors talk about the brands we serve. The staff asked questions and received more details on the individual products. We finished class by blind tasting the spirits in their perspective categories. The servers and bartenders rate each brand on a scale of 1-5 with 5 being the best. I then ask them to raise their hands for the spirits that received a 4 or 5. The spirit with the most votes in that category won the blind tasting and a spot on our bars.
I do it this way because labels and packages have so much control over how we expect the spirit to taste. By removing the label and package we are left with the innate virtue of the spirit.  It no longer has an extra leg to stand on and is at its purist most naked form.  The results were surprising. The spirit business is filled with big money, lots of advertising and government lobbying.  In order for my restaurants to meet guest expectations, we need to have some brand awareness, but we should also find the best brands. The brands may not do well in the blind tasting, it does not mean that they will be taken off, it just gives the staff an alternative brand to sell.
Here is the list of the brands in order of the best brand per category. See Vodka Here.
GIN
#1 Uncle Vals Botanical
#2 Hendrix
#3 Beefeaters
#4 Tanqueray
#5 Bombay Sapphire
#6 Benhams
#7 City Gin by Greenbar
#8 SipSmith
#9 Bols Genevere
#10 Old Grove
MY COMMENTS:
I personally liked the Uncle Vals and the SipSmith. It seems as though the staff liked the columns still gins which produce a cleaner crisp juniper forward flavor. Where as the pot still gins have a bit of funk to them, which I really enjoy.
RUM-Spiced
#1 Crusoe by Greenbar
#2 Bacardi Oakheart
#3 Malahat
#4 Three Sheets
#5 Captain Morgan
RUM- Aged
#1 Diplomatico – Venezuela
#2 Havannah Club – Puerto Rico
#3 Zaya – Trinidad & Tobago
#4 Appleton – Jamaica
#5 Flor de Cana – Nicaragua
MY COMMENTS:
We tasted white rums on there own to compare molasses base vs agricole, barrel aged and high proof. I really wanted to blind taste the rums which were aged and spiced.  These give us a better idea of what the distillers are doing as far as ingredients. I agreed with the staff and felt that the Diplomatico was the most complex and delicious of the rums.
TEQUILA BLANCO
#1  Patron
#2 El Tesoro
#3 Don Julio
#4 Milagro
#5 Fortalezza
#6 Casa Noble
#7 Olmeca Alto
My Comments:
During this class we tasted Blanco, Repo, Anejo, Extra Anejo, Espadin Mezcal, Reposado Mezcal and Barril Mezcal. Since there was so much tasted before the blind tasting began, I thought to limit the Tequila to some of the more popular brands in the restaurants. Personally, El Tesoro was my favorite. It had bitterness, balance and complexity whereas the Don Julio and Patron tasted sweet and glycerol to me. To each his own.
BOURBON-AMERICAN WHISKEY
#1 Michter's American Whiskey
#2 Highwest Double Rye
#3 James Pepper 1776 100 proof
#4 Templeton Rye
#5 Highwest Prairie Bourbon
#6 Bulliet Bourbon
#7 Woodford Reserve Bourbon
#8 Knob Creek Single Barrel 120 proof
#9 Russell's Reserve 10 yr Bourbon
#10 Slow Hand 6 woods Whiskey
#11 Jim Beam Bonded Bourbon
#12 Wild Turkey Rye 101 proof
#13 Jack Daniels & Basil Hayden
#14 Old Overholt Rye
My Comments:
15 whiskies all at once is a lot of whisky! We looked to see which were balanced with grain and oak aromas, rated their intensity levels, looked for full mouth coating and long finish. I personally really liked the James Pepper 1776. It is crazy to see how much branding is done with whiskey and how little it has to do with quality.