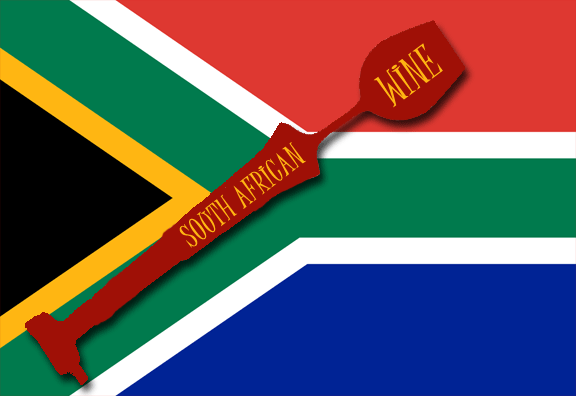 I am very  lucky man.  I have traveled many parts of the world for work and pleasure.  There remains one place on my bucket list, South Africa.  Most people associate South Africa with Apartheid and if they think of wine, they think Pinotage.  Those are probably two things that I wouldn't want to remembered for, especially Apartheid.  Pinotage I could live with.  Other people don't even know that South Africa is a prominent wine growing region.  They merely assume that once you leave the dangerous city of Johannesburg you reach the desolate bush filled with charging rhinos and roaring lions.  What most don't realize is that South Africa is one of the most unique and forward thinking wine regions in the world.
In order to understand the wines of South Africa we have to look back at its history.  Back in the 15th century, the Dutch East India Company had spread its massive sphere of influence throughout Africa, the Middle east and Asia. It took the English and Dutch merchants into uncharted regions.  With them they brought their traditions and customs, one of those being wine production.   60 years before California had any grapes planted, South Africa already had its first vines cultivated.  By the 1680's South Africa received a flood of French Protestants, the Huguenots, who were fleeing persecution.  These French settlers improved the wine growing techniques. As time passed on, South African wines became well-known among the French and English nobility.  Toward the end of  the 19th century and beginning of the 20th century a new set of immigrants arrived in South Africa, the Austrians and Germans.  They brought their own farming techniques.  Of course, they had to get used to the difference in climate, but they sought out specific areas for specific grape vines.
Under the rule of Apartheid which lasted from 1948-1994, wine production saw a huge decline.  We can say that South Africa has a long history of making wine, but it is not until recent years that we have seen an explosion.  Since 2003  the wine exports have doubled, however we have not seen and will not see a flood in the market.  The reason for this is that the wines of South Africa are based on quality and not quantity.  The climate is a Mediterranean climate influenced by the South Atlantic and Indian Oceans.  Its temperature is ideal for grape production with cool nights and warm days.  The soils of South Africa are some of the oldest soils in the world with very poor nutrients, which stress the vines and produce better wines.
I have tasted many different styles of South African wines.  There are the more traditional styles from Stellenbosch and Constantia where they grow Sauvignon Blanc, Chardonnay, Chenin Blanc, Cabernet Sauvignon, Merlot and Pinotage.  Then there are those more extreme regions like the Swartland and Robertson growing the same varieties and experimenting with other varieties such as Cinsault, Tinto Baroca, Grenache and Syrah.   As you can see, there is much diversity in the types of wines that can be produced in South Africa. But, for some reason people still associate South Africa with Pinotage.  Pinotage is a wine many sommeliers despise yet intrigues the consumer.  It is a grape bred by crossing Pinot Noir with Cinsault in the 1920's.  The purpose was to bring the power of Cinsault into Pinot Noir, which as we have come to learn, is a hard grape to grow.  Unfortunately, there was a lot of bad Pinotage in the market and people began to associate the wine with aromas of band-aid and antiseptic.  Sommeliers dropped it from wine lists and consumers bought it because it was affordable.
The general consumer buys wine based on price.  Pinotage fit the budget.  However, the wines of South Africa fall into a different niche from those high production wines of South America and Australia.  South African wines fall into the higher price tier.  Napa wines are expensive because of the demand.  Bordeaux wines are expensive because of the pedigree.  South African wines see an increase in cost due to the virtue of farming.  They are not as expensive as Napa & Bordeaux, but they are not inexpensive like Argentine Malbec and Australian Shiraz.
Here is why.  All wine regions have organic, sustainable and/or biodynamic wineries and/or growers.  However, South Africa as a region embodies sustainability.  Take Napa for instance a producer who farms organically, yet his next door neighbor uses pesticides.  The spray eventually blows into the organic farmer's vines, so they are not really organic.  In South Africa the region believes in Hannuwa.   A term from the San People, the indigenous people of South Africa, meaning:
"gathering of good fortune through living in sustainable harmony with our natural environment."
This is not only related to the way South Africans approach the vines, but also sustainability for their workers.  The land, the vine its and people are all one.  This mantra is the basis of all farming, wine making and business decisions in South Africa.  The wines are a result of farmers understanding the vines, keeping harmony with the ecosystem, maintaining healthy workers and producing wines of high quality.  It is much more expensive and difficult to make wines with all this in mind.  They cannot cut corners.  The wines end up costing a bit more than other new world imports, but they meet this unique niche of old world and new world wines.  They have the craftsmanship and elegance of old world wines along with the power and fruit forwardness of new world wines.  I would rather spend my money on a wine whose price is a result of actual techniques and not one's name.
If you are interested in taking a walk on the wild side, join me on May 9th at Island Prime Restaurant where I will be discussing and tasting the wines of South Africa with wine maker Sebastian Beaumont of Beaumont Wines from the Bot River in South Africa and master sommelier candidate, Chris Lavin from Broadbent wines, world-famous importers of high quality wines.  We will taste 10 different wines from different regions within South Africa.  Hors d'oeuvres will be available and all the wines will be on special below retail pricing.  To buy your tickets click the link below.