Bo Beau Opening Wine List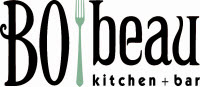 Bo Beau opened in December of 2010. Cohn Restaurant Group purchased the previous restaurant, Thee Bungalow from Ed Moore, owner of the Third Corner.  Bo Beau is in Ocean Beach, a beach community that many people in the restaurant industry call home.  A pretty eclectic community, best way to explain it is, Haight-Ashbury on the beach. Thee Bungalow was a staple in San Diego, since it was one of the few restaurants serving French food. It's wine list was very large and diverse. The best part was that the mark up was minimal.
A few years after purchasing the Bungalow, David Cohn, owner of Cohn Restaurants decided to change the concept.  Thee Bungalow was a well suited name for the space, it was tiny and divided up with small rooms as if you were in a bungalow. It did not have a bar. During the renovations, walls were torn down, a bar was erected and a wood burning oven was built in the new patio. The change was dramatic.
As for the wine list, we had several ideas. Our number one problem was that there was a huge inventory of wine from Thee Bungalow. Most of past vintages and minimal quantities of each label.  We decided to send the inventory to Island Prime and start fresh.  The space was transformed into this Mediterranean country side bungalow What I set out to do was match the list with the new funky space.  We set up a glass program keeping in mind a minimal mark up. The wines by the glass are in small tumblers, similar to small restaurants in Italy.  The glass was not your standard 6oz, but it came in a 8.5oz quartino glass. We thought about featuring wines in keg, but realized that the small bar space would not lend itself to kegs. Instead I turned to trying wines in the box, which to my surprise really caught on.
As for the bottle list, I divided into three parts: Les Vins Secrets, La Nouvelle Generation and Vins Traditionnels. One section gave people a chance to search for more obscure wines including a no sulfites wine from Bierzo. The other two categories were more main stream, but I sought out producers that have some sort of edge to them.  The wine list  is a lot of fun and it is small and easy to keep up. The staff training was very enjoyable, because for many of them it was the first time they were trying Portugese and Croatian wines. The program has continued in the same direction and is doing very well.  Below is the very first Bo Beau wine list, before Jon Boyle created the the cocktail program.