The 1st Annual Mainly Meritage International Wine Competition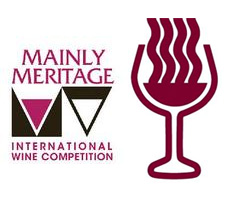 On Saturday July 14th, Robert Whitley hosted another international wine competition. This time the entries were Mainly Meritage.  What does this mean? Mainly Meritage are wines that are made from the six Bordeaux grapes: Cabernet Sauvignon, Cabernet Franc, Merlot, Petit Verdot, Malbec & Carmenere.  The whites include Sauvignon Blanc and Semillon. The competition was fairly small, however the wines were of a higher caliber than most other wine competitions.
The Rules
All the wines were tasted blind.  The judges had the opportunity of asking what the vintage, residual sugar & appellation were.  The room was divided into tables of three judges.  The judges blind tasted each wine and decide if the wine was worthy of a medal.  The medals awarded were Sliver, Gold and Platinum.  If a wine received Platinum it would go on to the sweepstakes round, where the wines would be tasted for best in category.  The categories were divided up by the individual grape variety, blend and white.

The Judging
My table was responsible for judging Malbecs, Cabernet Sauvignon and sweet wines.  All in all, I really enjoyed the wines that I judged.  There were very few that I would refuse or not drink at home.  That being said, my table was very restrained in awarding platinum medals.  I think we only awarded 3 all day.  There were a total of 17 Platinum awards given out.
I created a point rating system for myself so I could reference my personal notes.  It went something like this:
Sight: 0-1 points…if the wine had no faults, I awarded 1point
Aroma: 0-2 points…if the wine had  no flaws and aromas of fruit, oak (if any), earth or bottle age I awarded 2 points
Palate: 0-2points…if the palate mirrored the nose and had other complex flavors I awarded 2 points
Acidity: 0-1points…if the acidity was present and balanced I awarded 1 point
Tannin: 0-1 points…if the tannins were rounded and balanced I awarded 1 point
Overall Impression: 0-3 points…if all elements came together and the wine had a lasting impression I awarded 3 points
10 would be the highest score possible.  If a wine received a score of 7 to 7.5, I gave it  a SILVER.  A wine scoring 8-8.5, I'd give it a GOLD.  If the wine received a 9-10, I'd give it a PLATINUM.  Of course, after submitting my award, the other two judges would have to agree.  For the most part, we saw eye to eye.  Looking back at my notes, I never gave a score of 10 points.

The Results
At the end of the day it was great to see the unveiling of the winners.  I super surprised to see the wines from Oregon do very well.  I just never think of Oregon when I think about Bordeaux varietals.  Cliff Creek, of Southern Oregon, showed two wines in the Sweepstakes round.
One of the wines I tasted was a first for me, a late harvest Malbec from Argentina.  The nose was so ripe and fruity, that I was leary of taking a sip.  However, on the palate it was quite pleasing. I have never tasted a late harvest Malbec, so I didn't have a point of reference as to what it should be like.  We ended giving it a SILVER.
The best Cabernet went to Parallel from Napa.  I awarded this wine a score of 9 in the Sweepstakes round and it went on to win best Cabernet.  It is a wine made by Philippe Melka.  It had great structure.  I remember that when I first tasted it, it was just okay.  But as I let the wine settle on my palate and I began to focus on the finish, the magic started happening.  It's a wine that you don't understand until you stop thinking.  I had to convince one of the other judges to just take it in and focus on its finishes.  Sure enough it went on to win the best Cabernet.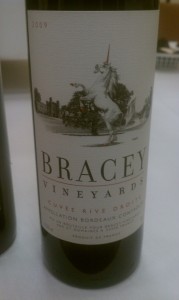 The prized award for best Bordeaux blend or Meritage, went to Bracey Vineyards Cuvee Rive Droite '09 right bank Bordeaux.  This wine is made by Robert Bracey, an American winemaker making wines in Bordeaux.  He did very well in the competition, his Right Bank Bordeaux beat out his Left Bank Bordeaux, for best Bordeaux Blend. The Bracey Cuvee Rive Gauche Left Bank Bordeaux was awarded PLATINUM and voted BEST LEFT BANK Bordeaux blend, bit in the end IT lost to the Bracey RIGHT BANK.  Although I did enjoy the wine, I actually voted for the Frank Family "Winston Hill" Rutherford Napa LEFT BANK BLEND as the best.  I awarded it a score of 9.5.  That being said, The Bracey wines were delicious and will be on my radar the next time I change my wine list.
Now I am looking forward to the next wine competition, The Sommelier Challenge in September.
For more results visit the Mainly Meritage website here.