Wine Tasting Notes for July 2012
WINE TASTING NOTES FOR JUly 2012
My intention in posting my wine tasting notes is to give a brief description of some of the many wines I come across over a months time.  Some wines will make the wine list and others will not.  Choosing one wine over another for the list, comes down to what holes need to be filled.  Keeping my notes online allows me to access them for future reference.

I do not want to rate wines on a point system. There many flaws with the point system, I merely want to give the reader a description of my interpretation of the wine on a given day.  Wines are always changing, we are always changing and what comes across as unpleasing one day can be enjoyable the next.  I want to give the reader an insight in to what the wines taste like rather than attaching a subjective score to them.  Winemakers and wineries work hard and are very proud of their juice. I will evaluate their product, but I will not trash it.  There are times when I can't hold back and if I really like something, I will write "Yummy" or "Delicious".  I hope you enjoy my notes.
Grgich Hills
The historic winery came about as a collaboration between Mike Grgich, winemaker of the famed Chateau Montelena of the 1976 Paris tasting and Austin Hills and Mary Lee Strebl of Hills Brothers Coffee.  The Winery was created in 1977.  Grgich Hills has always been making wines with an old world style within the New World.  In 2000 they started to grow organically.  By 2005 they were farming biodynamic.  The wines of Grgich Hills have changed through out the years. That being said,  the one thing that has been consistent is that the wines are truly made to age!
Grgich Hills Fumé Blanc Napa '10 

Aromas of white peach, citrus, mineral with a green undertone. It is rich on the palate with crisp and clean mouth-feel. This Sauvignon Blanc is dry with upfront grapefruit flavors and a rich texture.
Retail $24
Grgich Hills Chardonnay Napa '09
This wine sees 10 months of mixed French barrels without malo. It comes across with a pear, peach and floral aromas. It has a medium body, great acidity and toasty on the finish. I kept getting orange peel on the palate.
Retail $32
Grgich Hills Chardonnay Carneros '08 

This is made from 50 year old vines and aged in 1 year of mixed French oak and 6 moths of stainless. The aromatics are a bit more intense with peach, wet wool, mushroom. The wine is rounded and the fruit takes a back seat to the terroir. It has a real zing of acidity and can be confused with Chablis…did I just say that about a California Chard?
Retail $60
Grgich Hills Zinfandel Napa '08
This Zin is sourced from Calistoga's old vines. There is a 3% addition of Petit Sirah. The nose is of blackberry, raspberry, pepper and spiced jam. It has a medium body and the palate is a lot darker in flavor. There are also flavors of tar, cocoa, and chocolate. The strong tannins and balanced acidity make this the perfect food wine.
Retail 28
Grgich Hills Merlot Napa '07

Merlot is back, and in a big way. The fruit comes from vineyards in both Rutherford and Yountville. The nose is of boysenberry, cassis, blue and red berries and toffee. The fruit is a bit more restrained but balance with a plush and rounded mouth-feel that leaves my mouth watering. There are flavors of cocoa and mocha from the mixed barrels.
Retail $34
Grgich Hills Cabernet Sauvignon Napa '08
This 89 % Cabernet Sauvignon sees 21 months of oak. It has aromas of black fruits such as cassis and black berries. The flavors start to develop on the palate with vanilla, baking spices, floral notes and tea leaves. The tannins are plush and the acid is perfectly balanced.
Retail $45
Grgich Hills Cabernet Sauvignon Yountville Select Napa '07
Here is a 100% Cabernet from their signature vineyards in Yountville. Great year, great vineyards and great winemaker = great wine! The Yountville select has aromas and flavors of mocha, black fruit, red berries, dusty earth and cherry cola. The tannins are ripe and there is really cool leather notes and earth flavors of mushrooms, black tea and tobacco.
Retail $130
Veedercrest 
This winery was founded by, Alfred Baxter back in 1970.  He was an amateur winemaker who received a little nudge from the famous Andre Tchelistcheff.  A simple dinner and wine tasting with Tchelistcheff led to the birth of Veedercrest Winery.  Veedercrest received notoriety when their Chardonnay was selected to enter the 1976 Paris Tasting.  The Chardonnay was acclaimed as the most French style Chardonnay of the tasting.  Since then, Baxter has chosen to continue to make wine that resemble those wines of the '70's.  In doing so he chose Chad Alexander of Robert Craig as his new winemaker.  Today, Veedercrest wines is one of the few wineries that continue making wine with an old Napa nostalgia.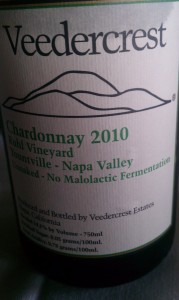 Veedercrest Chardonnay "Ruhl Vineyard" Yountville Napa '10
Green Apple, nutty, creamy with some alcohol on the tongue. Balanced with fresh acidity, great finish and long.
Retail $25
Veedercrest Merlot Oakville Napa '08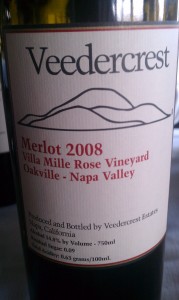 This merlot is pretty traditional with aromas of black fruit, plums, and floral notes. It has a medium body with toasty vanilla flavors. It finishes with a chalky minerality and dark chocolates.
Retail $45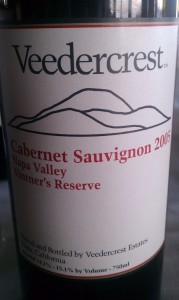 Veedercrest Cabernet Sauvignon "Vintner's Reserve" Napa '05
This approachable Cabernet is blended with 10% Cab Franc. It has flavors of plum, cassis and nuts. It has a medium body which is starting to show some oxidized bottle age flavors, which actually make it interesting and are not flaws.
Retail $24
Veeder Crest Cabernet sauvignon Rutherford Napa '05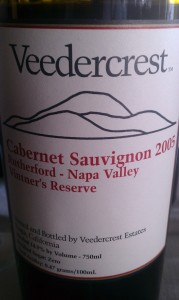 This Cabernet has come of age and is showing aromas of plums, cassis, vanilla and chocolate. There is a sherry-like flavor mixed with cherries. It has a lingering finish and sits warm on the palate.
Retail $40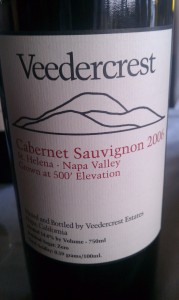 Veeder Crest Cabernet Sauvignon St Helena Napa '06
This is the best of the bunch, with toasted nuts, cocoa powder atop café mocha. The tannins are soft and the wine sits plush with lean acidity. The flavors start to show an herbal character of mint with a stony mineral on the palate.
Retail $65
Veeder Crest Cabernet Sauvignon Mt. Veeder Napa '06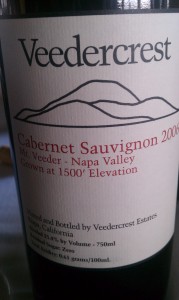 The namesake wine, from 1500 ft elevation. The nose shows earth, cocoa, and cherry cola. The nose is intense and that intensity carries over onto the palate with flavors of leather, turned earth, black tea and high acidity.
Retail $75
Domaine Sainte-Rose Le Marin Blanc Marsanne/Roussanne France '11
Le Marin is the name given to the in winds that bring rain after a drought. This blend shows aromas and flavors of honey, flowers, melon and apricot. It is soft on the palate with a nutty flavor. It finishes with good acidity.
Retail $15
Talinay (by Tabali) Chardonnay "Coastal Limestone Vineyard" Limari Chile '10
This Chardonnay is a great example of Chile's diversity. It has bright yellow straw color with aromas of rolling ricks, pear and citrus. The medium to full body is complimented with creamy texture and high minerality. On the finishes I kept getting more citrus notes with cantaloupe and lemon custard.
Retails $28
Talinay (by Tabali) Pinot Noir "Coastal Limestone Vineyard" Limari Chile '10
This wine was just bottled a few weeks ago. It has a ruby color with aromas of black cherry, violets and baking spices. IOt is silky on the palate with earth and lavender flavors. Good fresh lively acidity.
Retail $28
Patricia Green Bishop's Creek Yamhill-Carlton District Oregon '10
All of the grapes come form southern facing vineyards from a cool vintage. It has aromas of bread yeast, cranberry, floral bouquet and truffles. The fruit is tart and has an intense mineral flavor.
Retail $30
Domaine Sainte Rose "La Garrigue" Vin de Pays France '08
This wine is made of 60% Grenache, 30% Mourvedre and 10% Syrah. The fruit is of black fruits, but what is more pronounced is the aromas of saddle and cracked pepper. It sits lean on the palate with good texture and high mineral content.
Retail $12
Col des Vents Corbieres Castel Maure '10
This Corbieres is made up of 50% Carignan, 35% Grenache & 155 Syrah. It has black fruit aromas with pronounced earthy, leather like aromas. It is floral and chalky. It finishes tart with herbs of Provence, parsley and rosemary.
Retail $12
Chateau la Cros St. Emilion Bordeaux France '09
This is made of 80% Merlot and 20% Cab Franc. There are flavors and aromas of boysenberry, earth and menthol. The nose is bright and the palate is rich. On the finish I got a hint of caramel mixed with black earthy notes. Delicious.
Retail $25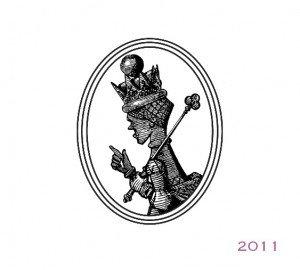 The Wonder Project "la Reina Blanche" Chardonnay Napa '11
This is a project between Matt Ahern and Scribe Winery. 70% of the fruit comes from the Scribe estate in Carneros and 30% from the Russian river. The grapes are fermented separately and then aged for 7 months in neutral oak. It sees 30% Malo. The aromas are of pear, cream, vanilla and citrus. It has a rich texture with mouthwatering acidity. It finishes with fruity flavors of passion fruit, tangerine and apples. Clean!
Retail $18
Banshee Pinot Noir Sonoma County '11
Some of the fruit comes from the Tina Marie Vineyard. The wine is cloudy with aromas and flavors of cherry cubed. It has aromas of red cherries, black cherries and on the palate, dried cherries. It finishes tart and chalky.
Retail $20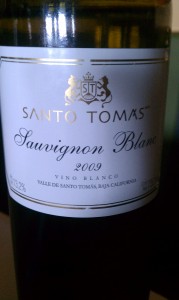 Santo Thomas Sauvignon Blanc Valle de Santo Thomas Baja California Mexico '09
This SB has a gold color, intense aromas. It looks oxidized but tastes fresh with ripe aromas of melon, peach and honey. It is full bodied and in the finish it takes on a Sauvignon Blanc character of citrus. If blind, I would not think SB. Something very different.
Retail $18
Misión Tinto Tempranillo/Carignan Valle de Santo Thomas Baja California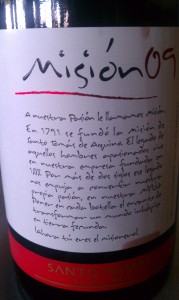 Mexico '09
This Mexican wine has aromas of plum, pepper, raisin, and strawberry jam. It is fresh and vibrant and easy to drink. It is not complex but great for the summer time with a little chill on it.
Retail $12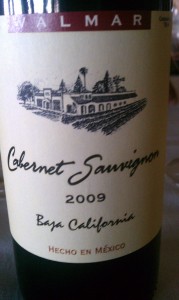 Valmar Cabernet Sauvignon San Vicente Valle Baja California Mexico '09
This cab sees 24 moths of neutral barrels. It is a dark purple color with a ripe nose. The aromas are of cassis and plum. The wine is fresh and fruity with an ashy mineral, spiced licorice and salty. It kind of reminds me of a "Saladito", a Mexican snack of dried salted plums.
Retail $25