Love Letters to My Favorite Grapes: Grenache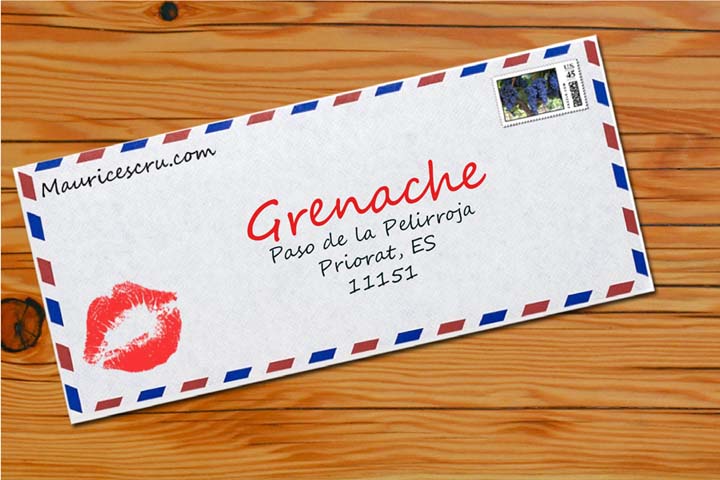 My dear Grenache, our history together is like a movie.  When I first began dating grapes I thought I was in love with Syrah.  As a young man I was dating different varieties, mostly the ones I found at the closest Safeway or in my mom's cabinet.  I worked in the restaurant as a cook.  I wanted to take dating grapes more seriously, so I moved out of the kitchen and started serving.  Serving allowed me to have more cash in my pocket.  More cash in my pocket allowed me to date more grapes. Because it seemed chic, I started to experiment with French grapes.  I came across you when I tasted Vieux Télégraphe from Chateauneuf-du-pape.  Oh man were you good!  The whole time I thought I was dating Syrah.  Our relationship flourished.  We were very compatible.  Chateauneuf-du-pape was easy to pronounce and I felt like a real man when I walked into a party with you.  All the time I thought I was in love with Syrah.  And then one day I read the winemaker's PDF tech sheet only to unmask your true identity.  Vieux Télégraphe was mostly made of Grenache.  It was devastating, like a scene from the "Crying Game".
I felt betrayed and bamboozled.  I decide to leave Chateauneuf-du-pape with a heartbroken break up.  But there was something about you that left me aching for more. Grenache you were a wild red-head that left me enchanted.  Although I had dated you under a different alias, I got all giddy around you, like I was discovering someone new.
You kept popping up in my life, but you did not come alone.  You always brought your friends with you.  Like all men, the idea of a ménage à trois was exciting, but when it happened all the time I did not know if it was me or your friends you desired.  When you left for your uncle's house in Rioja, I came for a visit.  We hung out, but you also brought Tempranillo, Mazuelo and Graciano to the party, I felt left out.  When you left for college outside Barcelona, in the village of Priorat, you were still hanging with Mazuelo, but you called her Carignan. You also had other floosies such as Cabernet and Syrah.  Although I enjoyed our time together, our relationship was purely sexual. It reminded me of Salvador Garcia Ruiz's Spanish film, "3some". 
I left Grenache for the second time.  As years passed by and I continued my travels in search for love, I came across many other grapes.  Some were fun and flirty, others serious and too clingy.  While I was in Australia I caught a whiff of red cherry and roses.  The wine was light and fruity and quite alcoholic.  I knew right away, it was my red-headed nympho, Grenache.  I was not ready to re-visit those wild days of the past and I ran away from you.
I got married and thought I had forgotten about you.  And one day you showed up again, but this time I was not going to follow my sexual desires.  I watched you from afar and saw that you had matured.  You came in the form of a sweet fortified wine from Banyuls.  I was so intrigued I took at taste.  Wow, my wild child had left her friends behind and let her personality shine.  You tasted of chocolate & raspberry, so delicious. You had left your friends behind and become a strong independent woman.  You used your sexuality to advance and become more independent, like Melanie Griffin in "Working Girl".  Harrison Ford was your fortification which gave you the ability to stand up strong with confidence.
Since that day I have kept an eye on you from a distance.  More and more wine makers are allowing you to see your full potential and let you shine on your own.  David Phinney of Orin Swift has gone all the way to Cote du Catalan and pushed you to the brink.  He made you into a powerful confident young woman.  Although you still have an alcoholic side, you are more well-behaved and show a completely different side of you, of black fruits and dark flowers.  
Bob Betz in Washington State has also taken you under his wing and turned you into a woman of society.  It's kind of like "Pretty Woman".  I tasted the Betz Grenache and saw all that red wild berries and red cherries of your youth, backed by floral aromas and great acidity.  Now that I am a married man, I can only sit back and watch you develop as wine makers are bravely going where others have not gone before.  I am excited to see what they will do with you in Chile and other areas that have those schist soils we so loved of your college days in Priorat.
You will always have a firm hold on my desires.
Your former lover,
Maurice DiMarino