America's Finest City's Wine History
Most people believe the wine history of California started in Sonoma and Napa.  When people think of San Diego, fine wine is not even a thought.  San Diego is a tourist destination known for its warm weather, beautiful beaches, Sea World, the world-famous Zoo and Old Town.  More recently, San Diego has made a name for itself  as a beer town. We have over 89 breweries with a gross revenue of $500,000,000.  More and more restaurants are opening and we are starting to get an influx of nationally recognized chefs such as Mario Batali, Bradley Ogden and Richard Blaise to name a few.  But what about San Diego wine?  We have many wineries here and if we throw Temecula into the mix, the Southcoast AVA is growing very rapidly.  I wanted to explore San Diego wine a bit more in-depth so I decide to reach out to some of the local wine makers.  This coming week I am hosting a wine summit featuring 4 wine makers from San Diego.  During the summit I will host Mick Dragoo of Belle Marie, Jeff Bowman of Screaming Chief, Chris Broomell of Vesper Vineyards and Justin Mund from Orfila.  We will learn more about San Diego has an up and coming region and taste 10 of their wines.  For more info and to buy tickets visit my earlier post.
I visited with these wine makers over the past several weeks.  I tasted their wines, toured their cellars and visited some of their vineyards planted in San Diego County.  During these visits I got to talking to them and I realized that San Diego's fine wine history is rich and long.  While visiting with Mick Dragoo, who has made wine since the 70's he mentioned that San Diego was producing wine well before Sonoma.  He said that Jarvis Winery in Napa has an old barrel from 1850's which once held San Diego wine.  This peaked my interest even more.
I then paid a visit to Chris Broomell and his wife Alysha at Vesper Vineyards.  We got to talking about San Diego fine wine history and Alysha pulled out a paper written by Richard Carrico a professor at SDSU.  Alysha said it was his master thesis.  The paper took a close look at the fine wine history of San Diego.  It really blew my mind.  I am a sommelier, a native of San Diego, I live in a house overlooking Old Town and I never knew how important San Diego was to the fine wine history of California.  Everything I ever read about California wine merely credits San Diego with the first mission to plant grapes.  And that is it!  After looking at Richard's paper I realized that there was so much more.   So I have taken the liberty of plagiarizing and presenting you Richard's history of San Diego wine in a quick and simple time line.  Enjoy!
The Mission grape came from the Canary Islands a cousin of Pais, Grillo and Listan Prieto, It was planted in Mexico, Baja California and San Diego (Alta California).
Grapes came by way of Baja California brought by Franciscan monks as they built missions.
1781-82:  Wines were made in San Diego almost 100 years before anywhere near San Francisco.
San Diego Mission Alcala became known for producing wines, so much so that the Spanish Governor of California sent bottles of San Diego wine to Spain to show off the quality of wine coming from the colonies.
1830's: Mexican ranchers provided brandy for the sick and wounded soldiers of General Stephen Watts Kearny in San Pascual Valley
1835: Jean Louis Vignes, French immigrant built Aliso Winery in Los Angeles
Famous for producing "Angelica" named after its place of origin, a sweet fortified wine aged for 8 years in oak.
Was producing 16,000 cases from Cucamonga Valley.
1860's:  San Diego Sheriff, Agoston Harazthy brought grapes from Europe to California.  depending on who you ask, is credited as the father of California wine.
Harazthy planted in Mission Valley where it was all farm land.  There was too much water there and grapes did awful. Moved to Sonoma.
Harazthy moved to Sonoma and opened the first winery in North California, Buena Vista. 1852
 ___________________________________________________________________________
Eastcoast wine drinkers were not into San Diego wines because the Mission Grape produced light bodied wines with little structure.
SD made up 6 acres of the total, by 1910 SD produced 5,000 acres. Not all for wine.
1851:  Asher E. Maxcy moved to SD and built the First Commercial winery in SD was "Vineyard Ranch & Winery" in Bear Valley now known as Valley Center.
His wine maker was Pierre Hagata who came to SD from France in 1873.
1879 it was reported that Maxcy had produced 1600 gallons of wine.
1856: San Diego was lumped into the region of LA, San Bernardino, Santa Barbara, San Luis Obispo. together  they produced 54% of California grape production.
1864:  Juan Forester at Rancho Santa Margarita, an Englishman who controlled National City and Rancho San Felipe.
First vineyards of Rancho Margarita were planted by Franciscan priests in 1789.
Produced about 1,200 gallons
Today it is part of Camp Pendelton
1878: Emanuel Daneri and Italian immigrant built a massive winery, 'The Daneri Winery in Otay valley". One of the largest, and most well-known.
He built the winery underground
Produced 20,000 gallons.
Bought a retail shop downtown and advertised free samples of wine.
Tasting room and hospitality
1916 the Otay dam broke causing a massive flood which destroyed the winery and vineyards, killing workers and destroying wine. He never rebuilt.
1884:  Jules Jaques Delpy, newphew of French Immigrant, Bernard Delpy began wine making in Vista, The Delpy Winery.
Imported Spanish oak for aging and used redwood for fermenting
Winery burned down in 1902 and rebuilt in 1903
Pierre Hagata from Maxcy's Vineyards helped make the wines
Court battle of selling wine, changed law that vineyard owners were not required to have a liquor license to sell own product
Prior to prohibition they produced 200,000 gallons/year
Before Prohibition he leased his winery to wine makers from Northern California
After Prohibition in 1934, Jules began to make wine again, 150,000 gallons
1885:  George Phillip Brabazon Irish immigrant purchased property in Alpine, Monte Vino
Used Zinfandel brought from Spain
Hired Indians to stomp barefoot which neighbors did not like. In 1901-08 he sent 30 Gallons to England.
Planted 1400 ft Monte Vino and sold for 2 to 3 times the price of others
1886: Grapes planted in San Diego were: Carignan, Mataro, Mission, Grenache & Zinfandel
Carignane was planted all over California. Was blended with Gamay to create the Olmo Grape or better known as "Ruby Cab" to make bulk wine in central valley
1919:  George Ferrara Oldest continuously operating winery, The Ferrara Winery.

During prohibition sold grapes for home wine makers and communion
Closed in 2011
1927:  Vincenzo Rizzo immigrants from Italy, began making wine in Rancho San Bernardo. Vineyards there were planted by Sicilians 40 yrs earlier. The Bernardo Winery is still making wine today and is San Diego's Oldest Winery.
By early 1900's: Escondido, Ramona, Witch Creek, Poway, Julian, San Marcos, Poway, Ballena Valley were all producing in North County
 Wine Shops in San Diego
S.W. Craigue & Co. was selling SD wine and called it "California Wines made a Specialty"
San Diego downtown had wine shops selling wine in bulk
Most wineries did not bottle and sold casks to wine shops to bottle
Mark up was double, 750ml = 1 hr of labor
GOLD RUSH sent many people to Northern California.  More consumers for wine led to large wineries and estates.  Since they has the infrastructure to bottle, Sonoma wineries could send to consumers
In San Diego, wineries were smaller and you have to go to the shop or bring in your growler or buy by the barrel.
Sonoma wineries began to market their wines with names referring to the Old World using words such as "Burgundy" "Claret"
Aged vintages from Sonoma were marketed to upper class in SD
Wines began getting popularity and quality in San Diego improved. But in 1920 Prohibition changed everything.  Wine makers sold their grapes for communion and to home wine makers.  Many wineries closed.
1934:  SD had 10 wineries.  Baja wineries were buying SD grapes to make wine. L. A. Cetto and Santo Thomas
1930's-40's:  World War II
Land was used to grow crops for the war effort
Law passed in 1943 prohibiting the sale of bulk wine (bad for AD, since most sales were by the barrel)
This raised the price of wine.
Machinery was now needed in wineries
Post Prohibition generation lost connection with wine, how it was made and the family's ties to the old world. Wine quality suffered.
Yellow fizzy beer, hard liquor cocktails and Coca Cola became drinks of the time. People were not used to drinking alcohol.
2 types of wine: jug wine and aged fine wine. SD did not fit into either category.
Grape growing in SD increased, however quality decreased since SD stopped producing fine wines.  The demand was for sweet easy to drink wines.
1964: SD only had a few wineries Brookside, Bernardo and Ferrara.
1968: Vince and Audrey Cilurzo planted 1st commercial winery in Temecula.  Wineries that followed were Callaway (the 1st bonded winery), Mount Palomar, Filsinger and Hart
1975:  88 acres, 1980 = 225 acres, 2008 = 500 acres.
1976:  The Wine Spectator started on the streets of OB by Bob Morrissey
Today's Reputable Wineries
San Pascual Valley is now known for vineyards which started with Jaeger, San Pascual and now Orfila.
Ramona has the most vineyards in San Diego just a few are Scheasdall, Chinook, Mahogany Ranch, Pamo Valley,  Milagro Farms (Jim Hart)
Julian has Menghini, Witch Creek, &  Carossa
Warner has Shadow Mountain,  J. Jenkins and until 2011 Ferrara Winery.
Escondido has Belle Marie, Triple B Ranches, and Vesper Vineyards
San Diego Urban Wineries Vinavanti & Stehleon are just a few.
>>>>THIS EVENT IS SOLD OUT<<<<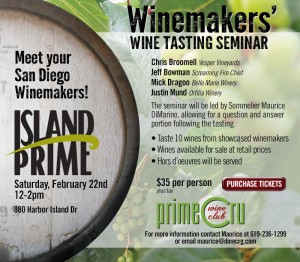 >>>>THIS EVENT IS SOLD OUT<<<<