Vino and Views, a Chilean Wine Seminar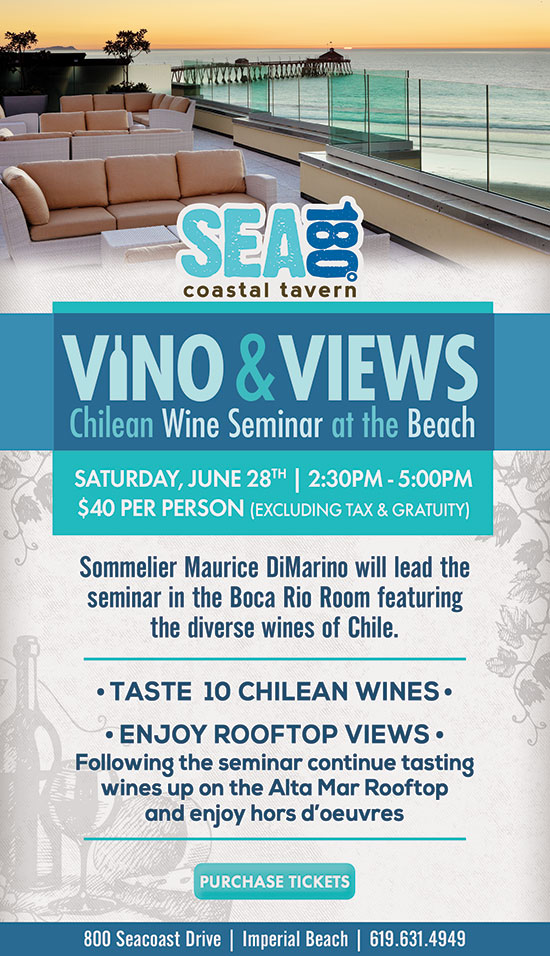 One of the most popular seminars I have given has been the Chilean wine seminar.  A few years ago, Prime Cru members learned about the history and about the present day wine culture of Chile.  I had such a great response, that I have decided to give this seminar again.  This time, however, a change of locations.  Last time we were at Island Prime overlooking  the bay.  This time I have moved to our new restaurant Sea180 Coastal Tavern sitting right on the sands of Imperial Beach.  Since Chile is a coastal country it only makes sense to give the class near the water.
The class itself will take place in the hotel's conference room.  There, we will taste 10 wines from 10 different regions and learn what makes Chile so diverse and special.  We then will move on up to the Alta Mar Rooftop patio for a walk around tasting revisiting some of the wines from the seminar and exploring other wines from the producers at the seminar.  The  Sea 180 kitchen will offer hors d'oeuvre for everyone to enjoy.  If you so happened to have attended one of the previous Chilean wine seminars, this one will be SO much better.  We will have twice the amount of wine with amazing views of the Pacific Ocean.
I have been on many wine trips around the world, however, the Chilean wine trip was very special.  It is the one trip that remains close to my heart. Maybe it is because of the great company, four sommeliers from around the country, Nichelle Ritter (Texas), Rebecca Chappa (California), Jill Zimorski (D.C. at the time) and Chris Lavine (California).  The five of us had an amazing 11 days of visiting regions, wineries and wine makers.  The small group size allowed to interact with some of the top wine makers such as Philipe Tosso & Marcelo Retamal on a more personal level.  In fact, we will have Marcelo's wines at the seminar, DeMartino.  Other wines featured on June 28th are Valdivieso, Emiliana, Carmen, Arboleda, Odjfell, Penalonen and Meli.  A Saturday afternoon never seemed so great!
If you would like to attend, can buy your tickets here.  Hurry as this seminar has sold out every time!