California Wine Month 2016

September is just upon us and it is my favorite month of the year.  The kids have gone back to school, the beaches are not so crowded and we get to celebrate California Wine Month again!  Last year I hosted wine dinners, tastings and promotions in all my restaurants.  This year I am going bigger!   Check out what I'm up to!
WINE DINNERS
If you are the foodie who wants to see what our chefs perform under fire, then the wine dinners are the best option for you.  I am hosting 5 wine dinner/lunches in September, each different and all with California wines.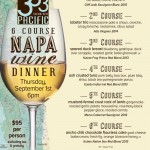 The first dinner is on September 1st at 333 Pacific featuring Napa Valley wines.  Steve Zurkey, the talented chef at 333 will blow you away.  His Mondavi dinner in June was one the best meals I have had in San Diego.  I do not say this because he works for my company, but because it was the god honest truth.  Everyone walking out from that meal was awestruck.  He is back again and this time pairing the Napa wines of Cliff Lede, Alto, Kuleto and Merus.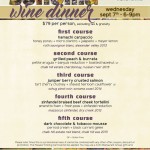 Why not stay in Northern California and see what makes Napa and Sonoma so different from each other.  After attending the Napa dinner in Oceanside, head to Escondido the following week and try the wines of Sonoma at Vintana Wine + Dine.  Foley Wines will be showcasing their Sonoma wines from some of their top vineyards.  Chef Bryan Brown is an old hat at these dinners and is always outdoing himself.  He gets to play with flavors from the kitchen and pair them with the wines of Schug, Mazzocco, Roth and Chalk Hill.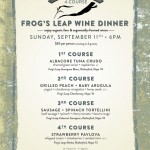 September 11th we get socially responsible.  Bo Beau Kitchen + Garden in La Mesa will have chef Tyler Shipton pairing organic produce and meats with Frog's Leap Winery from Napa.  Our Organic Wine Dinner features the wines of John Williams, pioneer of organic farming since the 80's.  Frog's Leap continues to produce high quality wines using sustainable farming techniques which restore and promote the ecosystem.  Unfortunately September is a tough month for winemaker's to get away from harvest, John will not be able to join us.  He will be there in spirit and Gail & Dan Berquist who distribute his wines in San Diego for the past several decades will be on hand to discuss them.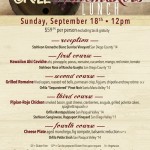 Sometimes you want to have wine during the day, so Indigo Grill has just the thing for you.  Enjoy a Sunday afternoon in Little Italy and join Chef Deborah Scott for a Luncheon on September 18th.  This will be an intimate lunch with two of my favorite wines from San Diego County, Orfila and Stehleon.  Both Justin Mund, winemaker for Orfila and Al Stehly, owner of Stehloen share their experiences with you over lunch. If you have not tried the wines from your back yard, this is the time to do so.  These wines are fantastic and soon will put San Diego on the map.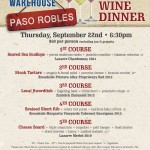 We then will head down towards Southern California on September 22nd and host a Paso Robles wine dinner at OB Warehouse with Adam Lazarre.  If you are looking to have a good time and get away from stuffy pompous dinners, then this is the one for you. Adam is one of the craziest wine makers I know. He is all about having fun while making delicious wine.  We will feature several of Lazarra wines along with some of his friend's wineries such as Cypher and Broadside. OB is the perfect place for this event.
WINE TASTINGS AND SEMINARS
September 1oth Coasterra will host a VIP viewing area of the Fleet Week Sea & Air Parade and California Wine Tasting on the new Harbor Float overlooking the San Diego Bay and the city skyline.  The Sea & Air show is a spectacular event where the US military parades its air crafts and battleships on the San Diego Bay.  To make this even that much better I have invited 20 California wineries to pour their wines and commemorate California Wine Month.  Chef Deborah Scott will provide action food stations and passed hors d'oeuvres.  This event is a walk around event is standing room only.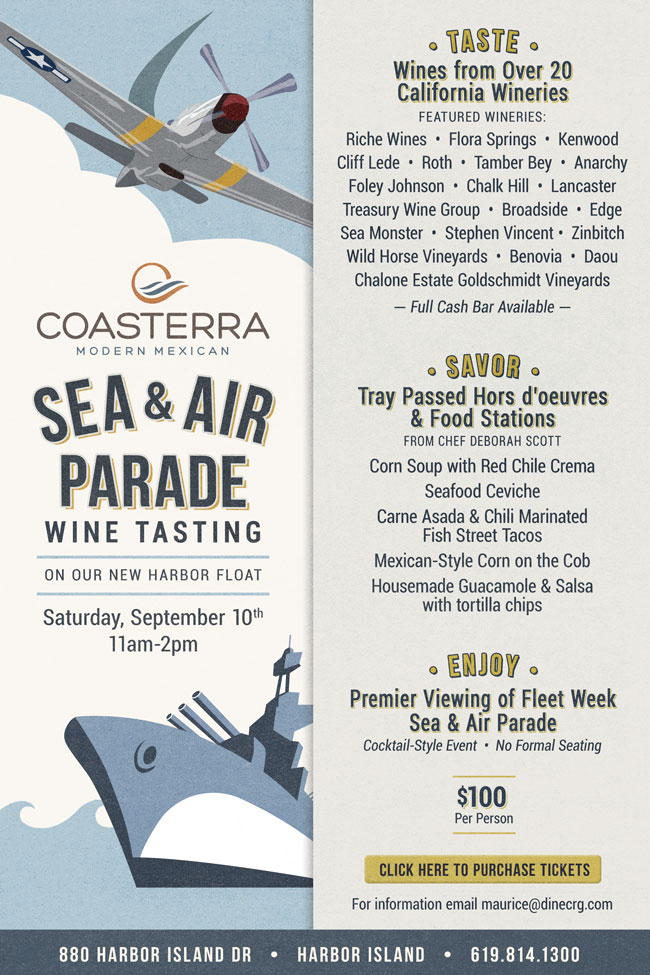 September 17th Sea 180 Coastal Tavern has invited California sparkling wine producers to come and pour their sparkling wines as we pair them with oysters.  We call it Oysters and Bubbles! There will be tray passed hors d'oeuvres, oyster shucking demonstrations, cocktail sauce and mignonette making and best of all oyster and bubbly wine slurping.  All this will take place on the poolside patio overlooking the white sands and blue waters of Imperial Beach. To add a little vibe, Adrian Ahearn, our favorite steel drum player, will provide the mood with his island tunes.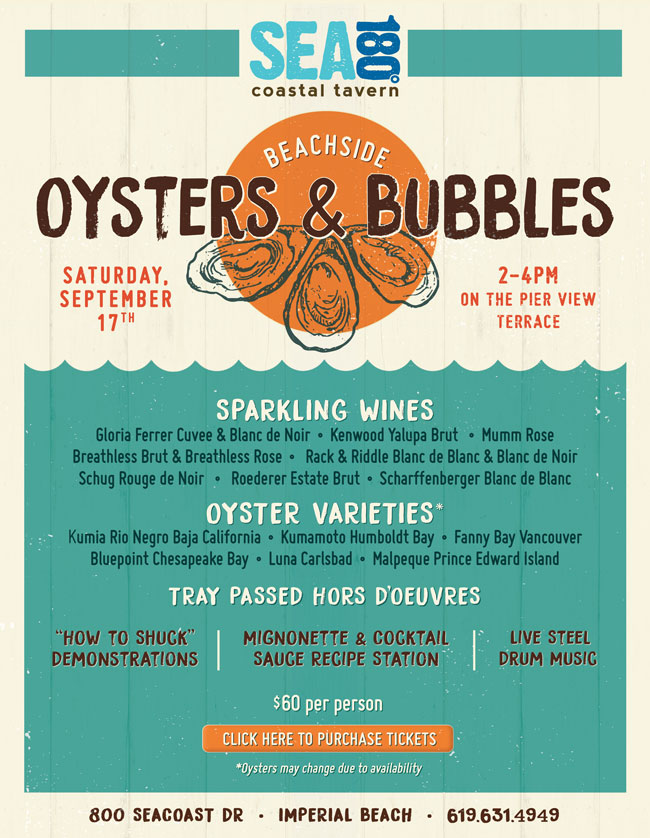 Finally, after all this celebration I tone down the partying and get serious about education.  On Saturday September 24th at Island Prime Restaurant I will hold a seminar and tasting on the History of California Wine.  I teach a 3 week course at SDSU's Business of Wine Program titled the California Wine Intensive.  This 2 hour seminar is a condensed version of that course.  We will taste 10 wines which exemplify California's history.  This is a classroom style tasting, hors d'oeuvres will be served following class and all the wines will be available for purchase.

PROMOTIONS
From September 6-15th, I have several of our restaurants participating in my favorite promotion of the year, WINE & DIME.  For ten days, there will be a list of ten wines for $.10.  Come in and buy 1 glass of wine at the regular price and get a second of equal or lesser value for $.10!  What a deal. The wines are all high quality wines from several of my partners such as Foley Wines and Treasury Wine Estates. The list will vary from restaurant to restaurant with a few staples at each location. Participating restaurants are 333 Pacific, Bluepoint, Bo Beau Ocean Beach, Bo Beau La Mesa, Gaslamp Strip Club, Indigo Grill, Island Prime & C-Level, Melting Pot, OB Warehouse, The Prado, Sea 180 & Vintana Wine + Dine.
We finish off the month with Restaurant Week.  This year Restaurant Week is from September 25th-October 2nd.  Our restaurants will offer special prices on bottles of California wine starting at $20 per bottle to be enjoyed with our Restaurant Week offering. What a great time to visit more than 1 restaurant a week, get a fantastic price on your meal and compliment it with a ridiculously low priced quality wine.
So much is going on in September!  Keep me in mind when you plan your month.  I have something for everyone. Happy California Wine Month!