Best Wines Tasted In 2011 List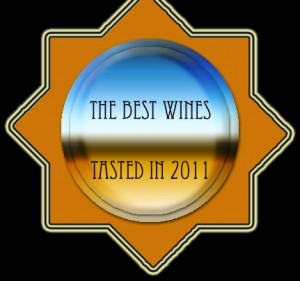 The Best Wines Tasted in 2011 List is here, just in time for the end of the year.

I am new to the blogging sphere, and I know that best of lists are a no no, but I just couldn't resist.  I always love hearing the countdown to the top one hundred songs of the year, so I needed to do a "best wines tasted in 2011 list".  Over the past year I tasted a lot of wine. Luckily I keep notes and revisit them regularly.  I had some tremendous wines out and about with friends and at social engagements and those did not make it make into my notebook. Unfortunately they will not be part of my "Best wines I tasted in 2011 list".  However,  this list will have some very cool stuff!
As I try to remember the best wines tasted this past year, I realize that I went through different phases.  Over the month of September I spent several weeks in Chile tasting a lot of wine!  So obviously I could probably just make a "best wines I tasted list" just for Chilean wines.  But I won't do that. I will include one of my standouts though.  This is not as easy as it seems because the moment that I am done, I'll go " oh yeah, I remember that one." So this is actually the "best wine I tasted in 2011 list" as my recollection and scribbles will serve me right now.  The following wines are not in any particular order.  Just like when someone asks me, "what is your favorite band or movie", I cannot answer in any particular order.  However, I can give my top ten.
Drum roll please….
Wine #1
Sanguis "Oracle of Delfhi" Santa Maria Valley 07
This wine is made of 96% Syrah and 4%  Viognier, A
Cote Rotie-style
wine. It is massive yet elegant. It spends 40 plus months in oak. That may sound ridiculous, but some crazy magic happens and the oak comes full circle and becomes well integrated. you big wine lovers, will have a field day!  
Wine #2
D66 Cotes de Catalan France '09
This wine is made by Dave Phinney of
Orin Swift Cellars
. It comes from  Maury, in the Pyrennes near the Rousillon and on the border of Spain. The blend is 80% Grenache, 12% Syrah, 8% Carignan.  The alcohol level is up there, as one would expect from this producer. However, what I find to be most interesting is the minerality on the palate.  The black fruit, blue fruit jump out of the glass, but what is left to linger is the graphite and stone.  This area is comparable to
Priorat
, for it's slate soils.  These soils are the secret behind this little gem.  
Wine #3
Chester Anvil is a collaboration  with Aaron and Claire Pott of Pott Wine and Steve Lagier and Carole Meredith of Lagier Meredith Vineyard.  This is a blend of Marsanne and Rousanne, the great white grapes from the Rhone Valley.  The wine is full bodied and has beautiful honey and floral aromas.  It is so silky on the mouth and finishes with burst of fresh acidity.  I love Rhone style whites, and this a sure pleasure for any Chardonnay drinker.
Wine #4
Cote Bonneville Chardonnay Dubrul Vineyard Washington '08
I had the pleasure of tasting this with owner and winemaker, Hugh Shiels.  I am not a huge Chardonnay drinker, but this was so well put together that I had to add it to my "Best wines tasted in 2011 list".  One of my first blog posts had all my goowing and gawing over this wine. Check it out right here!
Wine #5
Paul Bara Bouzy Grand Cru Champagne N/V
Now this wine doesn't have a whole lot of great press, however, it makes my "best wines tasted in 2011 list" because it is a bang for the buck.  
Grand Cru Champagne
at an affordable price.  It has all the intense tree fruits and minerals jumping out of the glass. But what really stood out was the blast in the mouth.  The bubbles explode and leave an extremely long citrus and stone finish. Absolutely delicious with structure!  
Wine #6
Coho Merlot Michael Black Vineyard Napa '07
Boom, Pow thank you m'am! Now this is Merlot.  It has backbone, texture and endless flavors and aromas of fruit.  I try to select wines that I can afford and this just starts to peak my budget. However, it is well worth it.  It is time we stop putting down Merlot and drink the good stuff!
 Wine #7
DeMartino Carmenere Maipo Valley '98
This is wine falls into two of my categories, it was taste in Chile and at a Social gathering with winemaker Marcelo Rematal. It blew me away to see how good Carmenere could get with some age.  It really reminded me of Bordeaux.  I am sorry to put it on my "best wines tasted in 2011 list" since you cannot purchase it.  But it left such a lasting impression on me that I had to include it.  You know its one of those wines because everything came together, the experience, the atmosphere, the wine and the people all went together.  You can learn more about DeMartino here. 
 Wine #8
Rusina Zinfandel Dry Creek '07
I am not a Zinfandel lover.  I just can't get past all the alcohol and simplicity of fruit.  Then why do I have a Zinfandel on my top ten?  I was tasted on this wine twice by two different distributors and each time I was so surprised to see how good it was. It might not be the best wine I tasted, but since it did light up my eyes twice, then I figured I should add this to the Best wines tasted in 2011 list.  The wine is very aromatic with aromas of black fruit, raspberries and  violet bubble gum.  The oak is perfectly used to soften the tannins and add flavors of cocoa, vanilla while accentuating the black pepper spice of the grape. On my last tasting, the final notes I wrote were, JUICY & DELICIOUS.
 Wine #9
Chateau de L'echarderie Quarts de Chaume '08
It was very difficult choosing one wine that stood out from my October tasting with Pascal Laffourcade.  Everything could've ended up on this list. But I had to choose one, and the Quarts de Chaume '08 is my pick because it is the one that was released this year.  This is Chenin Blanc to the highest degree.  The Chenin Blanc is infected with botrytis and then carefully pressed and aged in plastic, stainless and then oak barrels.  The final product is a sweet delight of Beeswax, paraffin with pineapple and apricots. It is bright of and light on the palate, but by no means thin. For this reason it is one of the great wines of France!
 Wine #10
Chasseur Joyce Pinot Noir Sonoma Coast '08
Pinot, Pinot, Pinot! There is so much Pinot now a days and I have tasted a lot of Pinot Noir in 2011.  Was this the best of them all? That is hard to say.  While reviewing my notes I see that I also enjoyed Scribe, Fog Crest, August West, and of course the Hudelot-Noellat Romanee-St. Vivant I tweeted about.  But that is just in a different class. I wanted this post to include wines that are attainable.  The Chasseur Joyce stood out for me because it a Pinot that acts like a Pinot.  The aromas are those that I have come to love from the Pinot Noirs in Burgundy,  forest leaves & twigs, roses with wild berries and smoke.  It is soft and velvety on the palate and finishes long with plenty of mouth-watering acidity.  Ahhh! Pinot Noir, California can actually make real Pinot.
I hope that you enjoyed the best wines tasted in 2011 list by Maurice DiMarino.  If you haven't already, I hope that you get a chance to try them.  I would love to hear your feedback. I can't wait to do it all over again in 2012!  It's tough job, but someone has to do it.
Happy New Year!