Wine Tasting Notes For June 2012
WINE TASTING NOTES FOR JUNE 2012
My intention in posting my wine tasting notes is to give a brief description of some of the many wines I come across over a months time. Some wines will make the wine list and others will not. Choosing one wine over another for the list, comes down to what holes need to be filled. Keeping my notes online allows me to access them for future reference.

 I do not want to rate wines on a point system. There many flaws with the point system, I merely want to give the reader a description of my interpretation of the wine on a given day. Wines are always changing, we are always changing and what comes across as unpleasing one day can be enjoyable the next. I want to give the reader an insight in to what the wines taste like rather than attaching a subjective score to them. Winemakers and wineries work hard and are very proud of their juice. I will evaluate their product, but I will not trash it. There are times when I can't hold back and if I really like something, I will write "Yummy" or "Delicious".  I hope you enjoy my notes.
Lima Mayer Red Alentejano Portugal '07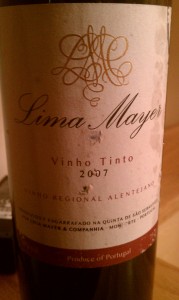 This Portugese red is complex and rich. It has aromas of café, wood, herbal motes, anise, musk and raisins. The wine is plush on the palate and has flavors of dates and graham cracker. It is not available in America yet. I believe that they are searching for importers if anyone is interested.
Odisseia White Douro Portugal '11
This white has floral notes of jasmine and honeysuckle with red apples, citrus and minerality. The wine comes across salty with notes of petrol and tangerine on the palate. This wine is currently not available in the US market and currently looking for an importer.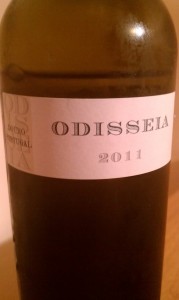 Odisseia Red Douro Portugal '08
This red has aromas of plums, dates, licorice and toast. It is spiced with leather notes and generous tannins. It finishes long with a port-like pruniness. This wine is currently not available in the US market and currently looking for an importer.
Morgan Double L Vineyard Pinot Noir Santa Lucia Highlands '10 
All fruit comes from the Double L vineyard, a certified organic vineyard. The juice sees 10 months of 100% New French oak. The color is a vivid ruby color. There aromas of red cherry and berry along with a sweet spice. It is fresh and juicy on the palate with flavors of violets and roses and red plum.
Retail $35
Alias Chardonnay California '09
This wine bares the name Alias for good reason. It is made by 8 well known California winemakers whom have chosen not to reveal their identities. The wine is aged in neutral oak resulting in a bright and fruity Chardonnay. There all flavors of red apples, oranges and cantaloupe. It is fresh and vibrant with citrus on the finish.
Not available for retail. It is the house wine at Island Prime and C-Level.
Mason Sauvignon Blanc Napa '11
Randy Mason is a master of Sauvignon Blanc. This fruit is sourced from Yountville's Blockhouse vineyard and is cold fermented in steel tanks. It has aromas of grapefruit, honeydew, melon and green apple. There is sweetness on the palate that gives it roundness and it finishes with good acidity. It is lovely for the summer months.
Retail $14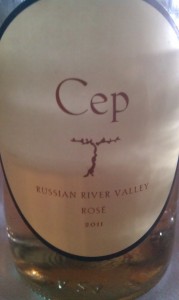 Cep Sauvignon Blanc Hobskins Ranch Russian River '11 
This wine was tasted on day two of being opened. It is ripe with aromas of red apple skins and orange zest. It has high acidity and clean mineral finish. I like the mouth-feel.
Retail $18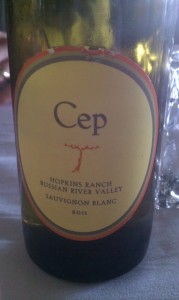 Cep Pinot Noir Rose "Vin Gris" Russian River '11
This wine was tasted on day two of being opened. The fruity is very concentrated for a rose with flavorsw of cherries and other 
Il Campo Moscato, Friuliano & Chardonnay Central Coast '11 
This is another nice wine for the summertime. The aromas are vibrant with ripe apples and field flowers. It is effervescent on the palate with flavors of tangerine and honey.
Retail $15
Peay Pinot Noir Sonoma Coast '10
This cool climate Pinot has aromas of violets, herbs, anise, black fruits, dry cherries and spiced rhubarb pie. It retains a great texture, with good acidity and spicy flavors of cloves and toast. Delicious!
Retail $35
Peay Pinot Noir Pomarium Sonoma Coast '10
The name is derived from the vineyard site, and old apple orchard. The nose is filled with aromas of cassis, cranberry, black berry, purple flowers and red fruits. It's complex with a finish of café crème.
Retail $45
Broadside Cabernet Sauvignon Margarita Vineyard Paso Robles
It has a deep ruby color with ripe aromatics of plums, blackberries and cassis. It is fruity and toasty.
Retail $18
Patricia Green Pinot Noir Reserve Willamette Valley '10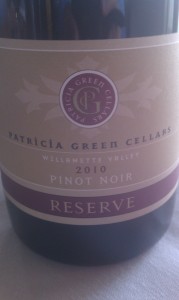 A medium bodied Pinot with aromas and flavors of black cherry, violets, cranberry, Pomegranate. Still a bit young and would like to revisit as it opens up.
Retail $20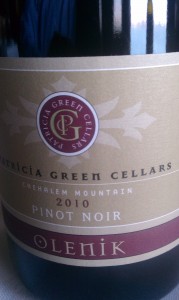 Patricia Green Pinot Noir "Olenik" Chehalem Mountain '10
This is Patricia's 2nd vintage from this vineyard; a vineyard owned by San Diegan, John Olenik. It is a foxy wine with earth aromas followed by Bing cherry. It is silky on the palate and has flavors of red plum, fennel, flowers and mushrooms. It retains high acidity with a long finish.
Retail $38
Domaine Paul Autard Cote du Rhone '11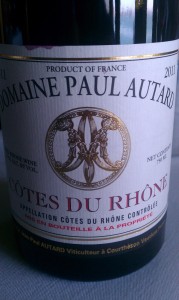 This is a Rhone red with a blend of Grenache, Syrah, Mourvedre and Cinsault. Good new world style, with aromas and flavors of blue fruits, cherries, white pepper, and strawberries. It is jammy on the palate and a great bridge into the old world.
Retail $12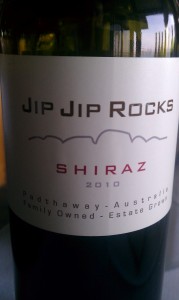 Jip Jip Rocks Shiraz Padthaway Australia '10
This wine is aromatic with aromas of graham cracker, black berry, bramble, and warm wood spices. It is a bit warm on the tongue with flavors of Eucalyptus and tangy red fruits.
Retail $16
Pago Florentino Vino de Pago La Mancha Spain '09 
This producer is so revered in L a Mancha that it has earned its very own DO, Vino de Pago. It sees 12 months of both French and American oak. It is smoky with black fruits, soft tannins and coconut husk in the finish.
Retail $18
Principi di Butera "Insolia" Sicily Italy '10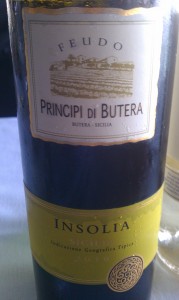 It has a yellow-gold color and is fermented in stainless tanks. The aromas are tropical with herbs and jasmine flowers. There are flavors of oranges, pineapple and tangerines on the finish.
Retail $12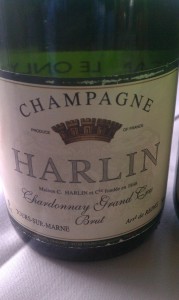 Harlin Grand Cru Brut Reims Tours-Sur-Marne Champagne NV
A blanc de blanc sourced from grand cru vineyards. It has aromas of green apples, pear, lemon and grapefruit rind. It is dry on the palate with white peach and passion fruit on the finish.
Retail $40
Harlin Brut Harmonie Grand Cru Champagne NV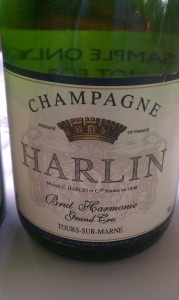 This is also sourced from all Grand Cru vineyards and is made of 2/3 Pinot Noir and 1/3 Chardonnay. It sits for 36 months on its lees and is a blend of 4 vintages and 7 plots. It has a copper color with aromas and flavors of pear, mineral and honey. It is more robust and has a long finish with stoniness.
Retail $38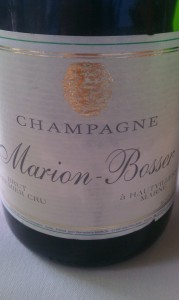 Marion-Blosser Brut 1er Cru a Hautvillers Marne Champagne NV
This sparkling delight is made of 60% Chardonnay and 40% Pinot Noir blended with three vintages. It has a yellow straw color with aromas of yeast and bread, white pitted fruits, toast and honeysuckle. It finishes with flavors of cinnamon and cloves.
Retail $40
Marion-Blosser 1er Cru Champagne '04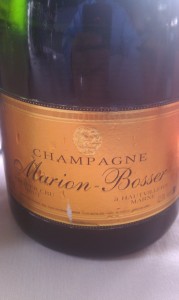 Now this is Champagne!!! This wine is avintage Champagne made of 50% Chardonnay & 50% Pinot Noir and spends 60 months sur lies. It has a pale yellow color. On the nose I get citrus, green apple, mineral and chive aromas. It has high acidity, a vinous character with nutty flavors and long lasting finish. It is tongue sucking delicious!
Retail $70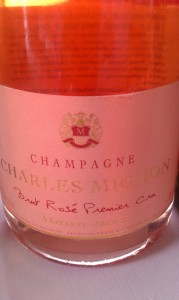 Charles Mignon Brut Rose 1er Cru Champagne NV
This is made of 75% Pinot Noir and 25% Chardonnay and it is a blend of three vintages. On the nose there is cherry aroma with a burnt toast and other red fruits. On the palate it sits big and bright of acid. It has a medium finish with a bitter citrus rind flavor.
Retail $45
Charles Mignon 1er Cru Comte de Marne Champagne NV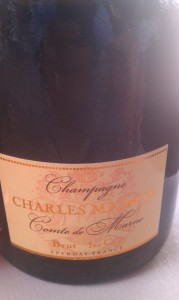 The juice is made of 55% Pinot Noir and 45%, it spends 48-60 months sur lies and it is a blend of 4 vintages. With a pale yellow color it has aromas of passion fruit, citrus, melon and honeydew. It is creamy on the palate and I get that bready & yeastiness. It finishes medium.
Retail $55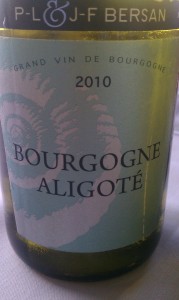 PL & JF Bersan Bourgone Aligote Burgundy France '10
A father and son team making this fun for the sun wine. You like Chardonnay? Try Aligote. It has a pear, green apple and lemon aroma. It is rich on the palate with a soft fleshiness.
Retail $14
Aliane "la Chateriere St. Aubin Burgundy '09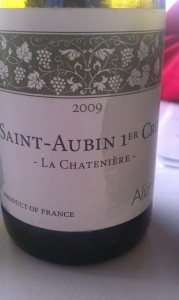 This New world style Chardonnay sees 50% New French oak. Charterie is the name for chestnut forest in French, where the vineyards lie. On the nose there are aromas of Pear and crème brulee. The wine is fresh, clean and creamy on the palate with good acid structure.
Retail $28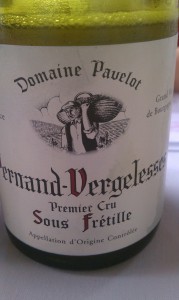 Domaine Pavelot Pernad-Vergelesses 1er cru Sous Fretille '09
This wine has an intense mineral driven nose with aromas of aluminum and stones. On the palate it has flavors of lemon pie and spices such as cinnamon.
Retail $40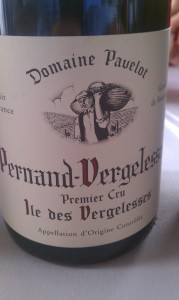 Domain Pavelot Pernad-Vergelesses 1er Cru Ies de s Vergelesses '09
This Pinot Noir is Aromatic with floral notes, sweet tobacco, cloves & cinnamon. It has fruity aromas and flavors of black cherry & rhubarb pie. The wine is silky and rich on the palate and finishes with tart red fruits. Delicious!
Retail $40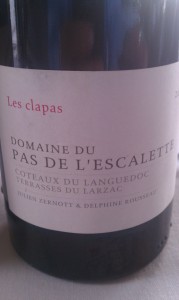 Les Claps Domaine du Pas de l'Escalette Coteaux du Languedoc '08
This is a blend of 30% Grenache, 30% Carignan, 20% Cinzault, 20% Syrah. There are aromas of earth and brett, tobacco and black cherry. Other fruits include plum, black berry, and on the finish cranberry.
Retail $22
LIOCO
Lioco is a project between Kevin O'Conner, ex-sommelier of Spago Beverly hills and Matt Linklater, a long time wine salesman at North Berkley Imports.

The basic idea behind Lioco is to make wines that have a sense of place.
Lioco Chardonnay Sonoma County '10

This Chardonnay is sourced from 4 Sonoma vineyards. It is whole cluster fermented in stainless steel with wild yeasts and spends 6 months on its lees without bâtonnage. Malo-lactic fermentation occurs naturally. It has aromas of Pear, apple, orange with a creamy texture and lively acidity.
Retail $18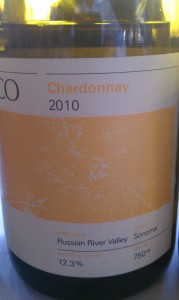 Lioco Chardonnay Russian River '10
The grapes are de-stemmed and soaked in their own juice and undergo cold maceration and then the juice is pressed off. The wine is savory with aromas of banana peel, peach and citrus with creamy texture and high acidity.
Retail $25
Lioco Chardonnay Anderson Valley Mendocino County '10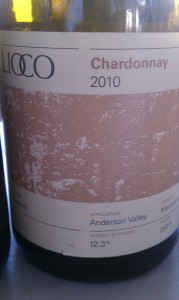 The fruit is sourced from a mountain top vineyard planted with old Wente vines on Axr1 rootstocks. The vines are virused which of course nobody wanted, however, Matt and Kevin jumped at the chance to make some wine. The vineyard is dry-farmed and biodynamic. The nose is of pears and apples with a creamy aroma. There is an intense mineral character with savory notes of chives and finishes long. Great!
Retail $35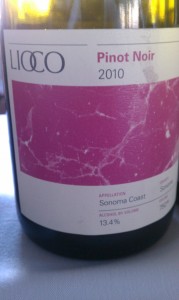 Lioco Pinot Noir Sonoma Coast '10
The fruit is sourced from two vineyards, the Hirsch and Barbed Oak which are made of 40 year old vines. 30% of the wine is whole cluster fermented and it all fermented in open top containers. Then hand punched and aged in 1-3 year old French Barrels. On the nose there are aromas of cherry, raspberry soda and black cherry. The wine is effervescent with floral notes and high acidity. As it finishes there are lingering flavors of smoke and bacon. Delicious!
Retail $30
Lioco Pinot Noir Anderson Valley Mendocino County '10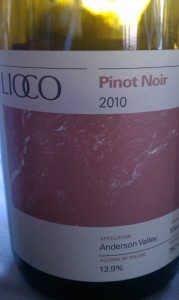 This Pinot is grown on clay and rock soils. 50% of the wine is whole cluster fermented and it is cold soaked on its stems. The idea is to get acid out of the stems, something that Hanzell used to do in the 70's. There are aromas of roses, black cherry and other red berries. The wine is rounded and shows great acidity.
Retail $35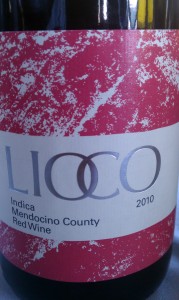 Lioco Carignan "Indica" Mendocino '10
This is a field blend from an organically farmed vineyard made up of 97% Carignan, 1% Grenache and 2% Petit Sirah. The wine is fermented in open top containers. There are aromas of Blueberries, Blackberries, Cherries, smoke and flowers. It is light and lean with mineral flavors.
Retail $18
Staglin Vineyards
Staglin Vineyards is situated in the heart of Rutherford. The vineyards were purchased in 1985 and were planted by Andre Tschlechif back in the 60's, prior to going to work for4 BV. Some fruit is purchased from the Beckstoffewr vineyard, about 3-5 barrels. The Difference between Salus and Staglin are the age of the vines. The younger vines go into the Salus and the older into Staglin. The wines are made in the same way. The vineyards are certified organic and the winery is solar powered. There is a 16 guy team that sorts the fruit ti the single berry and only the perfect fruit is used. The facility is in an underground cave where the temperature is constant and cleanliness is key.
Salus Chardonnay Napa '10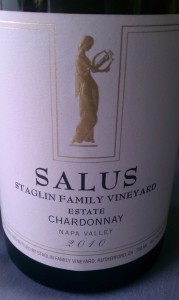 The Chardonnay is all estate fruit and aged for 16 months in 50% new French barrels. Malo occurs naturally. On the nose there are aromas of peaches, pears and toast. It has a soft creamy texture with warm pie spices and Marscapone cream. It has a long finish with oaky finishes.
Retail $45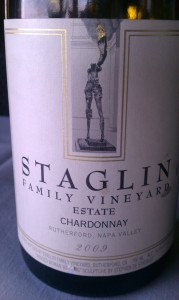 Staglin Chardonnay Napa '09
The winemaker, Frederick Johansen studied under Thomas Brown of Outpost, and makes this Chardonnay in a rich style. It has fig, pear and yellow apples on the nose. The wine is crisp and rounded with flavors of pineapple, cloves and oranges. This is huge and delicious!
Retail $65
Salus Cabernet Sauvignon Rutherford Napa '09
This wine has a deep purple color with a ruby rim. The fruits are of plums, raspberries, boysenberries and café crème. There are non-fruit flavors of toast, tobacco leaf, anise, mint and espresso. The wine is constantly changing on the palate and the finish is long and pleasing.
Retail $80
Staglin Cabernet Sauvignon Rutherford Napa '06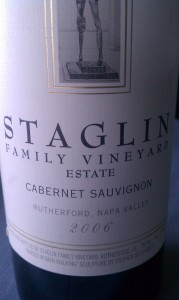 This wine is more ruby with a garnet rim. There are aromas of black cherry, red plum, café and toast. The few years of age, make this wine leaner, with softer tannins and flavors of mocha and dust.
Retail $160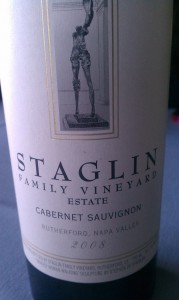 Staglin Cabernet Sauvignon Rutherford Napa '08
This ruby colored Cabernet has intense aromas of fennel, black berry, black plum and cassis. It has a dusty flavor followed with black olives and riper tannins. The wine finishes with chocolate notes and is a lot bigger than the '06.
Retail $160
Gramona Gran Cuvee Cava Spain '08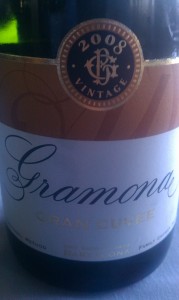 This Cava is made in the methode champenois with Xarello, Macabeo and Chardonnay. It is one of the last family run Cava houses. Aromas of green apples, creamy texture and full bodied. It has flavors of nuts and pears followed with refreshing acidity.
Retail $18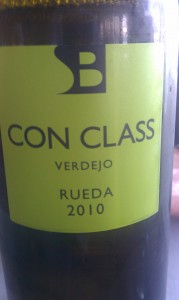 Con Class Verdejo Rueda Spain '10
The vines range from 60-100 years. It is fermented in stainless tanks nd spends 4 months on the lees. It has fruit flavors of lemon, citrus, apples and sweaty. It sits lean and crisp on the tongue with a light refreshing finish.
Retail $12
Burgan's Albariño Rias Baixas Spain '11
The grapes come from high elevation and spend three months on the lees. It is floral with peach and citrus fruits. It is bright on the palate with flavors of apricot, melon with a medium body.
Retail $13
Altés Herencia Granatxa Blanca Catalunya '11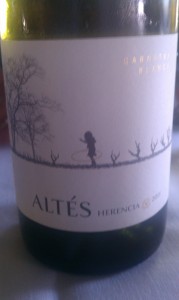 This wine is made of Grenache blanc from 100 year old vines, south of Priorat. The vineyards are from high elevation and the wine does not see wood. It has a grey-copper color with aromas of melons, minerals and citrus. On the palate it is creamy with flavors of apples and some warm alcohol notes.
Retail $9
Domain LaFage Cote du Roussillon "Cuvee Nicolas" Grenache '10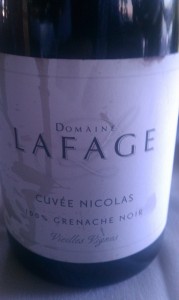 The grapes come from 80 year old vines on schist soils. The wine is aged in concrete. It has aromas of Black and red plums, cassis, black berry and black cherries. There are some violet notes and on the palate it is rustic yet fruity. On the finish there are flavors of wild herbs and lavender flowers.
Retail $12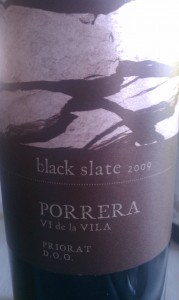 Black Slate Porrera Vi De la Villa Priorat '09
Porrera is the name of the village these grapes are sourced from and has the highest elevation. The blend is 60% Grenache & 40% Carignan and the wine sees 1year of French oak. On the nose there are floral notes of violets, roses backed by fruit notes of cherry and strawberry. The wines is smoky and juicy. On the palate there are flavors of cola, herbs and spiced pie. Great value for Priorat.
Retail $18
Izadi Rioja Reserva Spain '06
100% Tempranillo in 20% new French and American oak barrels. It has flavors and aromas of Black fruit, strawberries, red plums and has a silky texture.
Retail $17
Toby Lane Vineyards Merlot Alexander Valley '09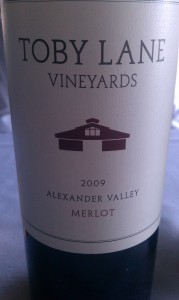 Toby lane has always focused on farming and sold their grapes to some the greats in the valley, Sliver Oak and Rodney Strong. The vineyards are farmed biodynamic and the winery is a gravity flow winery. The Merlot is of a light ruby color with aromas of plums, berries, and tobacco notes. It is lean on the palate with earthy tones and structured tannins. Only 65 cases produced.
Retail $30
Toby Lane Cabernet Sauvignon Alexander Valley '09
This Cab is much darker than the Merlot. The nose is more subtle with aromas of cassis, plum, red cherry and figs. There is a sweet oak, vanilla and toasty character. The finish is long with flavors of mocha. But stands out is the texture, I could swirl it in my mouth for ever. Very good!
Retail $35