Standout Wines of 2012 the best of the rest
Standout Wines of 2012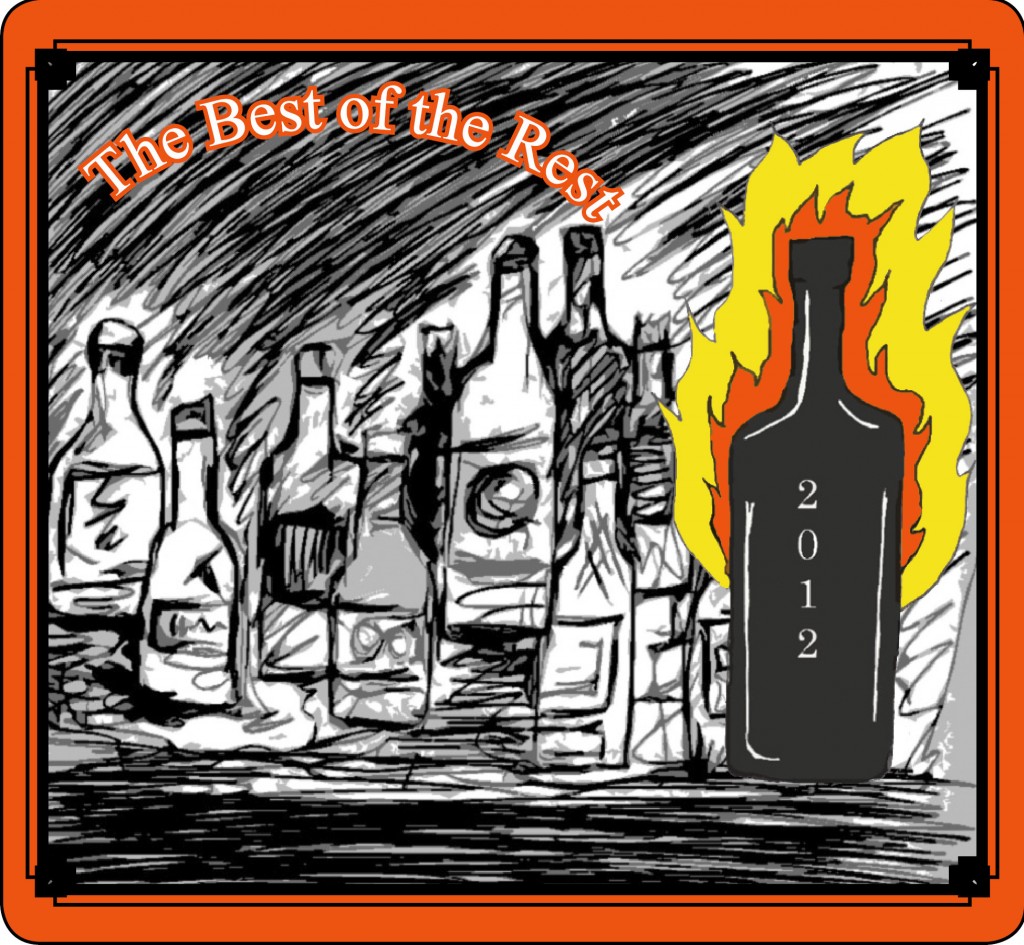 Selecting the best of anything is a daunting task.  How many times does someone ask you what is your favorite band?  What is your favorite movie?  You always answer, "I don't have a favorite, I like everything."  However, when the question is first asked something does pop into your mind.  You immediately dismiss it because although, it is one of your favorites, there are so many others that are not fresh in your mind.  Instead of being pigeonholed, you give the easiest answer, "I don't have a favorite".
Selecting the best wine of 2012 is even more difficult because I tasted more wines than listened to different bands or saw different movies.  So how can I pick the best of 2012?  Well instead of dismissing my first thoughts, this time I am going with them. The following wines may not be the best wines of 2012 but they were good enough to stay in my memory as standouts.
So better than calling it the best of 2012, let's call this post,
Standout Wines of 2012: The Best of the Rest "in no numerical order".
____________________________________________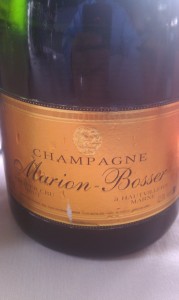 Marion Blosser 1er Cru Hautviller Champagne '04
When I tasted this wine I had just finished writing about my one in a lifetime experience, tasting Krug Clos Mesnil, Krug Vintage Rose alongside Dom Perignon Oenothèque and other great champagnes.  Those wines were fresh in my mind. Then I tasted Marion Blossers Hautvillers 1er cru and I thought, "This is Champagne!" I will put this up next to Dom any day.  The best part is that it is completely approachable.  It's huge on the palate and the finish is endless, but great on the pocket-book.
Retail $70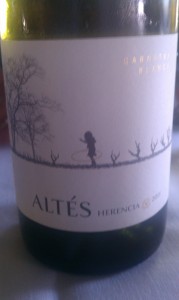 Alté's Herencia Garnatxa Blanca '11
Talking about being easy on the pocket-book, this is why this little cheapo makes my list.  Eric Solomon imports this white and from Spain's Catalonia region.  Like many of his wines, they bridge the new world-old world gap.  This Grenache Blanc over delivers.  You know when you buy an inexpensive wine you really don't expect much except it be quaffable.  You don't expect to get too much structure.  This little white is mighty fine.  It is balanced, has fresh and vibrant acidity and will go with many of your favorite seafood dishes.  Best of all it retails $10-12.  I liked it so much I added it to the by the glass list at 100 Wines Hillcrest.
Retail $11.99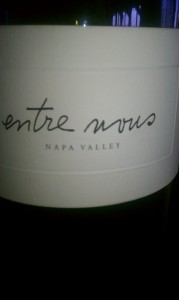 Kristine Ashe Vineyards Entre Nous Napa '08
Taking a huge leap in a completely different direction, I land on Entre Nous.  You can call me Bi-Polar for loving a cheap Spanish white and now loving a cult Napa Cab with pedigree.  What happens when David Abreu designs your vineyard, Jim Barber manages it and Philippe Melka makes your wine?  Entre Nous.  What a name, and what does it mean? "Between us". Maybe it gets its name because Kristine Ashe and her team are the only ones that can afford to drink it.  Or maybe it is as Kristine Ashe says, "Our team's shared passions and dedication to world-class wine making brought us together but our mutual affection provides the very soul of our wine."   Whatever the reason, the wine is absolutely delicious.  When I first sat down to taste it, I was ready for another big over-oaked Napa Cab with a high price tag.  Instead, I tasted a balanced wine, yes oaked, yes big; but it had complexity.  I remember to this day aerating the wine in my mouth and getting all sorts of layers.  First red fruit, then black, then earth and back to red fruit and toast and on and on.  Well deserving of the price.
Retail $150

Barcarola Teroldego Serra Guacha Brazil '05
Stomping on the brakes and switching gears, I make a U-turn and start driving against traffic on a one-way road. "Brazil!?"  You ask.  If you have not read my past posts about Brazilian wine then, you would not understand. My answer is, "Hell yah!" The unfortunate part is we do not see these wines in the States.  What we see come into the US are wines equal to Constellation Brands' wineries.  We import the big dogs from Brazil, and sorry to say, they do not give an accurate representation of the capabilities of Brazilian wine.  Baracarola is a boutique winery owned and run by the same Italian family since the mid 1940's.  The beauty of these wines is the terroir.  They do not use oak.  Some might say that they do not so that they can save money.  But I believe they do not use oak so they support the grape's integrity.  After tasting many Brazilian wines, I found the un-oaked wines to show the best. Northern Italian varieties and Tannat should be on your radar for Brazil.  Unfortunately, since Tannat and Northern Italian varieties do not sell in the world market, I don't think we will be seeing many of these come our way.  I never said this is the Standout Wines of 2012 available at Bev Mo.
Retail $50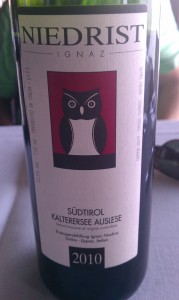 Ignaz Niedrist Skiava Südtirol Kalteresee Auslese Alto Adige
I am headed for a brick wall if I continue down this path.  This next wine is also not easy to find and another Northern Italian variety.  Schiava is a light bodied grape with crazy aromatics of bacon, flowers and red fruit.  Although I did not buy this wine for the restaurant, I still will not forget it.  Ignaz Niedrist is one of the most respected boutique producers in the Alto Adige.  His whites are delicious, but this little red gem is the most interesting.  One of these days I will add it to the wine list.  It's just that I have never had someone come in and ask, "Do you carry any Schiava wines?"  I wish they would, then I'd have a reason to put it in the list.  Instead it will earn a spot on my Standout wines of 2012.
Retail $22
Batič (Zaria 50% Pinela, 25% Rebula, 25% Zelen) Vipauska Dulina V.O. Slovenia
Now I have gone through the brick wall and am coming to a screeching halt at the edge of a cliff.  I promise I'll get us back on a safe path, but for now let's put our parachutes on and take a leap.  The next wine is also another eclectic and obscure wine.  I won't say these wines are increasing in popularity, but they are intriguing many.  I am talking about orange wines.  No they are not made with oranges, but produced in the ancient way.  The grapes are fermented in open top amphoras with extensive skin contact.  They are oxidized and will benefit from aging and decanting before drinking.  The wine is full-bodied, aromatic and long-lasting on the palate.  It has a petrol, floral, herbal character with dried fruits.  There really is nothing like it, it is super complex and an excellent choice for the adventurous wine geeks.
Retail $28.99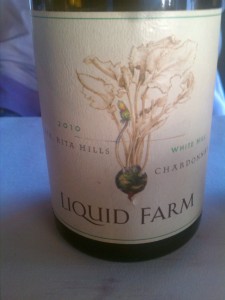 Liquid Farm "White Hill" Chardonnay Santa Rita Hills '10
I told you that I'd get us back on track.  Now we open that parachute and glide back on safe ground with Chardonnay.  I am a big fan of wines made by people from within the wine business.  Many of us buy wine, sell wine and teach about wine.  When we make wine, it is unlike the others.  We usually have a goal, a style in mind. Liquid Farm is made by Jeff and Nikki Nelson, a husband and wife team that came from restaurants and wine sales.  Their dream of making old world wines from the new world came true with Liquid Farm.  When I first tasted this wine, I immediately said, "Finally, a new world Chardonnay the way it should be!"  This wine is now sold out but the 2011 is right around the corner, keep an eye out for it.
Retail $36

Brittan Basalt Block Pinot Noir Willamette Valley Oregon '09
Staying on the well-lit and paved road we naturally progress from Chardonnay to Pinot Noir.  Last week I blind tasted 26 Pinot Noirs for the by the glass list.  During that tasting I was thinking about Brittan's Basalt Pinot, because I knew that it would have gotten lost in the tasting.  The Pinots that show well when you taste 26 wines back to back are the big, more alcoholic Pinots, usually the Central Coast Pinots.  Brittan may not have a leg to stand on in a power blind tasting next to big fruit-forward Pinots.  And for this reason it makes my list.  Brittan Vineyard's Pinot is also bi-polar, elegant yet austere.  The delicate floral aromas and subtle cranberry fruit would never stand up in a blind tasting next to Central Coast fruit bombs, however, the high acidity gives it backbone to stand up to food. And for this reason it makes my Standout Wines of 2012.
Retail $45

Betz Grenache Besoliel Columbia Valley '09
In 2012 I traveled with the Washington Wine Commission through Washington State. Day one started with an intense tasting of some of the best wineries of Washington atop the Space needle in Seattle.  As I tasted through the wines from Syrah to Cab to Merlot, the one stand out was Bob Betz's Grenache.  Maybe it stood out because it was one of the only Rhone blends in the room. However, five days later after tasting hundreds of different Washington red blends, it still stayed fresh in my mind.  It had delicious fruit, but it also had a savory edge, a trait I so love in wine.  The winery is going through some ownership changes, but Bob Betz the crazy scientist is still at the helm of wine making.  Drink these wines while he's still around.  This wine inspired me to write one of my first love letters, Grenache.
Retail $50
Cercius by Michel Gassier Cote-Du-Rhone France '11
The last wine to make my Stand Out Wines for 2012 is another budget friendly choice.  It is an easy pick because it is sitting right across from me as I write this post.  This has been my everyday drinking wine for the last 6 months.  Each time I open a bottle, I always laugh that I only spent $12.  It is another one of Eric Solomon's selections.  This wine has violet aromas with blueberry and blackberry flavors.  I can drink it over and over and never get tired of it.  It is one of those wines that is perfect to drink daily or to bust out for dinner with friends.  I can bring this wine to a dinner party and know that it will be well received.
Retail $12.99