A Summer of Riesling in San Diego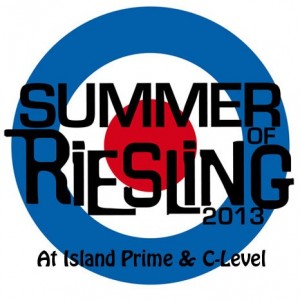 Every Monday I have a tasting group where I meet with several sommeliers from San Diego and we practice blind tasting.  One of my colleagues is Tami Wong, wine director at the La Valencia Hotel in La Jolla.  About a month ago she came to the tasting super excited about signing up for the Summer of Riesling program.  It immediately sparked an interest in me.
The Summer of Riesling is a summer long event started by Paul Grieco of Terroir Wine Bar in New York.  Paul is a crusader for Riesling and what once began as a rash decision one summer has spread countrywide.  In the summer of 2008 Paul felt that people were not drinking enough Riesling.  So in a totalitarian way, he removed all his whites on his by the glass list and replaced them with Riesling!  What the "F"?  If I were to do that here in San Diego people would stop dining with us.  But Paul is in New York, and he can do as he wishes.  Well it worked.  The next year others followed suit.  Today there are over 500 restaurants, wine bars and retail shops serving Riesling all summer long.  Not everyone is going to the extremes of removing all whites, but they are serving at least 4 Rieslings by the glass.
I was excited to jump aboard.  I love Riesling because it is so diverse and there is a style for every wine drinker.  Working with food all day, Riesling just makes sense.  I always have a hard time pairing Chef Deborah's food with wine because it is so out there.  Some dishes have so many components that a perfect pairing is very daunting.  She loves her spice and dishes like the Skirt Steak Salad in C-Level is down right HOT! Well, Riesling is my saving grace.  It is so versatile with its high acidity and residual sugar, there isn't anything I cannot pair with Riesling.  It is one of the few white wines that I can even pair with a steak at Island Prime.
So this summer, I am excited to promote Riesling to San Diegans.  Imagine sitting in this patio, sipping on Riesling all summer long! TAKE THE VIRTUAL TOUR HERE.  This is what I have up my sleeves for the Summer of Riesling:
Throughout the summer we will be serving 4 Riesling by the glass:
Keller Trocken Rheinhessen:  a dry style Riesling with power and concentration.
Blees Ferber "River Bend" Mosel: A sweeter style Riesling which has become Riesling drinkers favorite at C-Level.
Ravines Dry Finger Lakes New York:  A delicious dry Riesling with hints of honey from one of the best Riesling producing regions in the States.
We will also be serving a Riesling of the Day, so ask your server, it could be Alsatian, Austrian, Australian, Oregonian or some other Riesling region.
Not sure what to pick, then enjoy a flight called, Acid hounds: Three 3 oz pours of Riesling.
Interested in a cocktail? We'll serve the "Zeitgeist": a spin on white Sangria made with Riesling, Lychee, Maraschino, house-made lime liquor, citrus and soda.
If you join us for Happy hour you will be enjoying Villa Maria Marlborough New Zealand Riesling, a dry style with lime and other citrus fruits.
C-level will be pairing a new appetizer with the Riesling of the day.  How about some pork belly and Riesling?  See what Chef Deb creates and what I compliment.
If you are not Rieslinged-out yet, then join me on July 20th for a Prime Cru seminar where we will learn about Riesling around the world.  If you would like to attend please contact me by filling out the form below.
So let's get our acid on and enjoy a Summer of Riesling in 2013!