Judging Wine at the Sommelier Challenge, What do Somms Really Think?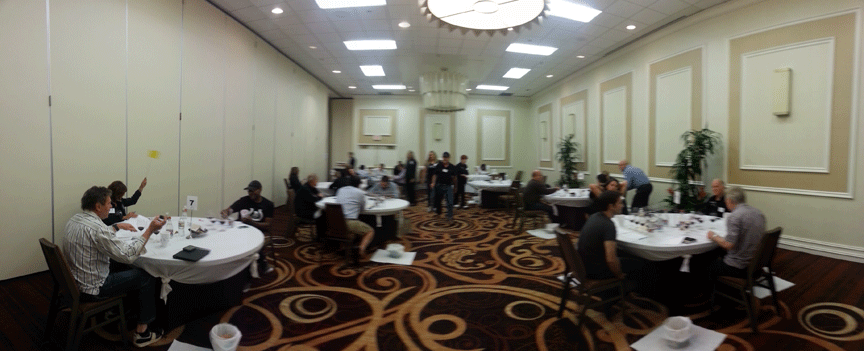 Another year, another wine competition.  This time I was judging wine at the Sommelier Challenge hosted by the man who puts on the most organized wine competitions, Robert Whitley.   This competition brings sommeliers from across the country for the painful task of judging wine.  Well, at least that is what I tell my boss, it was a difficult and painful task but the job had to get done.  As we all know, wine is fun, no matter if we're discriminating for a wine list, drinking at a dinner party or judging $10 Pinot Grigio.  What I really enjoy about this competition is getting together with peers and spending two days grueling over flights of wines from all over the world.
Do you ever wonder what sommeliers talk about when we get together?   Here is a quick look at what we talked about over lunch the first day.  Contrary to what you'd expect, wine was not much of the conversation, just the ice breaker.  We share our restaurant horror stories.  We talked about corkage fees and complained about why guests just don't understand how much time and work it takes to open and serve 12 bottles of your wine for free, while we neglect other guests.  But after the ranting and raving about our jobs on the floor, we talked about beer!  Yes. beer!  So the first thing I did when I got home the first day after judging a dozen Moscatos was open an Anchor Steam.   I plan to talk a lot about beer in an upcoming post, so stay tuned.
As for the Sommelier Challenge it was all good times.  We tasted 900 hundred wines from the most obscure backwoods regions in America to the top vineyards of the world.  My fellow judge was Jennifer Foucher, a sommelier from Washington D.C..  Together we flew through our flights.  There was no arguing, no your wrong, I'm right.  We just disagreed and were happy to disagree.  I liked tasting with Jennifer because we pretty much based our results on instinct and first impression.  If the wine was not good, it wasn't good and was not up for debate.  If she or I liked a wine, then good, we liked the wines.  Plain and simple.  I think we gave out two platinum awards all day.  I always look forward to the sweepstakes round to see what the other judges deemed as platinum.  To see the rules and how the medals are awarded see one of my old posts.
Every judge brings a different palate and a different point of view.  That is why wine lists are so diverse.  When you get us all in one room it is fun to see us interact.  I really enjoy meeting new people and seeing some old friends.  This year we had Master Sommelier Bob Bath from the Culinary Institute in Napa.  He was at the forefront of the beer conversation.  I look forward to drinking beers with him one day.  Also from the Culinary Institute in Napa was Tracey Dutton, who at lunch admitted her love of vodka.  We also had out-of-town judges, Michael Scaffidi from Washington D.C., Andre Mack the man behind Mouton Noir Wines in all his get-up.  An old friend from San Francisco, Eugenio Jardim formerly of Jardiniere was there spreading his contagious laughter with fellow San Francisco-ite Rob Renteria from La Folie.  Stupid me, I introduce myself to Rob and the entire time I think I'm talking to winemaker Oscar Renteria, sorry Rob.  It was also a pleasure to see ex-San Diegan Ted Glennon who is now stomping on grapes in the Santa Cruz Mountains.  The other outside judge who cannot be forgotten, the philosopher, George Skorka who is the only other person that can challenge Eugenio for the most boisterous laughter and loves to share his philosophy about wine tasting, consciousness and why Pinotage is great.  David Furer, wine journalist and sommelier shared his expertise, maybe we'll hear about his experience on his blog.
From close to home, Lisa Redwine the pillar behind the Marine room and the Shores in La Jolla, led the charge for higher corkage fees.  It is always good to see her.  Chuy Galvin is also a staple at the Sommelier Challenge, we actually went the same high school.  Who would have thought, two Catholic Mexican boys becoming somms.  And then there was the motley bunch from my Monday tasting group, the forever studying and always in a great mood Brian Donegan, formerly from Market in Solana Beach.  Tami Wong, the golden palate from our group who nailed a '03 Verdejo a few weeks back, was here to put her palate to work.  My good friend Paul Kirkorian, the veteran, sat a few tables down and stuck his nose deep into every one of his glasses.  Every person here is an all-star, down to earth and their medals should mean a lot to the receiving wineries.  Judging wine can get exhausting, but the experience is quite enjoyable.
So what do sommeliers do after judging hundreds of wines over two days?  Well this year, thanks to Brian Donegan we drank 1940 vintage Pernod.  I am a Absinthe fanatic, and this was the perfect closure to a long weekend.  Thanks Brian!
Now for the winners!  After selecting by a show of hands which wines were the best in their class we selected several winners.  The best Sparkling wine went to Moet Chandon 1993 Grand Vintages, it was up against Ferrari Perle Italian Sparkling and Domaine Carneros Rose Cuvee de la Pompadour.  I awarded the Platinum award to the Ferrari the day before, and I still believe it was better than the Moet Chandon, but my colleagues didn't agree.  In fact, they they went so far as to give Moet Chandon the coveted award of the BEST IN SHOW.
The top white wine was given to Dr. Konstantian Frank Riesling from the Finger Lakes in New York.  I preferred this over the Moet Chandon.  The best rose went to a local San Diego winery out of Temecula, Faulkner.  Good on you!  The best red honors were shared by the Gabbiano Chianti Classico Riserva and the Black Stallion Estate Cabernet Sauvignon from Napa.  The $27.99 bottle of Cabernet beat out the Black Stallion Bordeaux Blend which sells for $175.  Unsurprisingly, the best dessert wine went to Inniskillin Riesling Ice Wine from Canada.  Again, I thought this wine was more complex and interesting than the winning Champagne, but not enough people agreed with me.  Congratulations to the winners, well deserved.   I look forward to doing it again next year.