Where do you buy wine?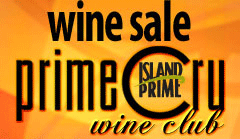 Where do you buy wine?  This  is a question I always get.  And it is a hard one to answer.  People want me to name my favorite wine shop in San Diego, unfortunately I don't have one.   I am in a very lucky position.  I co-ordinate the wine lists for a group of restaurants. Some of these restaurants have "off sale permits" which allows them to sell wine to go.  What makes these restaurants different from wine shops is that the "off sale" is not the means to make a profit.  Selling wine at retail is just an extra perk for our guests.
How many times have you been at a restaurant and have enjoyed a bottle of wine over dinner.  You have decided to skip dessert and instead of going to a bar, you want to head back to your hotel or home.  However, you are not quite ready to call an end to the night.  You have room for another glass of wine.  Here is where we come in.  We can offer you that same bottle out the door.  The best part is that you have already tasted it and you know what to expect.  Okay maybe that is not the best part.  The best part is that since we are not in the business of selling wine at retail, but in the "hospitality" business, our main goal is to give guests the greatest experience. Sending our guests home with that bottle at a price where we barely scratch a profit, confirms that the guest will keep us in mind for another visit.
There are not a lot of restaurants which have this special licence.  I am lucky that the Cohn Restaurant Group has 5 restaurants with this license, Island Prime, 333 Pacific, Vintana, Prado and Bo Beau Ocean Beach.  That is 5 locations throughout San Diego County where you can buy wine from the restaurant.   Back in 2008 I started hosting Wine Sales at Island Prime.  I clear out the dining room and load the tables with wines.  One can expect to find over 100 selections.  The wines range from Chardonnay to Tocai-Fruliano from Slovenia, California Pinot Noir to Lebanese red blends, from Champagne to Port wines.  It really is an impressive sight.  These wine sales have gotten quite the buzz.  The wine Club, Prime Cru, has gained many followers.  The prices are ridiculous!  Today we had a wine sale and I know that many of our guests received some amazing bargains.  Wines that might normally retail at $45  sold at $25.  The choices were huge, the line of people was long and the value to quality ratio was like no other.
So when people ask, "where do you buy your wine and what is your favorite wine shop?"   I simply say, "Island Prime, 333 Pacific, Vintana, Prado and Bo Beau Ocean Beach.  I get to taste the wine and then decide if I want to buy a case!  Today we had another amazing wine sale.  There was a line of people outside the restaurant at 11:00 am waiting for us to open at 11:30 am  to get in to buy Sea Smoke.  Just so you know, there are not a lot of restaurants with a line at the door on a Saturday morning waiting to get in.   What makes these sales so successful goes back to what I said before, "we are in the hospitality business".  The guests who got there in line at 11:00 were the first through the door. They bought their Sea Smoke and then sat down for lunch.  The kicker is this…remember. "we are in the hospitality business".  They got to enjoy their Sea Smoke at the table, corkage-free.  Even better, they paid way below standard retail for the bottle.
I host these wine sales at two locations, Island Prime and Vintana.  I alternate the sales through out the year.  So when I need wine, I simply go to my restaurants and buy wine there.   These are the best wine shops in San Diego!  One can sit at the bar, sample the by the glass list and walk out with a bottle of what they were looking for.  If you are ever dining at Island Prime, 333 Pacific, Vintana, Prado and Bo Beau Ocean Beach, ask your server for a bottle to go.  When you ask me, "where do you buy wine?"   Don't be surprised if I give a you a restaurant name and not a traditional wine shop.