Are Wine Dinners an Exploration of the Scientific Method?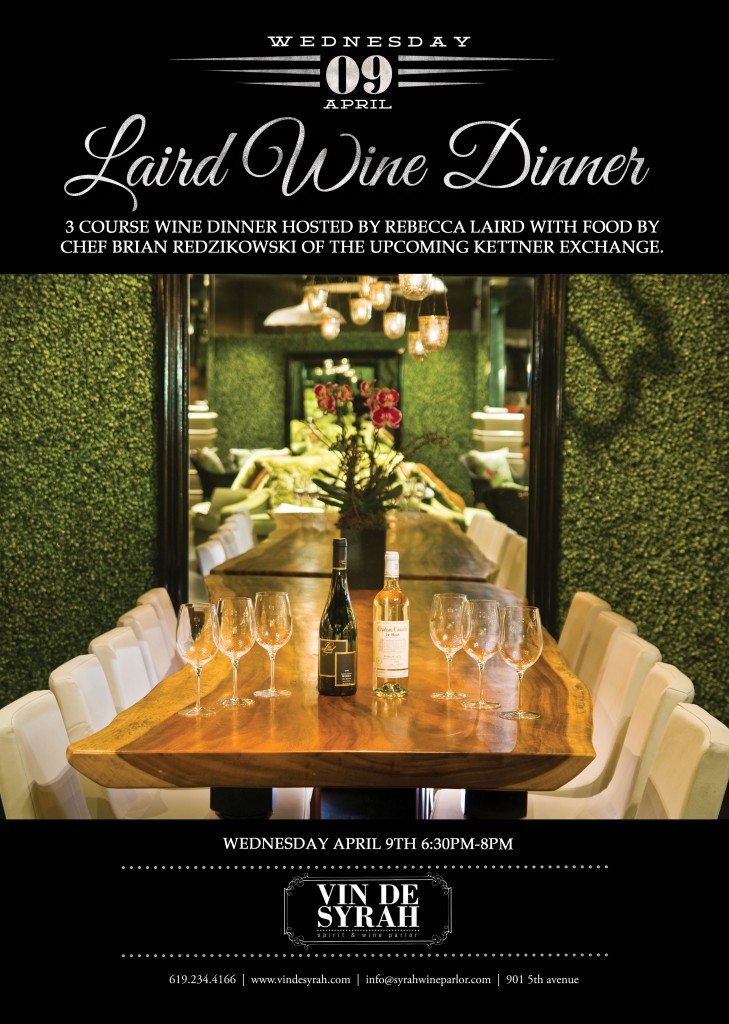 Every time I sit and taste with a winery or distributor, they always throw out, "…we would love to do wine dinners with you guys."  Oh, great, another wine dinner!  I guess you are probably sensing from my tone that I am not a fan of wine dinners.   You would think that sommeliers and chefs love to do wine dinners.  And you are right, they do.  I just don't.  Before I get everybody up and arms and start calling me out for blasphemy, let me explain myself.
Food and wine go together.  I have a glass of wine with my meal everyday.  I don't think it should be a big production.  I have been to many wine dinners and have left under-whelmed.  I get so excited to go to a great restaurant and drink the wines from an amazing winery.  However, by the end of it all, some courses worked and others didn't.  Maybe the food was great but the wine did not match.  Or maybe it was the wine that was amazing but the food was sub par.  I end up leaving full and buzzed, but with out a sense of real satisfaction.  Here is why.
Restaurants take different approaches to wine dinners.  The most common is a winery comes and says "here are my wines, let's do a wine dinner."  Now the chef should taste each wine and create a dish to pair with the wines.  He needs to take acidity, alcohol and tannin into account.  Most chefs never taste the wine before they create the dish.  And if they do, very few chefs know how to taste wine.  So they leave it up to the sommelier.  The sommelier knows the wine, but the dish the chef has proposed is not one on the menu.  The chef wants to do something special so he hands the sommelier a piece of paper with his proposed dish.  Since the chef is busy with the day-to-day operations he probably will never be able to make the dish until the night of the dinner.  Therefore, the sommelier has no idea of what it taste like.  He sees that the first course is scallops so he uses the winery's Sauvignon Blanc.  The Second course is Wild boar with fig and port reduction, so he picks a medium body red that the winery produces.  And the last course is a chocolate pot de crème, but the winery only makes a late harvest Viognier, so he uses that.  You can probably see where this is going.
This hypothetical wine dinner, is hypothetical in all aspects.  Yes, I made it up, but it happens all too often.  Both the chef and sommelier are dreaming up pairings.  They are using the scientific method to make a wine dinner.  They came up with a hypothesis and now they are going to use the guests at the dinner to prove their hypothesis.  I don't want to be the guinea pig when I pay big bucks for a meal.  But why does this happen?  Well, it doesn't happen all the time, but it does occur more than it should.  Here are the issues.
1)  The Chef, sommelier, managers and wait staff are busy running their operation.  A one night event can throw off their rhythm.  The dishes might have never been made before.  The line cooks and sous chefs will be plating something for the first time and who knows if it is balanced or not.  The cooks are cooking for the regular restaurant business and for the wine dinner.  This causes stress in the kitchen and if you ever watched "Like Water for Chocolate", a stressed cook could contaminate your food.
2) The sommelier is familiar with the wine but the dishes he is not.  He is crossing his fingers hoping that the Yuzu sauce on the scallop dish is not too acidic and praying that it is not too sweet.
3)  The winery makes different types of wines, but Cabernet is their flagship.  The other varietals are okay, but they aren't great.  The sommelier has to pair one of their white wines, just because nothing else will go with the scallop dish.
4)  There is a lot to do for a wine dinner.  The restaurant stops seating its normal capacity to make room for a wine dinner.  Servers are brought in to serve and they know nothing about the wine or food since they have never seen it before.
As you can see, I am not a fan of wine dinners.  That being said, I am writing this to invite you to a wine dinner.  You must think I have lost my mind.  I spent all this time bashing wine dinners and now I am inviting you to a wine dinner.  This is different.  This is not a hypothetical dinner where we will be putting on our white coats and experimenting our hypothesis.  The dinner is not held in a busy restaurant who's chef is too busy to taste the wine and create the dishes.  This is not from a winery that can only make Cabernet.  And the dishes are not unfamiliar to the sommelier.
Syrah Wine Parlor will be hosting Rebecca Laird from Laird Family Estates.  Chef Brian Redzikowski has developed a menu that pairs excellently with the wines.  The best part is that Chef Brian is not working in a restaurant yet, and has had time to develop this menu.  Chef Brian is no stranger to wine and food pairing.  He has worked in some of the top restaurants in the world including, Nobu Aspen and Las Vegas' 3 Michelin Star restaurant, Joel Rubuchon's at the Mansion. Chef Brian was recently at Flavor in Del Mar and is about to open a new restaurant in Little Italy, Kettner Exchange.  In the meantime, he has developed his menu at Syrah Wine Parlor.  Syrah Wine Parlor is  a wine bar/club.  This allows the team to transform the space into what one might call a pop restaurant.  The chef will only be making dinner for you and not cooking for the rest of the restaurant.  What an experience!  You will enjoy a handcrafted meal from an Iron Chef competitor and enjoy the wines of Rebecca Laird.  The wines are top-notch, the chef is world-class and the space is magical.  Just when I thought wine dinners were dead, Syrah Wine Parlor brings you a hypothesis that cannot be disputed.
Reception: Laird Syrah Rose
White Asparagus, San Daniele Proscuitto, Chive, Mustard
Laird Cold Creek  Pinot Grigio Carneros 2013
Duck Ragu, Potato Gnocchi, Spring Peas, San Marzano Tomato
Laird Phantom Ranch Pinot Noir 2011
Laird Phantom Ranch Pinot Noir 2012
"Liquid Vanilla Bean Ice Cream" Chocolate, Floral
Laird Cabernet Sauvgnon Napa 2010
For more information or to  make reservations call 619-234-4166 or email info@syrahwineparlor.com
Price of dinner is based on seating preference, call Syrah Wine Parlor for more details.