Educating Managers About Wine is Not Done in a Classroom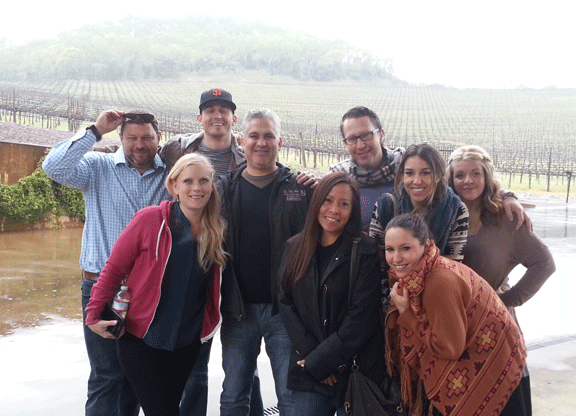 The past 8 months I have blogged less and worked more.   My new job has taken me away from the floor and working behind the scenes setting up beverage programs, writing cocktail and wine lists, training staffs and running special events.   No longer am I coming home, still buzzing from the night's craziness and needing to release creative energy.  Now I get home exhausted from the day.  I am always trying to be creative at work by trying to find the next thing, do the best event or educate staffs of all levels.  Let me focus on the latter.  I remember some of my first posts were about the challenges I met in educating servers.  I feel that now that I am not with them on the floor on a regular basis, educating has become easier because I only see them when I give a class.  My concern is, are they really taking what they learn and using it on the floor, or is it going in one ear and out the other?
I guess I cannot really answer that question without physically working side by side with them.  I can send in secret shoppers, but I think that stinks.  I found a better way.  I now focus on educating managers.  If I can get the managers to have a passion for beer, wine and spirits this will transcend to the servers.  I started holding wine classes for managers that want to learn more about wine but do not feel comfortable learning along side their employees.  This allows them to ask all the questions they want without feeling like they might sound dumb.  However, managers work a lot.  It is hard for them to get away and take part in wine classes.  But since they work so much, a paid vacation to wine country is exactly what they need.
This past Monday and Tuesday I took 8 of my managers to Sonoma to visit Landmark Winery, Lancaster, Chalk Hill and Russian River Brewing company.  As you could imagine, they had a great time.  For many it was the first time in a vineyard.  They got to walk through cellars and wine making facilities, taste from barrels and enjoy a blending seminar.  We squeezed so much into those two days and we still managed to tie one on somewhere in between.
We started at Landmark vineyards where they learned about organic farming from winemaker Greg Stach.  He took us through a tour of the wine making facility and the barrel room.   Once the tour ended, we played Bocci ball as we waited for the blending seminar to start.   At the seminar we were to blend 4 different vineyards sites to see how close we can come to make a wine that was similar to the Overlook Pinot Noir.  One of our managers decided to take a short cut and used the Overlook as they main part of  her blend.  Not fair!
We later went to dinner to a local whiskey bar, Jack and Tony's.  Dinner was great and the whiskey even better.  After dinner we strolled over to Russian River Brewing Company, one of America's best breweries.  There I find Chuck with 5 beers in front of him, and they are all Belgians and Sours.  A true wine guy goes for Belgian's and Sours…but 5 at once, that is crazy.  I also learned that our well-mannered management team has "hoo-hoo-hooters" among them.  I was pretty embarrassed to hear them as they walked into the bar hooting; but hey, we they were just having fun.
The next morning we got up bright and early and headed back into our limo bus to visit Lancaster.  The windy roads put some of the team to the test.  We immediately found out who had drunk past their limit the night before.  Luckily we made it to Lancaster.  The property was beautiful.  The winery is built into the mountainside and the vineyards were very well-managed.  We all actually really enjoyed the wines, that says a lot especially when everyone was pretty hung over.  The best remedy is more wine.  Most of the team enjoyed the Roth Heritage red blend.  I liked the Lancaster '08, rounded and delicious.
We then headed back through the Russian River to Chalk Hill, an equally beautiful property.  I wish I was not married, I would have liked to have a re-do and have my wedding there.  I guess it's better this way, I really don't have $100,000 to spend.  We were greeted by Erica, our private Sommelier.  She tasted us on the Sebastani wines and served us a three course lunch.  The Chef, Didier, prepared a delicious meal.  The lamb was out of this world and each course was paired perfectly by Erica.  During our meal we got to talking about wine and restaurant stories.  I think this is the best wine education I can give the managers.  We shared stories and discussed our concerns.  We laughed, tasted wines and by the end of lunch everyone learned something new.  Educating managers is not always giving a seminar and tasting flights of wine, but just sitting and talking.  I know that when I taste on Mondays with other San Diego Sommeliers, the best part is before we taste, we discuss our week and things going on in our restaurants.
Being able to bring the managers to Sonoma  was a good way for them to learn more about wine.  The tours, the tastings and the winemaker's presentation was beneficial.  However, getting them out of the restaurant and with their peers was even more educational.  Everyone learned from each other.  I hope that they take this knowledge and infect their staffs with it.  Make it so contagious that they want to learn more about their profession.  I had an amazing time with my team and I hope to do it again very soon.