Mexican-American Winemakers Unite to talk About Wine

Cheech and Chong once sang, "Mexican-Americans…don't like to get in gang fights…they like flowers and music and girls' named Debbie and wine".   The wine part I had to slip in because I am Mexican-American and I like flowers, music, I knew a girl named Debbie and I love wine.  I bet the same could be said for the 8 Mexican-American winemakers that are coming to San Diego on July 19th.  I teamed up with wine promoter, Tom Bracomontes from Total Brand Alliance and the Latin American Wine Marketing Alliance to bring 8 Napa Valley wineries and their Mexican American winemakers  here to San Diego for two amazing events.
On Saturday, July 19th from 12-2pm at Island Prime, there will be a class and tasting with the winemakers offering insight to their lives, wine styles and future of the Napa Valley through the eyes of Mexican-Americans.  The winemakers will then head to North County and pour their wines from 6-8pm at Vintana in a walk around tasting.  All of the Mexican-American winemakers make small production wines and some of which have never been sold in San Diego.
Why me?
As I mentioned before, I too am Mexican-American.  Most people probably would not believe me, I usually get called Italian or Middle Eastern.  Well my name doesn't help.  Maurice DiMarino.  It sounds like I am a French-Italian.  Here is a brief history about my background.  My mother was born in Camargo, Chihuahua and my father in Jerez, Zacatecas.  My mother is a very light-skinned Mexican, mostly with Spanish blood.  My father was a dark-skinned Mestizo with Huichol Indian blood.  I turned out a fair-skinned, Moor looking fellow.  I was born in San Diego as Maurice Ramirez, while my parents were living in Tijuana and my mother was studying French.  After my birth, we moved to Jerez, Zacatecas where my father was building a hotel.  Things did not go as planned, and when I was of school age my mother brought my brother, my sister and me back to the U.S. to start school.  My parents soon divorced.  When my mother re-married we took our stepfather's name, hence DiMarino.
I still remember when we first came to San Diego.  We were living with my grandmother in a one bedroom hotel room downtown next to the fountain at Horton Plaza.  Very different from the small town in Jerez.  I did not speak English, and felt like an outsider especially when there were so many blonde kids in my pre-school class.  I can still remember learning "one little…two little…three little Indian" song and looking around and wondering where the Indians were.  I learned English at school, but we spoke Spanish at home.  It was long before I just wanted to speak English.  I felt embarrassed when my mother would speak Spanish to us in public.
As I grew older I started to connect with my Mexican roots more than being an American.  However, I was no longer a Mexican.  My family from Mexico called me Gringo, so I did not fit in with Mexican's in Mexico.   Because I received my mother's fair skin, I did not have problems fitting in here.  However, I didn't feel as though I really belonged.  I was raised differently, with different values. My Mexican-American classmates thought I was Italian.  I am sure many Mexican-Americans have felt the same way. They don't fit in Mexico and they don't fit in the U.S..  I was always fascinated with this.  Then I got into wine.  There are not that many Mexican-Americans in the wine business.  Although they were essential in creating the wine business through their labor, we don't see many Mexican-American sommeliers, wine collectors, wine writers, wine salesmen or for that matter, winemakers.
When I met with Tom Bracomontes, he had just finished establishing a Mexican-American winemaker alliance.   Tom and I decided to create an event where California wine began, San Diego.  It would feature  the men and women whose families help start the wine revolution.  We have planned this event for over a year.  I am thrilled that it is finally here.  Eight winemakers will discuss their family's history, their stories as growers and how through hard work and perseverance they now own their own wineries.  Over the years I have come across a handful of Mexican-Americans in the wine industry.  However, there are not many.  The Mexican-American winemakers' perspective will be insightful and unique.
Meet the Mexican-American Winemakers…
 Enrique Lopez & Rosaurra Segura owners of Encanto Vineyards are first generation Mexican-Americans producing Sauvignon Blanc, Pinot Noir & Cabernet Sauvignon. They make 600 cases.  Their winemaker, Rudy Zuidema will not be in attendance.  Enrique started working at Stag's Leap Wine Cellars in 1987.  In 2000 he formed Servin-Lopez Vineyard Management and today manages the vineyards for Schafer, Donmum and Ehlers.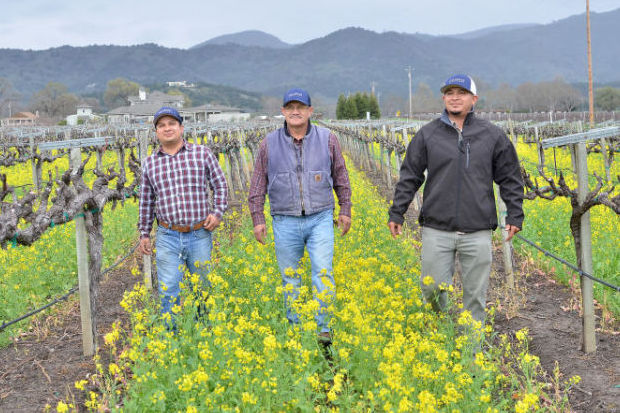 Eric Gallegos from Gallegos Wines will be representing his family winery. His father, Ignacio Gallegos Sr. arrived in Napa as part of the Bracero Program from his home, Michoacan Mexico.  The Bracero Program was a program in 1942 that contracted laborers from Mexico to come into the United States to work.  Ignacio created the Gallegos Vineyard Management which manages 100 acres in Napa Valley including Somerston & J.J. Cohn.  The family winery, Rancho de Gallegos is located in the Rutherford Bench and produces 1,000 cases of Sauvignon Blanc, Chardonnay, Pinot Noir,  Petit Sirah & Cabernet Sauvignon.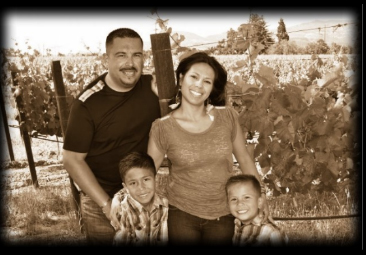 Juan & Miriam Puentes are the owners of JP Honrama Cellars.  Juan is also the winemaker.  The winery's name comes from Miriam's father, Honorio Ramirez Mata.  Honorio came to the U.S. in search of work through the Bracero program.  He had a strong work ethic which allowed him to catch the eye of winemakers.  He eventually worked closely with Charlie & Chuck Wagner of Caymus.  Although Honorio never produced a wine himself, a few years after he passed away, Juan Puentes honored his wife Miriam and her father by launching Honrama Cellars on February 14, 2011.
 Hugo Maldonado will be representing Maldonado Family Vineyards, a winery co-owned with his wife, Lidia.  His father, Lupe Maldonado was the vineyard manager at Newton Vineyards for over 30 years.  He eventually turned the reigns over to Hugo.  Today, Hugo manages vineyards for Luc Morlet of Peter Michael, Hartwell Vineyards and Alpha Omega.  Their family winery produces 7,500 cases of Chardonnay, Pinot Gris, Pinot Noir, Red Blend and Cabernet Sauvignon.  They have received high accolades for their Chardonnay.  They constantly receives 90-94 pts from the Wine Spectator and in 2004 the "los Olivios"  Chardonnay was poured at the White House.
 Gloria Bazan co-owner of Mario Bazan Cellars will be her representing the wines of her and her husband, Mario.  Their winemaker is David DeSante and they make 1,000 cases of Sauvignon Blanc & Cabernet Sauvignon.  Mario is from Oaxaca and has worked for over 20 years with premier wineries such as Joseph Phelps, Robert Mondavi Winery, Opus One, To-Kalon and Stag's Leap Wine Cellars.  He began his vineyard management company in 1997 and in 2005 founded Mario Bazan Cellars.  In 2007 he received 90 pts from both the Wine Spectator and Wine enthusiast.
Tom Bracomontes founder of the Mexican-American Marketing Alliance will be sitting in for Oscar & Denise Renteria from Renteria Vineyards.  In 1987, Salvador Renteria launched Renteria Vineyard Management.  It was the first Mexican owned vineyard management company in Napa.  Today it is the 3rd largest in Napa Valley.  Their client list includes Rombauer, Frank Family, Chiarello, Duckhorn, Patz & Hall and Andy Erickson.  Oscar and Denise formed Renteria wines and contracted famed winemaker, Karen Culler.  In 2013 they purchased the Brown Ranch in Carneros and  will soon produce their first estate wines.
 Rogelio Morales, owner and winemaker of Volcan cellars will be representing the winery owned by he and his wife, Flor.   Rogelio also came from Michoacan in 1988.  Immediately he began to work in the vineyards at Spring Mountain Winery.  In 1992 he became the cellar master at Spring Mountain Winery.  By 2011 he was appointed assistant winemaker.  He produces 250 cases of Cabernet Sauvignon of his own wine, Volcan.  The wine is named after the volcano in his homeland, Paricutín.
 Ignacio Delgadillo Jr from father and son owned winery, Delgadillo Cellars will be in attendance to support his father, Ignacos Delgadillo Sr.  The senior Delgadillo is the winemaker and makes 250-500 cases of Cabernet Sauvignon.  They differ from many other wineries in that they believe in extended aging.  On average, the Delgadillo Cabernets are aged for nearly 8 years before they are released to the public.  The 2005 will be tasted which is their current release.  Señor Delagdillo was the cellar master at Freemark Abbey for 20 years and helped craft the "Bosche Vineyard" Cabernets.
For tickets to the Island Prime Winemaker Discussion Panel and Tasting click here:
For tickets to the Vintana walk around tasting click here: