September Is California Wine Month, It Is The Law
The Governor of California, Edmund G. Brown issued a proclamation that September 2015 is California wine month.  Wine and California is like peanut butter and jelly, Ferrari and Italy, Pele and Brazil; the two can't live without the other, they are one.  Gerry Brown understands this and being at the forefront of California politics he understands the need for people to drink wine in September.  But did you know that September 15th- October 15th is Hispanic Heritage Month? It cannot be more perfect.  California's first wines were in Baja California and eventually moved up to San Diego and Los Angeles, eventually flourishing in Sonoma and Napa.  But it all started in Mexico.  So it only makes since that if we are going to celebrate California wine month, we celebrate both Alta and Baja California wines.
I take California wine month very seriously. After all, I teach the California Wine Intensive Course at SDSU's Business of Wine, it only makes sense that I am involved in promoting the mandate passed down by Gerry.  There is rich wine history in California. California has been the catalyst for many trends and at the forefront of "wine technology".   Think back to the beginning when we were planting Mission grape and making brandy.  Then immigrants brought with them traditions which changed winemaking.  They discovered how well Zinfandel, Petit Sirah, Carignan and many other grapes made for excellent field blends.  We then learned to plant single varieties and began to rival the best French wines with our Cabernets and Chardonnays of the '70's.  We put Merlot on the map and took it off the map.  We replaced it with Pinot Noir, showing the world that Pinot Noir can have many faces.  We learned to use science and chemistry to manipulate wines and make it taste any way we want year after year regardless of vintage.  Today many winemakers are looking to the past and coming around full circle.  More and more are moving away from wine manipulation and are taking a vested interest in natural wines and wines made in the vineyard and not the laboratory.  California has really come around.
To celebrate this endearing region, I will be featuring promotions, dinners and tastings throughout our family of restaurants all month-long.   Take a look at what the Cohn Restaurant Group has planned.  I hope to see some of you at 1 or 5 of these events!
WINE DINNER SERIES
To kick off the month we partnered with Foley Wines and three of our restaurants to explore the major regions of California.  Sea180 Coastal Tavern will host a Sonoma Wine dinner, Vintana Wine + Dine will host a Napa Wine dinner and OB Warehouse will host a Santa Barbara Wine dinner.  Each dinner will feature wines from Bob Foley's California wine empire with wineries such as Kuleto's, Firestone, Lincourt, Altvs, Lancaster and Chalk hill to name a few.  Best of all, attendees will automatically be registered for the Foley Food and Wine Society, an elite wine club.  As members of the wine club they can take advantage of discounts on wine trips, winery visits, hotels and other accommodations around the world.  They automatically qualify for special discounts when buying wine on-line, and wines can be shipped to any of the 50 states. This little perk, is our thank you for supporting our wine dinners.
Do you have a favorite region?  Is it Sonoma, Napa or Santa Barbara?  What! You don't know?  Well, then try all three dinners and see if one stands out.  What a way to kick of a long month of California wine.  If you are interested in attending one or all of these dinners, call the restaurant directly to make your reservations. Click on the thumbnails below to view the menus.
WINE AND DIME September 8th-17th
Next, we run a ridiculous promotion at most of our restaurants.  Wine and Dime is where you get a chance to save money when drinking wine by the glass.  For ten days, order one glass of wine and get the second glass of equal or lesser value for $.10!!!  I know, what you are thinking, the wine must really suck.  But I have my reputation on the line and there is no way I would push wines that suck.  Each restaurant will have a unique list of California wines for you to choose from.  I think this is way better than Bev Mo, have you seen the wines they offer for 5 cents?  Here is a sample of what you get to try for $.10:  Lancaster Sauvignon Blanc, Voces Petit Sirah, Lincourt Courtney's Vineyard Chardonnay, Milagro Farm Meritage, Roth "Heritage" red, Carucci Family Viognier and Chateau St. Jean Pinot Gris.
This promotion will go on for ten days!  We start on September 8th and go through September 17th. Stop in at one of our Cohn Restaurants and partake in the delicious savings.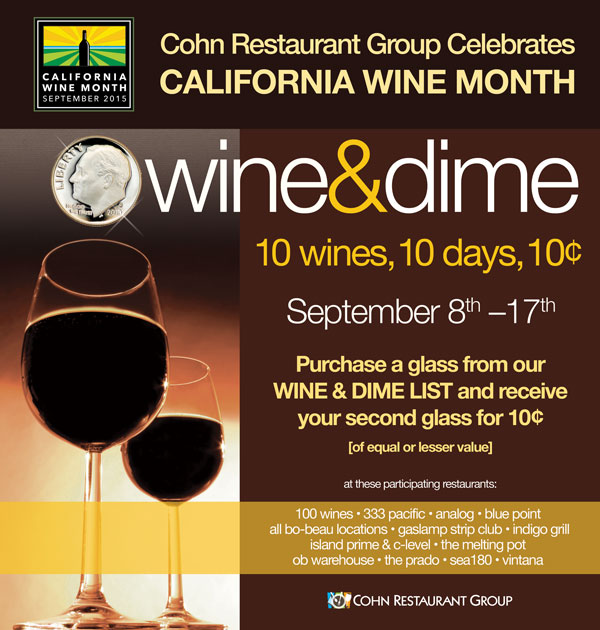 Justin Isosceles Blending Seminar September 12th
The red blends of California have been regarded as some of  the best wines in the world.  California's unique microclimates, varying soils and warm sunshine allows winemakers to plant many different types of grapes.  The Meritage blend was created in Bordeaux, but perfected in California.  A Meritage blend is a blend of at least two Bordeaux grapes such as Cabernet Sauvignon, Merlot, Cabernet Sauvignon, Petit Verdot and Malbec.  Blending wines to make a master wine is a difficult process.  It takes days to find the perfect blend.  Winemakers need to taste barrel after barrel, wine after wine and try to put those wines together to make a wine that stands out from the rest.  One of the California wines that has stood out over the years is the sought after, Justin Isosceles from Paso Robles.
On Saturday, September 12th, 333 Pacific we will hold a blending seminar where you will get a chance to try your skills at blending the Justin Isocelese.  The class will be led by Justin's head sommelier, Jim Gerakaris. You will taste the different wines that make up the Isosceles and try to see how close you can come to creating an Isosceles.  Guests will compete to see who comes closest to making the Isosceles. Special pprizes will be given out to the winners.  Appetizers will be provided by 333 Pacific for you to enjoy on the patio terrace.
To make your reservation contact 333 Pacific.
 The Alta & Baja California Wine Tasting Tour September 19th
We now come to the middle of the month, September 19th and it all comes to a peak.  I will be hosting over 25 Alta and Baja California wineries at our newest Cohn Restaurant, Coasterra.  If you have not seen Coasterra, you will be blown away.  There is not one venue in San Diego that has the view that Coasterra has to offer. It sits next to Island Prime on the San Diego harbor directly facing the San Diego skyline.  The place is amazing!
We will be featuring traditional California wineries such as Hanzell, Ancient Peaks, Sebastiani, Swanson, Chalk Hill and Kuleto to name a few. Bringing Hispanic Heritage month together with California Wine month, wineries such as Renteria, Delgadillo, Voces and Robledo will be there to represent the Mexican-American roots of California.  Going one step further and bring back the history of California wineries from the birth place of California wine, Baja will be there too.  Meet the wineries from the Guadalupe Valley such as Monte Xanic, Santo Tomas, Lechuza and Cava Maciel.  Finally, to bring it all home, we will also have local San Diego wineries, Stehleon Vineyards and Vesper Vineyards showing off San Diego grown fruit.
Chef Deborah Scott will provide Mexican hors d'oeuvres from Coasterra's modern Mexican kitchen.  This an event not to be missed.  Buy your tickets now on-line by clicking the link below.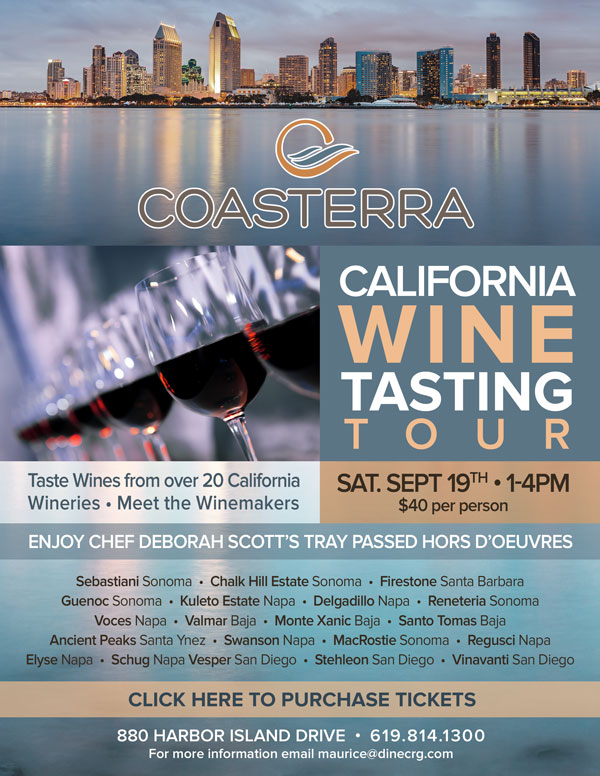 Restaurant Week September 20th-27th
September is also San Diego's Restaurant week.  This gives us an even better reason to continue celebrating Gerry Brown's proclamation.  Each one of our restaurants will offer a California wine list with special prices.   Some restaurants will feature wines starting at $20 a bottle and others at $30.  What a great way to try a new restaurant and drink a delicious bottle of wine without spending a fortune.  Going out for dinner should be for everyone.  Many people reserve dining out for special occasions.  It gets expensive eating out all the time.  Restaurant Week is the time of year that people get to spoil themselves without going into debt.  To make the spoiling even more fun, offering wine at value prices allows you to enjoy a meal the way its should be enjoyed, with wine. That is, California wine.
Visit our website for a look at the different menus and make your reservations soon.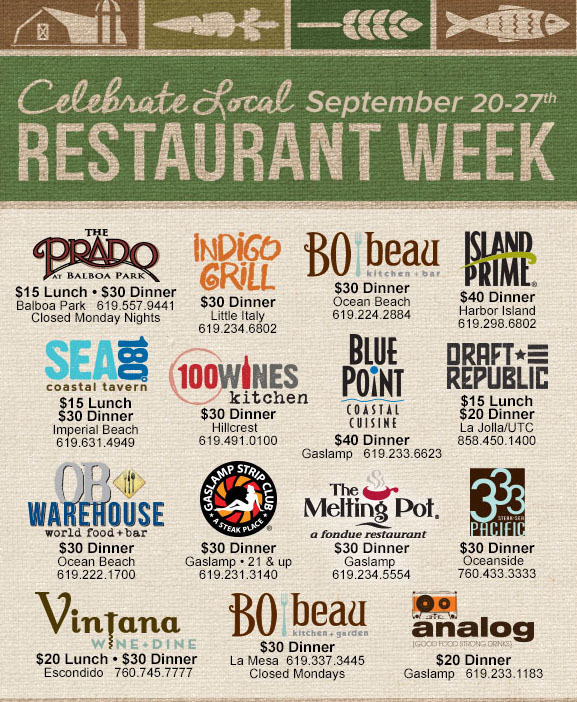 By A Bottle Take One Home September 28-30th
Are you wined-0ut yet? California Wine month comes to an end, and then what do you do?  You have been drinking California wine for an entire month, but you have not gotten sick of it. In fact, you now crave more.  I came up with this last promotion to help you through your withdrawals.  Come to Island Prime or C-level, Prado at Balboa Park, Vintana, Sea 180, Bo Beau Ocean Beach, 333 Pacific or Draft Republic and buy a wine to drink in the restaurant from my selected list and take a second bottle home with you.  My intention is to allow you to revisit the fabulous wines you tasted in September again and again in October and November at your own leisure.  The wine lists are subject to change based on availability.  Each restaurant will have its own unique list.
WOW!  What a month!  So much going on in September. Clear your calendars out and pencil in a few of these events.  It will be worth it.  I hope to see you drinking California Wine in September.  If you have any questions feel free to leave a comment and I will get back to you as soon.