Is bigger better?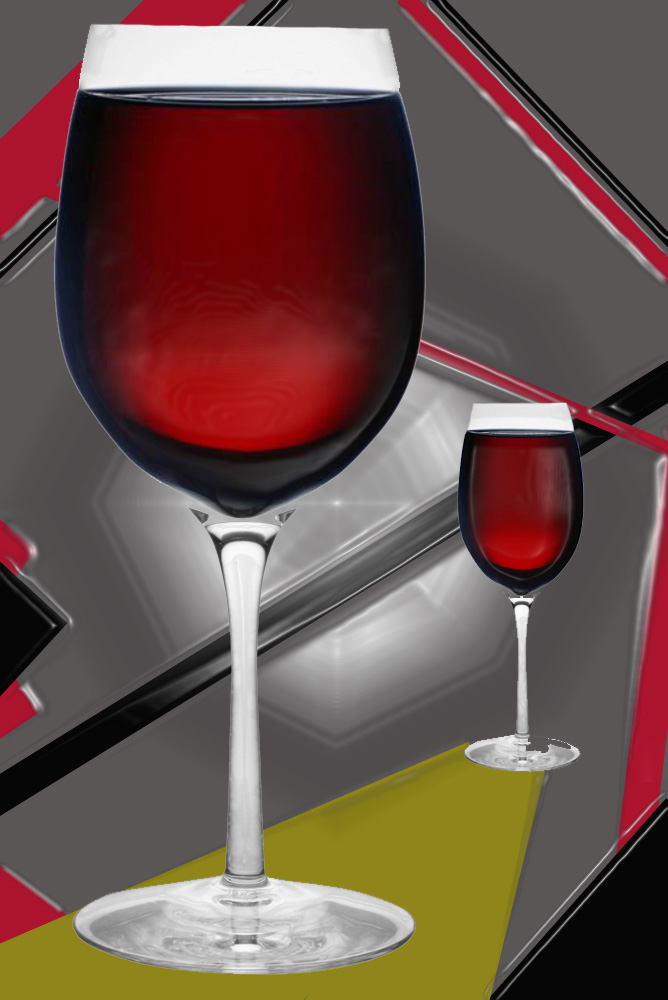 Is bigger better? Ask the Japanese and they say no, look at their cars. Ask an American and they'll say, "You're damn right!" Just look at their SUV's.  A few weeks ago I was on a panel discussing Washington Wines with winemakers Bob Betz and Sarah Hedges Goedhart.  During the discussion I was asked if consumers in San Diego were open to Washington Wines. I mentioned that I had seen an increase in people's interest, however; people still think Washington makes Pinot and Oregon is the same as Washington. I went on to say that most wine drinkers in San Diego like big wines. California wines are a perfect fit for those in search of opulent wines. Washington Wines, on the other hand, although can be just as big, have more structure and subtle nuances.  Of course, wine styles will vary by winemaker, but in general, Washington wines come across more restrained and balanced.
Personally I like my wines to be restrained. I do not need a punch of oak. I do not need a burst of alcohol and fruit. I enjoy the earthy, floral and bottle aged aromas backed by acidity that make my mouth water. I may be an anomaly. For the most part, wine consumers seem to be in search of bold aggressive flavors. A perfect example is the rise of Pinot Noir's popularity.  Pinot Noir by nature is delicate, light bodied, gently spiced, low in alcohol and dominated by under ripe fruit and florals. When it was thrust into the lime light in 2004, every wine drinker felt that they had to like Pinot Noir because Miles from the movie Sideways told them so.  What did the Pinot producers do? They did not continue making their subtle lean angular Pinot's, rather started to push them into obesity. Additions of Syrah did the trick for some. Others replanted where they could get more sun and ripeness and yet others used the laboratory to build Pinot's muscles. Prior to 2004 Pinot were more reminiscent of a Jude Law and today they are more like a John Cena.
Why? I wish I knew. My inclination is that it is part of the American ideology that bigger is better. Here is the example I used at the Washington Panel:
Have you ever gone to an all you can eat buffet and looked around? How many people will take the time and walk around the buffet to see what is being offered. After assessing the spread, do they grab a plate and carefully select items which complement each other? For example, do they serve themselves a poached egg, grilled shrimp and asparagus, return to their seats and enjoy the combination of flavors?   We can agree, this is not common.. More likely they grab a plate at the beginning of the line, piling their plate with everything along the way. They might even grab a second plate and fill it up too. When they dig in to eat they have gravy on their salad, carrot juice on the prime rib and a mound of mashers suffocating the grilled shrimp.  ARGGGHH! They dig in, shoveling it into their mouth.
This is a classic scene throughout America. We are not a nation of refinement, we do not seek pleasure in the nuanced flavors. We want it all and we want it now. This is the mentality of how we chose our wines. It has got to be big! "Man, look at those legs", is something I have heard all too often when someone is complimenting their wine choice.  Wine is just like a woman, beautiful legs have nothing to do with quality. Those crimson thick slow running legs are alcohol trying to separate from water. Thick legs means one thing, high alcohol. High alcohol is the result of a grape with a thicker skin providing more color and tannin. Typically, thicker skins mean warmer climate, indicating more sugar, resulting in a full body.  A consequence of a full bodied wine is that is has lower acidity. Lower acidity means it is less likely to pair with food. I may be digressing here, but my point is that we are in danger of equating quality with one style of wine, big opulent fruit forward wines.
Where does this come from? I attribute it to prohibition and modern society. 13 years sans alcohol. Large companies monopolizing the food industry creating fast food, Coca Cola, microwaveable and processed foods. We lost touch with bitterness and tartness. Those senses were replaced by sweetness like wonder bread, velvety cheese and light beer. For decades we lost the path of what vegetable should taste like. As a boy I was served canned and frozen vegetables, for what reason I do not know.  Ketchup and mustard became a staple and used regularly as we use salt and pepper. We became glutinous and in search of sweet flavors.  The Pepsi Challenge proved we liked sweeter drinks. However, it also proved that we like them for a short time and cannot drink more than one at a time, hence; Coke now dominates the cola market. And the same goes for wine. Today wineries make wines for our post prohibition palate.  Big bold wines are perfect for our white bread, Oscar Meyer, mustard and ketchup, soda drinking society, but drink one glass and you are done.
People always ask me what type of wine I like with the hopes of turning them on to something new. I have a hard time giving a recommendation.  I know that most people love the all you can eat buffet bar because they can pile it on. The wines I like would get lost in a buffet, they are the shrimp and poached egg, the prime rib and masher with gravy; not the mounds of goulash most people like. However, I would not be doing my job if I did not try to steer people in a certain direction. We were hunters and gathers at one time, tearing fresh meat off the bone, and now we stand in line in a buffet. So there is some hope for the American palate.  I have decided to give a few recommendations of wines that I call cross over wines. These are wines that have elegance, but still quench your thirst for boldness.
Grenache from Australia. These wines can vary depending on the type of climate. They can be big and alcohol forward or light and Pinot-like. I love Grenache for its red fruit, rose aromas and bright acidity. My favorites are from the McLaren Vale, old vine Barossa or Adelaide Hills.
Syrah from Washington State. Another chameleon-like Rhone variety that shows a sense of place. Syrah from Washington can have a touch of earth and acidity from the Rhone with the fruit and spice of California. They are full bodied wines that quench your Cabernet thirst.
German Riesling. Most people like Chardonnay for its full flavor. But it can get overwhelming and saturate your palate with alcohol and wood. Riesling is full of flavor, but does not overpower, rather it's racing acidity and lower alcohol leaves your mouth craving more. And not all Rieslings are sweet, however; a touch of sugar really makes me happy. Look for Trocken (dry) or Kabinet or Spatelese (hint of sweetness with more concentration)
Barbera from Mexico. Barbera is typically a light bodied, high acid and low tannin grape. However, in Baja California it takes on a whole other personality. It has more body, but does not need oak to give it dimension. It retains lovely red fruit acidity with more texture. Hard to find, but when you do, go for it.
Carignan from Chile or California. Carignan was the work horse for all the millions of cases of box wines sold in the US. But when planted in the right soil, the wine is fantastic. It has a racy nature like Pinot, but more tannin and color. Such a fun wine and makes dinner much more enjoyable.