CRG Cocktail Month is Here!

 This April my focus is to run an extensive cocktail month across my many restaurants. Most of you know me as the wine guy, but for the last 3 and a half years my focus has been much more so on liquor and beer. The trends across my restaurants are liquor and beer increasing as a percentage in sales a much higher rate than wine sales. It makes me sad to say that wine has taken a steady decline. But I cannot get dragged down by, I have to focus on what people want. And it seems as though they want spirits. April will be CRG Cocktail Month.  I have a lot of really cool promotions, events and dinners planned out. Make some space on your calendar and check out a few of these events.
PROMOTIONS
Two company-wide promotions you will have to check out. We kick off the month with $5 cocktails. Come in to any of the participating restaurants and check out my bartender's creations for $5. Each restaurant will have a different selection of 5 cocktails for $5, all day long for 5 days!  This will take place April 2nd-6th.  Come mid-month, just as you are turning in your taxes, and we will turn on the cocktail specials again. This time enjoy 2 cocktails for the $10.40. Drown your tax woes with a friend and try any of the participating restaurants' fresh cocktails. Whether it is Vodka, Gin, Tequila, Rum or Whiskey; we will have something for you.
EVENTS
The most fun part of my job is coming up with creative events where you can enjoy an afternoon or evening with friends. Some are educational while others are a good party. The first event of note is a two part event. At Sea 180 Coastal Tavern I am inviting local distillers from Henebery Whiskey, Malahat Distillers and Cutwater Spirits for a panel discussion and tasting.  We will meet in the Boca Rio room where the distillers will talk about their projects and walk us through their spirits in a classroom style tasting. Following the panel, we head out to the Patio for a cocktail party. Sea 180 will provide snacks and live music. You will enjoy live cocktail demonstrations with local spirits. See, you can have your cocktail and eat it too, get educated while you party! Only if this was available when I was in college.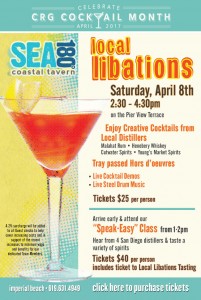 Mid-month we pay homage to my favorite spirit, Tequila!  Our first annual Tequila Fest will be held on the Harbor Float at Coasterra. Deborah Scott features the signature dishes from her 5 restaurants, Coasterra, Island Prime, C-Level, Vintana & Indigo Grill. Tequila and Mezcal producers will taste you on their best agave spirits. I will be releasing our collaboration with Modern Times and Azunia Tequila. I have been working on a very special beer aged in Tequila barrels and flavored with salted plums and tamarind just for this event. And to bring even more life to an already bumping party, DJ Süsio spins Latin Beats. Your ticket gets you 5 food tickets, 1 signature cocktail and unlimited tastes of agave spirits. For those of you looking for wine, beer or creative cocktails, a full cash bar will be available.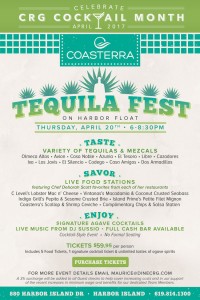 The last major event is a San Diego Bartender Competition. We have invited the top bartenders in the city to join us at Analog for a friendly competition with Makers 46.  Maker's Mark will be there sharing and teaching guests about whiskey and their many brands. All the while, a live bar competition will take place. Bartenders will compete in a two part competition. The first, they bring with them their best Maker's Mark 46 cocktail.  For the second competition they will be given a limited amount of time to create a cocktail using a secret ingredient. Analog will provide snacks for everyone, tastes of Maker's whiskeys and a full cash bar will be available in the Karaoke room.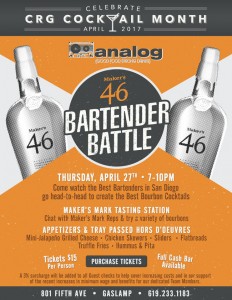 DINNERS
To round out the month our chef's host dinners at their restaurants. All cocktail inspired of course. 333 Pacific, our vodka lounge, has Chef Steven Zurkey pairing his delightful creations with Absolut Vodka. C-level's chef, Mike Suttles is pairing whiskey with his creations. Bo Beau + Garden's chef, Tyler will have a variety of spirits to choose from and doing a cocktail dinner. Finally, Vintana is hosting an interactive brunch, Brunch en Blanc.  Every one dressed in white trying white spirits paired to Chef Bryan Brown's brunch favorites.  In true Vintana fashion, live music will be played during this brunch while bartenders shake up white spirits for you to enjoy.