Upcoming May Events Not To Be Missed
It's getting to that time of the year where I turn my attention to hosting wine, beer and spirit events. I am fortunate to have access to many different venues to host a variety of events. You may be a wine drinker, beer drinker or spirits drinker; no matter what, I will have something for you. Here is  a quick look at what CRG has coming around the corner. Mark your calendars and get ready to have some fun!
MAY 5th:
Cinco de Mayo! Take your pick, head close to the border and have a party on the ocean next to the last pier in the western United States at Sea 180.  Or stay urban, and head for another amazing view at Coasterra's floating event center for tequila tasting and a margarita making contest.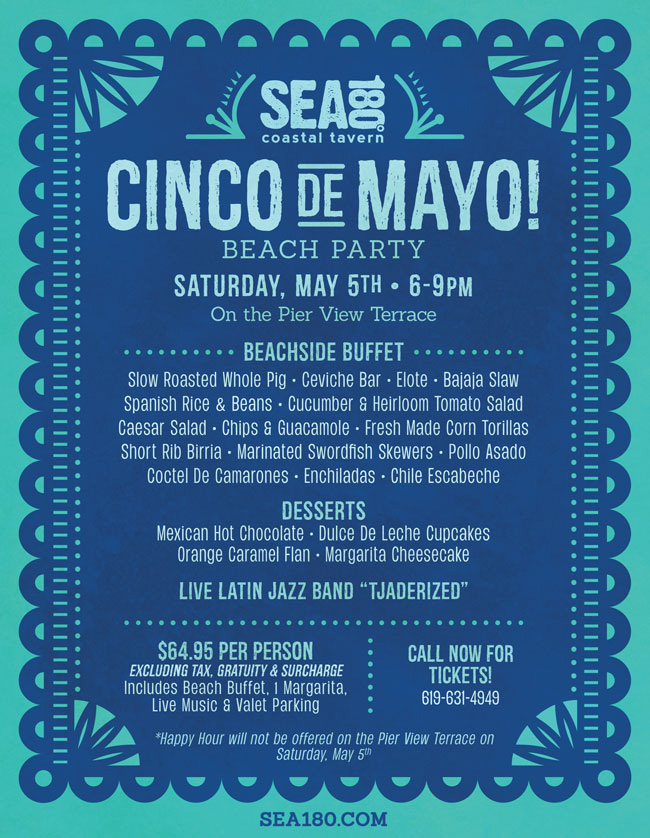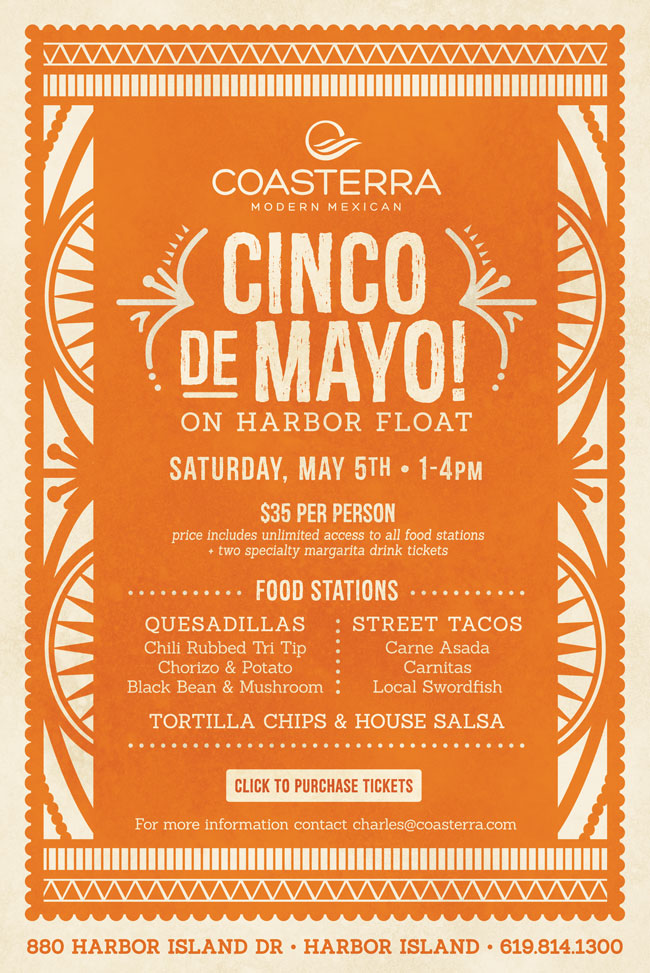 MAY 15th: FRANCISCAN WINE DINNER
Join us at Vintana Wine + Dine as Chef Chris Barre, prepares a delicious meal with the wines from Fransican Estate in Napa Valley.  Leading the dinner will be winemaker Marla Carol. Menu coming soon.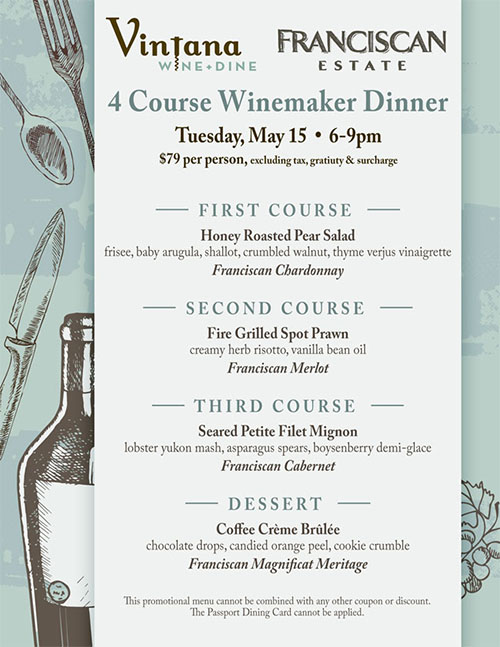 MAY 17th: DOWN UNDER WINE DINNER AT INDIGO GRILL
Join Deborah Scott as she wrangles with the wines from Australia and New Zealand. She will use her signature spice combinations to match with the exciting wines from down under.  See what she can do with spicy Barossa Sparkling  Shiraz, herbacious Sauvignon Blanc and unique whites and reds from ancient vines. Menu coming soon.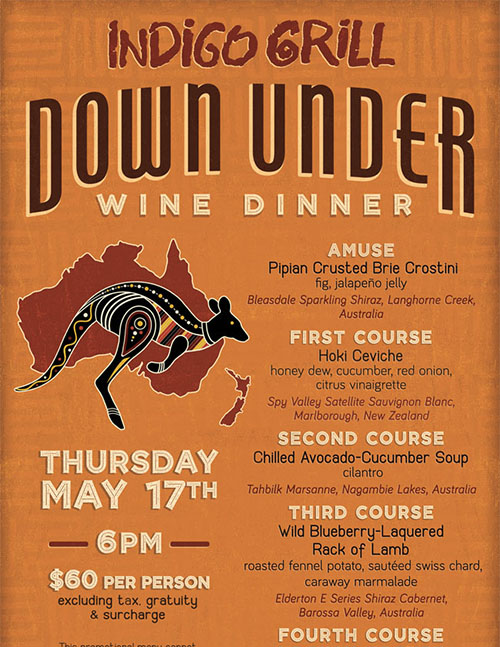 MAY 23rd: BONNY DOON WINE DINNER
Do you know who Randall Graham is? If not, then you need to. Randall Graham is the man behind Bonny Doon Winery in Santa Cruz. He is one of California's wine pioneers. He has led the movement for bio-dynamic wines.  His ideas are a bit nutty and it fits his personality perfectly. Join us at 333 Pacific for a dinner with Bonny Doon.  Menu to come soon.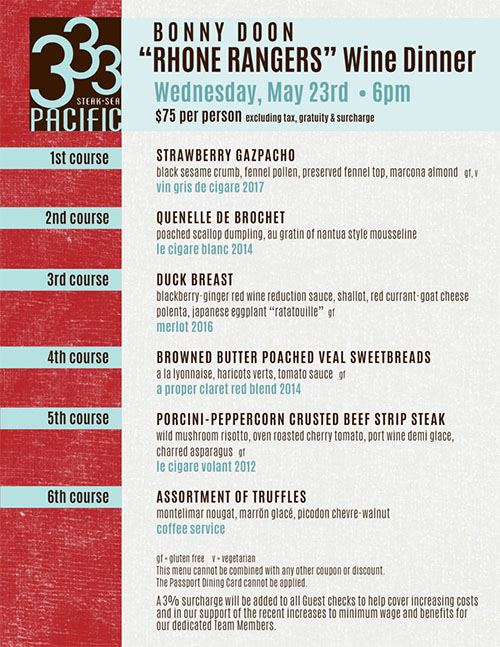 May 24th: Balboa Park's 150 th Anniversary Botanical Garden Dinner
This is the dinner of a lifetime. Close your eyes and transport your self to Balboa Park. You are sitting on the lawn in front of the Botanical Gardens, harpists are playing and Gloria Ferrer is serving Sparkling wines. Yes, this is all true. This dinner is put on by Chef Jonathon Hale from The Prado at Balboa Park to raise money for the Balboa Park's conservatory. We are celebrating 150 years of Balboa Park's Botanical Garden with an elegant outdoor extravaganza.  BUY YOUR TICKETS NOW!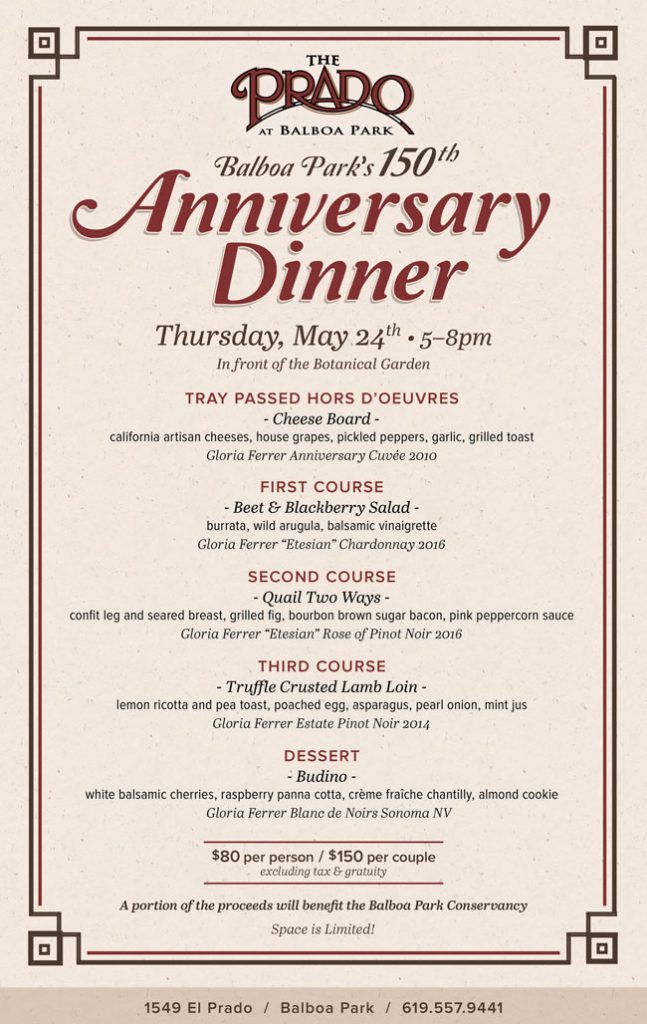 May 25th: SEA 180 LUAU
Can you believe that summer is already here? Just in time for our yearly Luau in Imperial Beach. There will be live music, fire dancers, roasted pig and plenty of wine and cocktails from Pernod Ricard.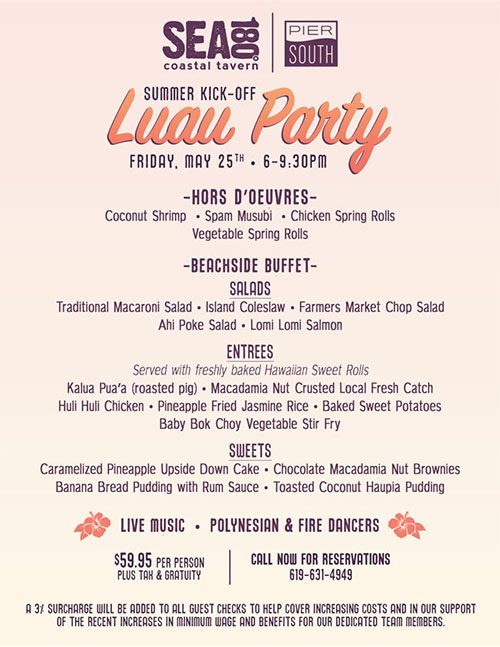 MAY 25th: GREENBAR SPIRIT DINNER
Can't make it to the South Bay? No worries, I have something for you in North County. Join Vintana Wine + Dine for a spirit dinner featuring the organic spirits from LA's Greenbar distillery.