WINE LIST POLL: What is the Perfect Wine List?
11 DIFFERENT TYPES OF WINE LISTS. VOTE FOR YOUR FAVORITE WINE LIST LAYOUT AT THE BOTTOM OF THE PAGE
1. THE BUDGET WATCHER
The budget watcher list is the list which lists the wine by price point.  The least expensive wines are at the top and the most expensive at the bottom.  I guess this sort of list is great for those people going out on a blind date, because you can watch your date's eyes and see just how important this date to them?  If their eyes are at the top of the menu, then you know your date has no interest in a second date.  If their eyes go straight to the bottom, then "good on you", they are interested.
The budget watcher wine list is classic, but a bit boring.  It reminds me of a wine list for a Chinese restaurant, a list where a restaurant does not put too much thought into its list. However, as a consumer, the list lets you shop by price.  And let's be honest, wines can get ridiculously expensive.  NOTES: CLASSIC, CONSUMER FRIENDLY, LACKS INGENUITY

2. THE BUDGET WATCHER ULTRA 2000
This is similar to the wine list which lists by prices. However it is different in that there are only three price categories.  The wine is either $20/btl, $30/btl or over $40/btl.  Here the restaurant would rather get rid of all those different dollar amounts and sell the wine in groups of value. We had a restaurant with this format, it is close today. The issue was people had many options in the low end section that they did not want to upgrade. This is really meant for the value seeking people. NOTES: CONSUMER FRIENDLY, BRINGS IN THE CHEAP SCAPES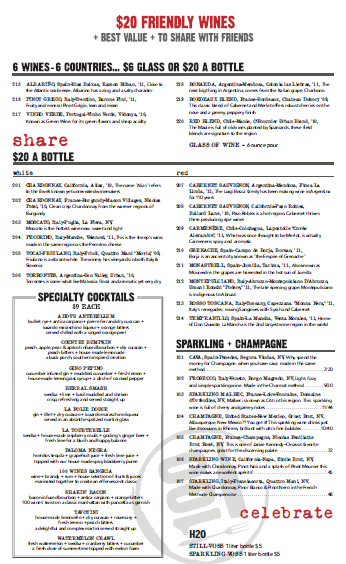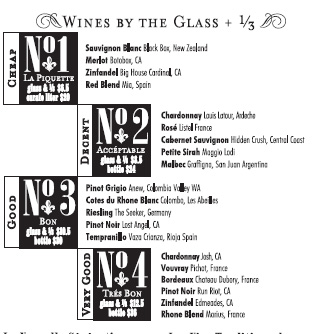 3. ALPHABETICAL ORDER
Seems pretty straight forward, but is it best to alphabetize by grape, region or producer? This makes  a lot of since especially for the servers. Listed in some sort of alphabetical order allows the server to easily find their favorite wines on the list more easily.  It is also easy for the guest especially if they now what they want.  NOTES: PRACTICAL, NOT CREATIVE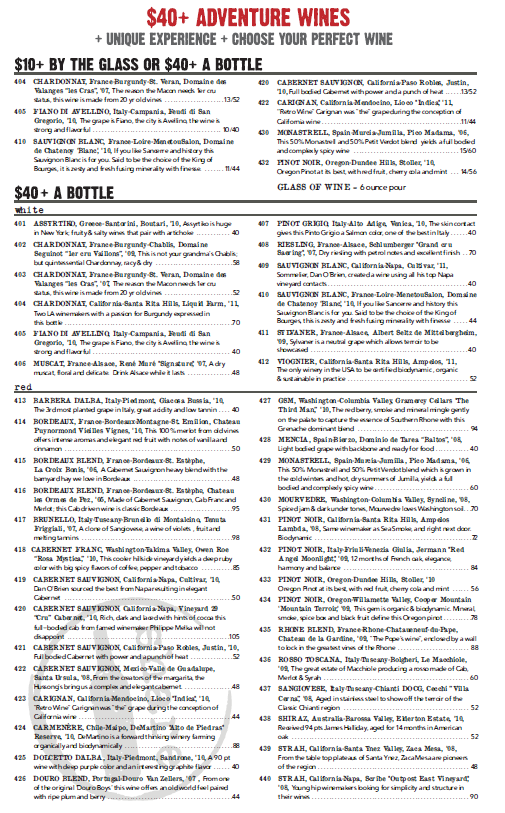 4. LET ME TELL YOU HOW MUCH I KNOW LIST
There are lists which list every detail of the wine. They tell you the region, the aspect of the vineyard, where the winemaker went to school and then they tell you how it tastes. Way too much info. This is great for IPAD wine lists, because you can get that in info by clicking on the wine of interest, but on a printed menu it is way too much. NOTE: INTERESTING, SAVE IT FOR THE LIBRARY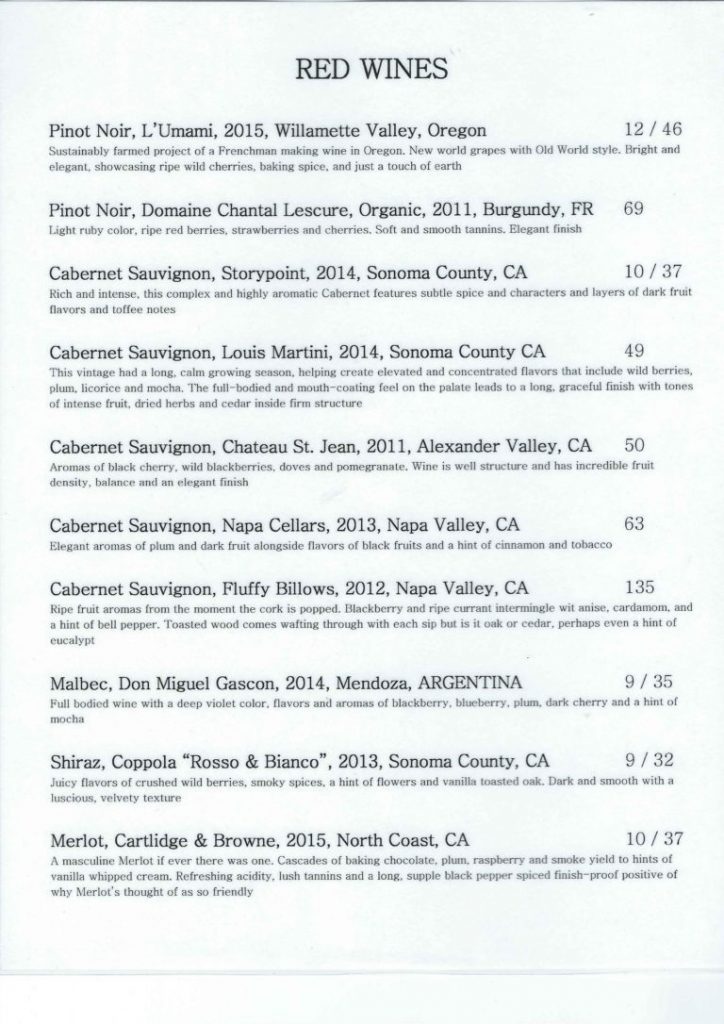 5. LET ME TASTE IT FOR YOU LIST
Not sure why I do not like these lists. I guess I don't want people telling me how something tastes, since taste is so subjective. I just don't like to read people's descriptions. Many people like this, but I think it also turns off people who may not like a flavor the author writes down. Many a times I have heard people refuse a wine because the aroma descriptor said cherries, and they don't like cherries. Come on people, wines are made of grapes!  *NOTE: WINE LISTS DON'T NEED TRAINING WHEELS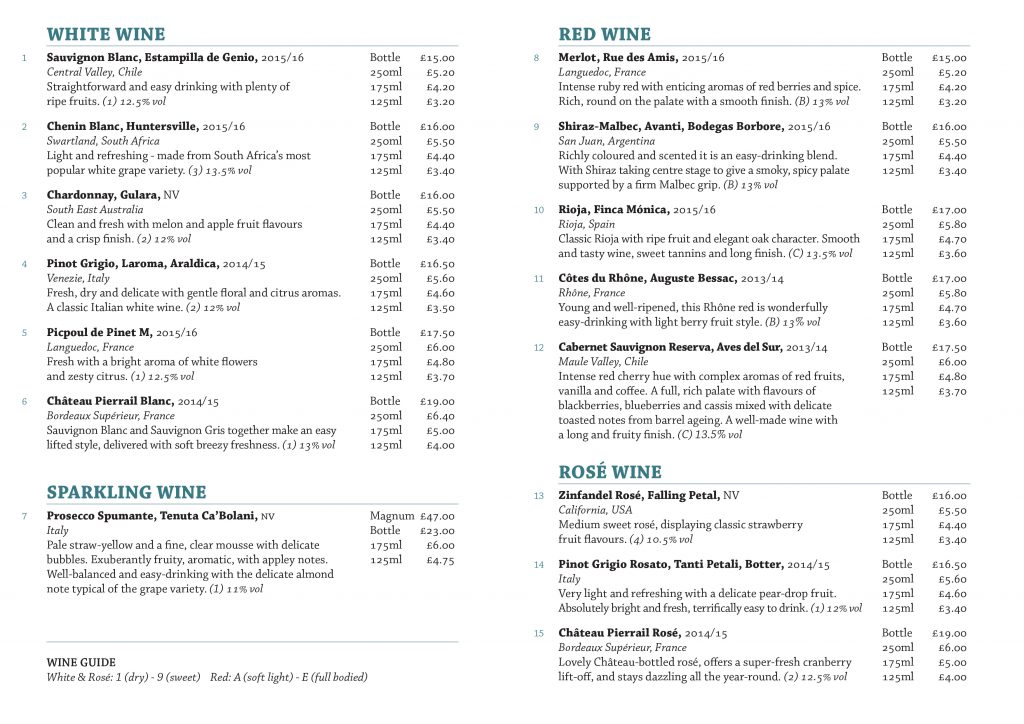 *FOOTNOTE: Maybe I would be keen on this kind of list if it read:
Sauvignon Blanc, Spy Valley, Marlborough, NZ  42

Intense aroma, High acidity, Medium Alcohol
6. LIST BY STYLE
Many lists are formatted so that you have a white wine section, then a sub section of Chardonnay with the list of Chardonnays listed by price or alphabetical order. Some lists may break it down into sections, and instead group the Chardonnays by weight or style. They may start with un-oaked, to neutral barrel all the way to 100% new oak and 100% full malo. This sort of list takes a lot work and requires a dedicated sommelier to group and regroup as new wines are added. This too, is excellent for servers. However, probably best for guests who are looking to find something new in a style they like. NOTE: DIFFICULT TO MAINTAIN, EASY TO NAVIGATE
7. BY REGION
I like listing wines by region. It makes sense for people who know wine. They look at the region and know the style of wine that region produces. The only problem is when we get to new vs old world wines. If you have California wines, the region may not be as important as the grape. Listing all Napa wines in one section can get pretty confusing. However, it seems to work for the old world wines. Listing Barolo, Barbaresco, Rioja, Bordeaux etc… makes sense. But what do you do when you get to non DO/DOC/AOP wines? How do you list a Chardonnay from Vin de Pays or a Grenache from the South of France? You don't want to put the IGT, but rather the grape, correct?  It doesn't make sense to read a list that has Barolo, Barbaresco, Chianti, Rioja, Priorat and Vin de Pays. NOTE: YOU KNOW WHERE YOUR WINE IS FROM, MAY NOT READ WITH CONSISTENCY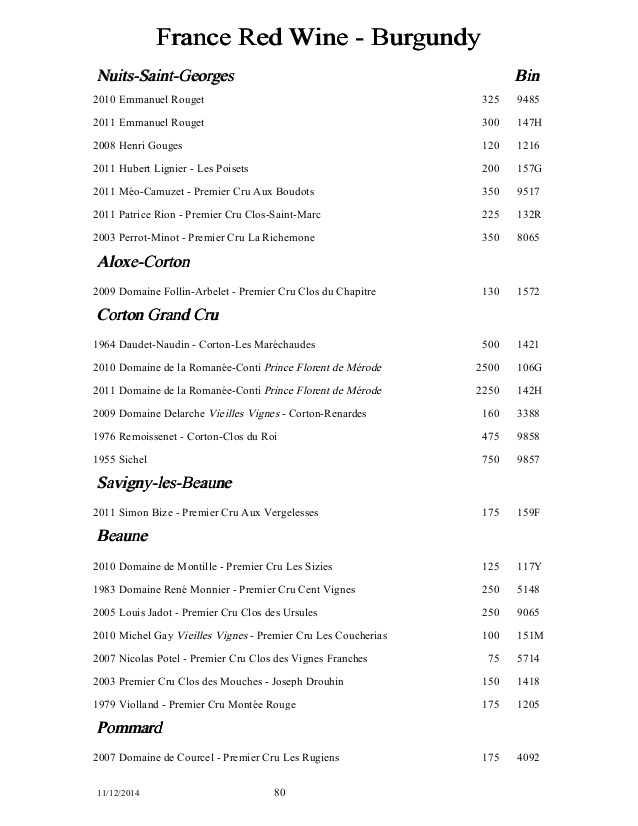 8. BY INTENSITY
Some lists create sections based on intensity. Beginning with light bodied crisp wines of low intensity such as Muscadet and Pinot Grigio then moving to medium bodied wines with more intensity all the way to higher ABV whites with high intensity.  My main issue is when management wrongly lists wines to make way for aesthetics.  These lists require a well-trained somm to keep it organized. Many times a somm may start the list, that somm moves on to another job and the list is taken over by another manager with less experience. NOTES: AS LONG AS IT IS ACCURATE, MAKES FOR A GOOD WAY OF SELECTING YOUR WINE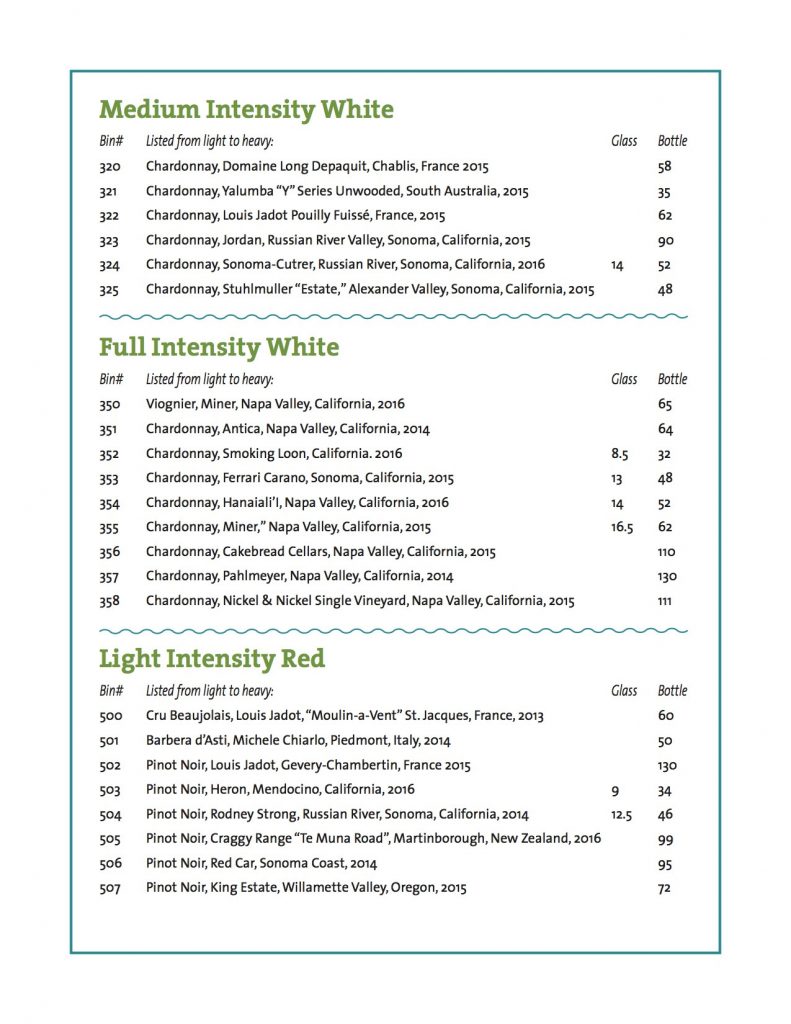 9. THE BEER MENU APPROACH
What about writing the list like a beer menu?  Beer lists show producer, region, style, abv, ibus and price. It allows the guest to know what their beer is going to taste like. Why not do the same with wine list. Here is an example:
White: Chardonnay

Ferrari Carano | Sonoma | 2015 |100% New Oak | 3.4 PH | RS .5  $60

Liquid Farm | Santa Barbara | 2015 | Used/Partial New | 3.2 PH | RS .04  $65

Morgan "Steel" | Santa Lucia Highlands | 2016 | Steel | 3.3 PH | RS .15  $45
I have not tried this yet, but may be worth a try.
NOTE: I'D LIKE TO TRY, BUT REQUIRES A GUEST TO HAVE SOME KNOWLEDGE ABOUT WINE
10. BEER MENU STRIPPED DOWN
Let's take the beer menu idea even further, and strip the wine list down to the bare bones. What do you think about a wine list which looks like this? Just the type of wine; red, white, sparkling. No brand name, just the grape or region. I have seen these in pubs, but not in restaurants. Maybe it would work. Take all the pretentiousness and expectations out of wine and just say what it is. Imagine a list like this I removed the name of the wineries and regions of an already bare bones list to give you an example.
NOTE: THE RESTAURANT NEEDS TO HAVE A GOOD REPUTATION AND CONSUMER'S TRUST FOR THIS TO SUCCEED.

11. INFOGRAPHIC WINE LIST
Here is a fun and cool wine list for a small restaurant. You can make your list into an infographic. I borrowed the image below from Wine Folly, but imagine using something like this with the name of dishes you serve at the top and in each bottle you write the wines on your menu. Could be cool. NOTE: VERY MILLENIAL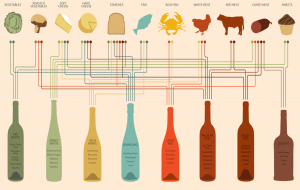 I guess at the end of the day what really matters is what is on the list rather than how it is listed. That being said, how do you prefer to read a wine list? I'd love to hear your comments.