Wine Tasting Notes for August 2012
WINE TASTING NOTES FOR AUGUST 2012
My intention in posting my wine tasting notes is to give a brief description of some of the many wines I come across over a months time. Some wines will make the wine list and others will not. Choosing one wine over another for the list, comes down to what holes need to be filled. Keeping my notes online allows me to access them for future reference.

I do not want to rate wines on a point system. There many flaws with the point system, I merely want to give the reader a description of my interpretation of the wine on a given day. Wines are always changing, we are always changing and what comes across as unpleasing one day can be enjoyable the next. I want to give the reader an insight in to what the wines taste like rather than attaching a subjective score to them. Winemakers and wineries work hard and are very proud of their juice. I will evaluate their product, but I will not trash it. There are times when I can't hold back and if I really like something, I will write "Yummy" or "Delicious". I hope you enjoy my notes.
Cape Mentelle Sauvignon Blanc/Semillon Margaret River Australia '11 
From Western Australia, this white is made up of 51% Sauvignon Blanc and 49% Semillon.  It has aromas and flavors of white pitted fruits, citrus, grass and mineral.  These Bordeaux blanc style wines can get weighty and loose that racy Sauvignon Blanc edge.  However, this wine is all about the SB! Semillon is heavy handed only by percentage, in the glass the wine is racy and expressive with high acidity.
Retail $15
Domaine Chandon Cabernet Sauvignon Napa '09
What has always been known as a sparking wine house, is now entering the market with a wine true to it's region. Most do not realize that the vineyards planted on the estate are of Cabernet Sauvignon.  What was once sold to other wineries is now being held for their own expression of Yountville Cab.  It has aromas of black fruit, cassis and satsuma plums.  On the palate it comes across as being floral, rich with smooth tannins.  The oak comes through as cocoa and roasted nuts.  This wine will be seen on many by the glass lists, keep an eye out for it.
Retail $22
Marius by M. Chapoutier France '10
This Rhone style red comes from one of the most important house in the Rhone, Chapoutier.  It's a label that is affordable and approachable to the new world. It has a grapey aroma with the scent of a barrel room.  It expresses fruit flavors of red berry, blackberry, blueberry and other black fruits.  It is more expressive on the palate than on the nose.  Fun little Rhone.
Retail $14
—————————————-
ENKIDU
The Enkidu winery is owned and operated by Phillip Staehle.  He worked at  Chalone with the late Dick Graff.  He sources his fruit from vineyards that are conscientious of the land and are true to the varieties they grow.  His wines in general are well structured, restrained and show great texture.
Enkidu Sauvignon Blanc "Kick Ranch" Sonoma Coast '09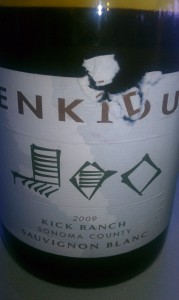 This is the way I like my new world SB, not grassy! It has aromas and flavors of grapefruit, lime and melons.  It is rich and bright on the palate and retains great acidity.  It does see a little oak, just enough to rounded it out.
Retail $15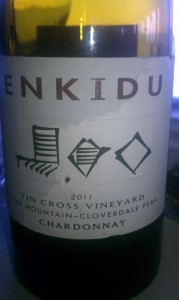 Enkidu Chardonnay Tin Cross Vineyard Pine Mountain-Cloverdale Sonoma '11
From one of the newest AVA's in Sonoma at 2,000 ft elevation, this Chardonnay is true to itself. It does not see Malo but spends 30% of its time in new French oak.  The more prominent aromas are of mineral and herbal notes like mustard grass. The fruit is expressive and shows the traditional pear, apple and citrus flavors. The wine is clean and bright with excellent acidity.
Retail $28
Enkidu Pinot Noir Sonoma Coast '09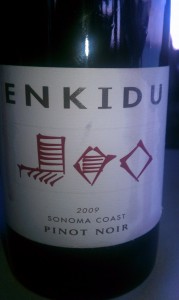 The wine is light colored with hints of garnet and made with the Pommard clone.  It has aromas of roses, cranberry and  cloves.  The fruit is bright on the palate and the baking spices add complexity.  There is an underline flavor of mineral, similar to red bricks.  The wine is lean but mean with a long finish.
Retail $25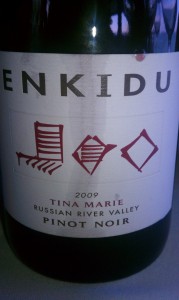 Enkidu Pinot Noir "Tina Marie" Russian River '09
This Pinot Noir is sourced from the Tina Marie vineyard in Green Valley wish is planted to Dijon clones.  It sees 30-40% New French oak and is unfiltered.  Where as the Sonoma Coast Pinot was about the red fruit and spice this wine has a darker nature.  The aromas are more leafy and floral.  although it expresses a generous amount of red fruit, it also has an intensity of dried fruit.
Retail $42
Enkidu "E" Cabernet Sauvignon Napa '09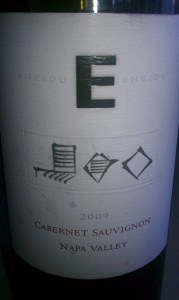 The grapes are sourced from the Tamber Bey Vineyard and see 15% new oak.  The wine is aromatic with aromas plum, blackberry, cassis, red cherry and olives.  It has a medium body with a long toasty finish of cocoa and coconut.
Retail $24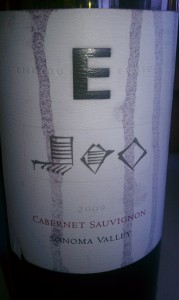 Enkidu "E" Cabernet Sauvignon Sonoma Valley '09
The fruit is sourced from both mountain and valley vineyards and 10% Petite Sirah is added.  It has aromas of prunes, plums and an animal aroma that just makes it that much cooler.  There are hints of raspberries and it is elegant on the palate.  It finishes with flavors of cocoa and menthol.
Retail $24
Enkidu Zinfandel Red Hills Lake County '10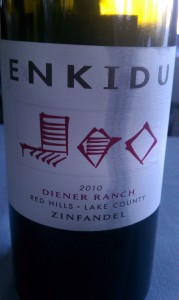 This Zinfandel is co-fermented with 10% Petite Sirah and aged in 25% 1 year barrels.  This Zinfandel is not like your big alcohol bombs.  It has black fruits with earthiness.  It is juicy, but not flabby and has flavors of leather and other secondary and tricerary flavors.
Retail $20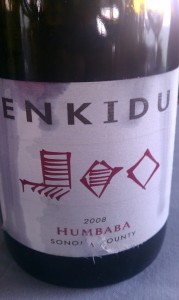 Enkidu Rhone Blend "Hubaba" Sonoma County '08
The blend is made of 55% Syrah, 33% Petite Sirah and the remainder of equal parts of Grenache, Counnoise & Mourvedere.  It has aromas and flavors of violets, blueberry, ripe blackberry, strawberry and lavender. Fun!
Retail $28
————————————————
Les Cadrans de Lassegue St. Emilion Grand Cru Bordeaux France '08 

This right bank Bordeaux is made up of 60% Merlot, 30% Cabernet Franc, 10% Cabernet Sauvignon.  It has fruit forward aromas of blueberry, plum and grape skin.  It is rich and full bodied with a subtle hint of saddle and dusty notes.  It also shows its fair share of red fruits and finishes with a long nutty finish.
Retail $30
Le Blanc du Grand Cres Roussan-Viognier Languedoc '10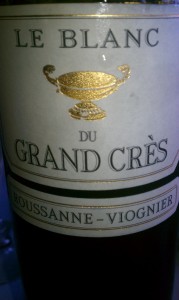 The wine comes from the hills in the Corbieres and is imported by a San Diego wine shop owner, George Gelman from the Grape Connection.  He stumbled upon this winery while dining in the South of France.  He asked the waiter where he could find the winemaker.  One thing led to another and George began to import this little gem.
It has an aromatic nose of pear, apricot and slight petrol.  The wine sits full on the palate with a waxy texture and shows ripe fruit and floral notes.
Retail $ 18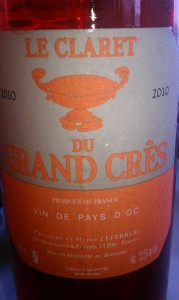 Le Rose de Grand Cres Cabernet Sauvignon Rose Vin de Pays d'oc '10
This fair priced rose shows smoke, red cherry, watermelon and earth.  It is a full bodied rose and it to sits waxy on the palate with plenty of mineral.  It even has a salty character.
Retail $10
———————————————–
Vallevó Trebbiano D'Abruzzo '11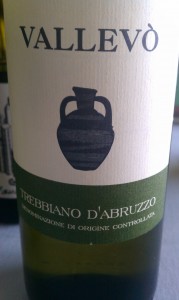 Want a summer white at a great price, here it is.  It is floral, with aromas and flavors of apricot and white peach.  It has a zing of citrus and passion fruit.  The acidity is high which makes this wine very refreshing!
Retail $8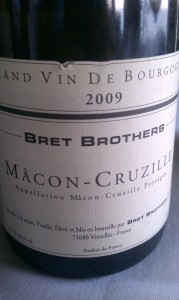 Bret Bros. Macon-Cruzille Burgundy '09
A perfect example of why the wine laws of Burgundy need to include premier cru status in the Macon.  Although they are a négociant they have their input on the farming decisions.  The grapes are farmed organically from 50-80 year old vines.  It has aromas of citrus, peach and slight sherry quality. It is plusher and fatter style due to the warm vintage, however it still has great acidity.  It finishes with tart fruits of passion fruit and green apple.
Retail $33
Fausse Piste "the mineral selection" Viognier Colombia Valley '11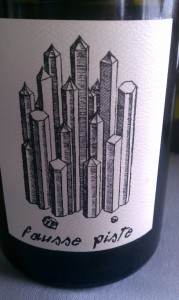 This wine is made by the chef at Owen Roe's Sausage Restaurant.  It has the Owen Roe influence, just look at the label.  It is very light of color almost clear, obviously no oak.  The aromas are of apple, melon, citrus and candied fruit like a sweet tart.  It so not like most Viognier, in that it is lean, crisp and almost green in flavors. Really cool stuff!
Retail $18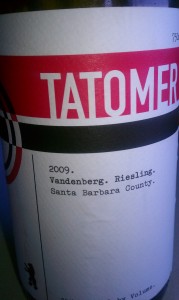 Tatomec Vandenberg Riesling Santa Barbara '09
The winemaker was a barrel manager at Brewer Clifton who went to Austria to learn how to make Riesling.  This is his project in which shows that Santa Barbara has Riesling potential!  It is herbal. mineral with candied sweet tart nose with honey. It is full on the palate with a waxy and petrol texture.  It is dry yet fruit forward with a lingering finish.
Retail $20
Ignaz Niedrist Schiava Sudtirol Kalteresec Auslese Vineyard Alto Adige '10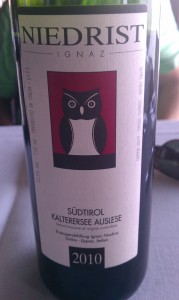 Schiava is a light red from the Alto Adige that dates back to the middle ages.  I found this to be so much fun!  It has a rustic red brick color with tart red fruit aromas with graphite.  On the palate it has a sherry character with fennel and oranges.  I love the minerality and it should be fun with lean game.
Retail $20
Domaine Alian Michaud Morgon Beaujolais '10
This wine has a ruby color with cherry fruit, boysenberry, violet and finishes fruity.  It is bright and a great example of good cru beaujolais.
Retail $20
J.K. Carriere Pinot Noir Willamette Valley '09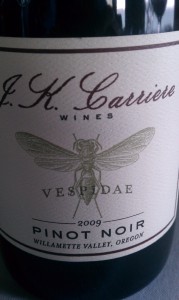 This wine is made by Jim Prosser who has made great Pinot in Oregon, New Zealand and Australia. This Pinot is juicy with flavors of cherry and raspberry.  It is also smoky and floral with great acidity.  I like how it finishes with a hint of soil showing a sense of place.
Retail $35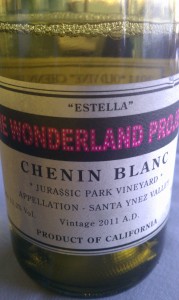 Wonderland Project Chenin Blanc Santa Ynez Valley '11
This wine is sourced from old vines and has a sweet tart candies aroma.  It is ripe with flavors of pitted fruits and honey.  This wine is made by one of our locals in San Diego, Matt Ahern.
Retail $18
———————————————- 
Nessa Albariño Rias Baixas '11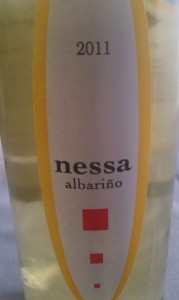 This mouthwatering Albariño has a medium body with flavors of lime, white flowers, tangerine and orange rind. It is lean, crisp and a good example of Albariño.
Retail $15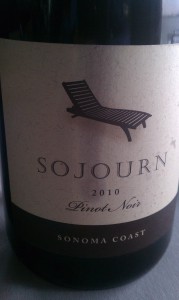 Sojourn Sonoma Coast Pinot Noir '10 
Winemaker Eric Bradley uses 50% new oak and keeps the juice un-fined and unfiltered. It has a forest floor aroma with red cherry, red plums and hints of violets.   It is a fuller and richer style of Pinot with good acidity.
Retail $35
Sojourn Sangiocomo Vineyards Sonoma Coast '10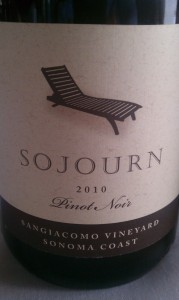 This too has that forest floor and fallen leaves aroma.  It is leaner than the Sonoma Coast with cranberry, strawberry and other red fruits.  It has a silky texture and the acidity is a lot brighter, however the fruit is still ripe.
Retail $42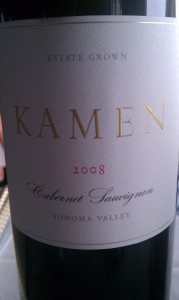 Kamen Cabernet Sauvignon Sonoma Valley '08
Robert Kamen wrote the script for one of my favorite films of my childhood, the Karate Kid.  His Winemaker is Mark Harold.  The wine is farmed biodynamic on volcanic soils next to the Monte Rosso vineyard.  The wine has blackberry, raspberry, red plum, cherry and cassis aromas. The tannins are drying and there are herbs and flavors of mint chocolate, mocha and a mineral character of charcoal. It's still a little hot and will lay down nicely.
Retail $65
———————————————
Alexandre Sirech le Bordeaux '10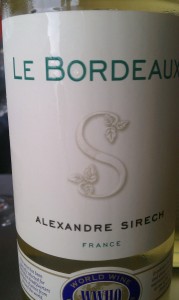 This white Bordeaux has been aged and fermented in stainless.  It is fresh with flavors of peaches, grapefruit and honey.  It shows minerals and high acidity.
Retail $12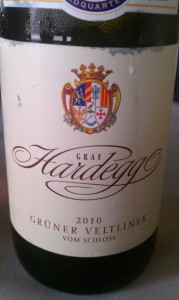 Graf Hardegg  Grüner Veltliner vom Schloss Austria '10
Vineyards are located in one of the largest appellations of Austria near Vienna.  The wine is tropical with aromas of banana peel and oranges.  It has high acidity with a medium body.  The finish is long with lingering flavors of pink grapefruit.
Retail $22
Alexander Sirech Rose of Merlot & Cabernet Franc Bordeaux '11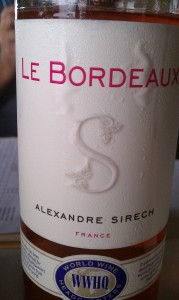 This light hued rose has aromas and flavors of cherries, violets and red bricks.  It is fresh and shows a generous amount of red fruit.
Retail $14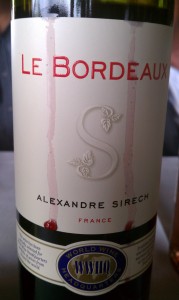 Alexander Sirech le Bordeaux Rouge '09
This is made up of 65% Merlot and 35% Cabernet Sauvignon.  It sees 8-10 months of 1-2 year old barrels. Along with the fruit aromas of cassis and plum, it also has aromas of pencil shavings and black olives.  It is soft and plush on the palate with a gritty minerality and cocoa finish.
Retail $14
—————————————————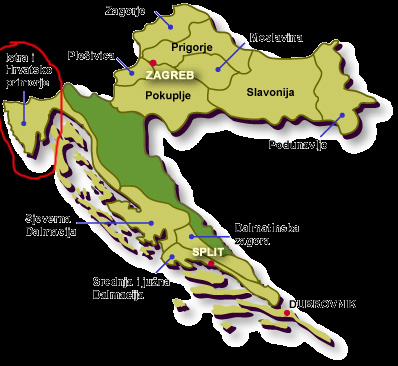 These Croatian wines are unique to San Diego in that they are being imported directly to Escondido.  The region is Istria along the west coast of Croatia.  Malvasia from this region has been getting attention throughout Europe for it's high quality.   The Teran grape is indigenous to this region  and dates back to 600 years.  It has  been thought to have medicinal qualities because it is rich in iron.
Cattunar Malvazija Istaska Croatia '11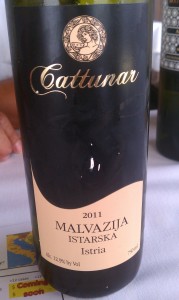 This white is very aromatic with aromas of honeysuckle, gardenia and green apple. The acidity is racy and edgy which I would not expect.  On the palate the fruit is of white pitted candied fruits. Very fun, and fantastic expression of Malvasia.
Retail $13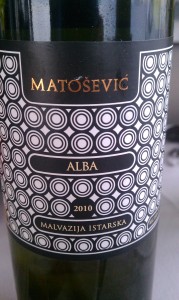 Matoševic Alba "Malvazija" Istarska Croatia '10
This Malvasia is fermented in stainless.  This wine is more yellow in color than the previous.  It too is aromatic with honeysuckle, tropical fruits, orange peel and grapefruit.  A good balance of rich fruity flavors and tart malo flavors.
Retail $16
Matoševic Grimalda Istarska Croatia '09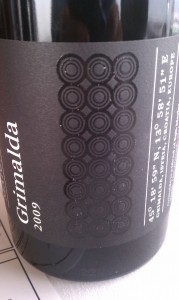 This is made with 85% Merlot and 15% Teran. It is aged for 15 months in French oak. This is a good introduction for the new world palate into Croatian wine.  It has berry aromas of bing cherry, blueberry, raspberry and plum.  It is plush and juicy.  On the palate everything starts to change and I find interesting flavors of parsley, chamomile tea leaves, mint and earthy notes.
Retail $33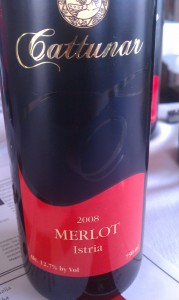 Cattunar Merlot Istria Croatia '08
This Merlot sees both stainless and new oak.  It has a ruby color with garnet rim.  It has an earthy aroma, almost brett-like and saddle.  It is light on the finish and lacks  complexity.
Retail $14
Cattunar Teran Istria Croatia '09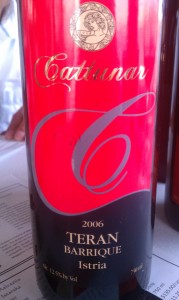 This an un-oaked version of Teran.  It has a ruby color with highlights of magenta.  It has fruit flavors of blueberry, blackberry with floral notes of lavender and violets.  It reminds me of a Cru Beaujolais.  Drinking this wine with a chill in the summertime would hit the spot.  The wine stays with you and finishes with the flavor of rhubarb pie.
Retail $13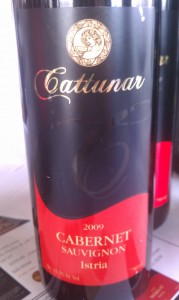 Cattunar Cabernet Sauvignon Istria Croatia '09
This Cabernet is lighter than what most would expect.  It's color is ruby with a garnet rim.  The fruits are of red cherry, plums and mixed berries.  Although it spends 15 months on oak, the wine is all about the grape.  It is fruity with long finish of minerals and sharp acidity.  It is enjoyable to taste a Cabernet that just tastes like wine and not oak.
Retail $15
———————————————
Chateau Grimard Bordeaux '11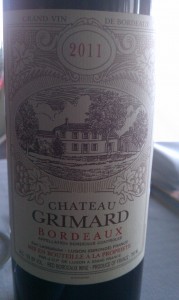 This un-oaked Bordeaux is made of 80% Merlot and equal parts Cabernet Franc and Caberner Sauvignon.  It has flavors of blueberry, cassis, plums, chocolate and finishes tart.
Retail $10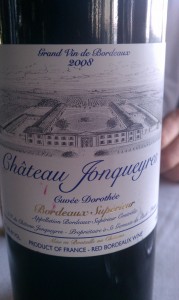 Junqueyres Bordeaux Superieur '08
85% of this wine is aged in cement vats and and the rest in new, 1 year and 2 year barrels.  It is made of 85% Merlot the rest Cabernet Franc.  It is earthy with fennel and other herbal aromas.  It also shows a turned earth aroma backed by black fruits.  It finishes with mocha flavors, drying tannins and tart plum skins.
Retail $15
Van Zellers "Rufo" Douro Portugal '08 
This is made by Christian Van Zeller of the same family that owned Quinta do Noval.  This is a field blend that features a variety of Portuguese grapes including Touriga Nacional and Tinto Roriz. It has a deep purple color with dark fruit aromas of prunes, blackberry and black plum.  It is toasty on the palate and finishes dry with nutty flavors.
Retail $14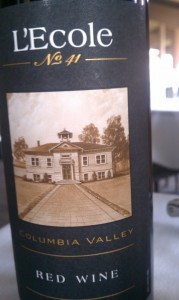 L'Ecole No. 41 Red Wine Columbia Valley '09
This is made of your traditional Bordeaux blend with the addition of Syrah.  It has aromas and flavors of cassis, boysenberry and cocoa.  It is an easy drinking red with hints of menthol on the finish.
Retail $18
————————————–
Hall Cabernet Sauvignon Napa '09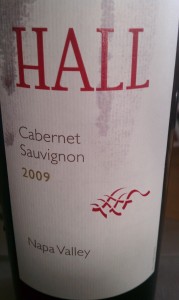 One of the higher rated wines of Napa, receives praise from the Spectator as one of the top wines. It is rich of fruit with blackberry, cassis, and red cherry.  There are mocha and cola flavors on the palate and it finishes ripe with dry tannins. Traditional Napa Cabernet.
Retail $39