Celebrating 100 Years with Centennial Wine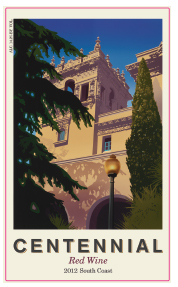 In 2013 I got together with Bailey Winery in Temecula to make a wine that would commemorate the centennial anniversary of Balboa Park.  Balboa Park is the pride and joy of San Diego.  The park was built in 1915 for the Panama-California Exposition.  Prior to its creation, Balboa Park was known as City Park.  Kate Sessions was instrumental in the planting its many gardens and trees.  When the city decided to host the Panama-California Exposition, they chose a Spanish-colonial design to honor of Vascos Nunez de Balboa, the Spanish explore who first spotted the Pacific Ocean on his way to Panama.  The park now houses the world-famous San Diego Zoo, the Museum of Man, The Natural History Museum, the Reuben H. Fleet Center, the Old Globe Theater and a slew of other fantastic museums and shops.  The main restaurant is the Prado which is part of the House of Hospitality.  The House of Hospitality is well-known for putting on some of the most beautiful weddings in San Diego.
When it came time to bottle another wine to commemorate the 100 year anniversary I decided to reach out to a San Diego vintner.  Bailey is fantastic and has a rich history in Temecula, but it is technically in Riverside county. This time I wanted to keep it local.  San Diego has a long and unfortunately, forgotten history of wine production.  I thought it would only make sense that we honor the prestige of Balboa PArk with a wine from one of the San Diego wineries who produces some of the highest quality wines, Fallbrook Winery.
Many San Diego vintners buy grapes from other parts of California to make their wines.  Many years ago, when Fallbrook Winery's vines were maturing, they made wine from Sonoma and other regions.  Today they are focusing on estate fruit.  Ira Gourvitz, owner of Fallbrook Winery has been a leader in promoting San Diego wines.  He runs one of the more successful wineries in San Diego.  You can find his wines on restaurant wine lists and in specialty wine shops.  Being that the San Diego wine market is very finicky, this is a true testament to the quality of his wine.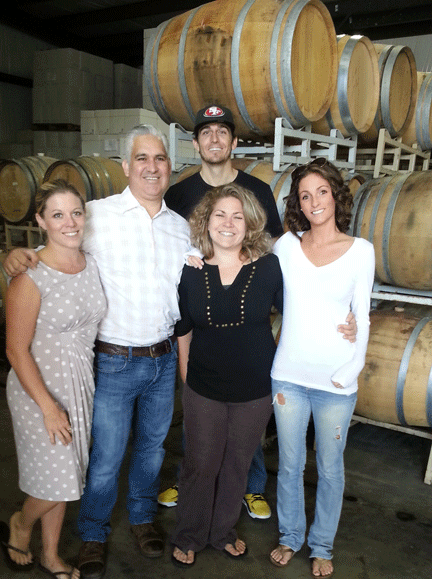 When deciding what to do for the Centennial wine round two, I looked for help from the management team at the Prado Restaurant.  I headed up to the winery to meet Ira and winemaker, Vernon Kindred and brought the Prado managers Cynthia Peterson, Mark Robertson, Tyler Chupp, Patty Urtado, Kaylla McAdams and Amanda Boies to make a wine that would be worthy of Centennial stature.  After hours of  tasting barrel samples from the 2012 vintage, we came upon the perfect blend.  We decided to make a Bordeaux style blend made of Cabernet Sauvignon, Cabernet Franc and Merlot.  The wine turned out great!
Juicy wine with aromas and flavors of blackberry, Cassis and plum.  There are notes of chocolate and toasted oak which give it richness. Like many wines in San Diego, there is mouth-watering acidity that gives if a lift in the finish.
The wine is now available at the Prado.  It is on the wine list for $40/bottle and $10/glass.  If you would like to take it home, they sell it at retail for $20.15.  Stop in and try a bit of history.