CRG Wine Month: Explore What You Love About Wine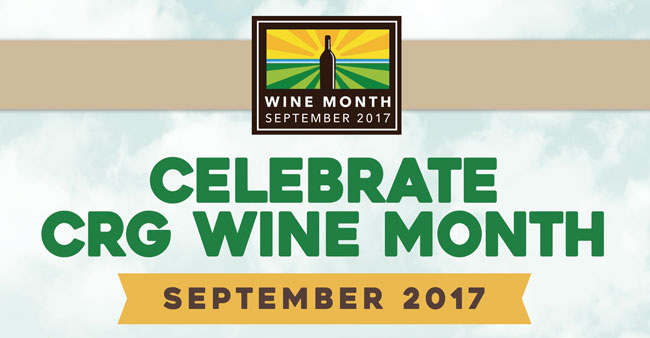 What do you love about wine? Is it the romanticism of drinking something that took a year to grow? Is it because it is a beverage balanced with alcohol, acidity and sweetness?  Or maybe you love that each time you drink wine you learn something new? Whatever the reason maybe, we all have one. Some of you may not be in love yet.  Hopefully, this month I can give you a reason to fall in love with wine.
I bring to you, CRG WINE MONTH. This September fall in love with wine. And for those of you who are already infatuated, its your chance to explore your feeling on a deeper level.  CRG WINE MONTH is a celebration of all things wine. My restaurants are offering promotions and specials such as roses for $5 a glass, $.10 glasses of wine and deep discounts on bottles during SD Restaurant Week.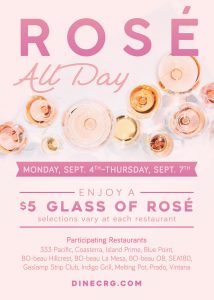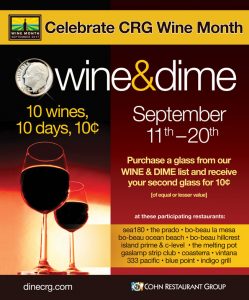 Food and wine lovers can experiment with thought out wine dinners.  Georges Daou will be at C-Level sharing his Paso Robles wines while overlooking the SD harbor and paired with Deborah Scott's creative dishes. In north county, experience wines from high elevation vineyards. Stonestreet Winery from Alexander Valley teams up with chef Steven Zurkey at 333 Pacific for a culinary experience in taste and elevation. I will be at Vintana Wine + Dine teaching how to blind taste, followed by a Blind Wine Dinner.  You won't know what you are drinking, but if you guess correctly you can win some fantastic prizes.  Wine is meant to go with food, and I plan on celebrating this to its core.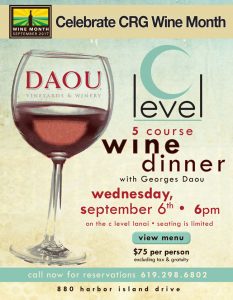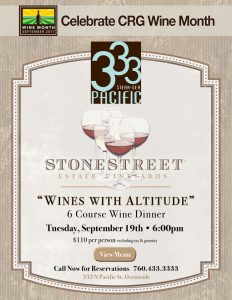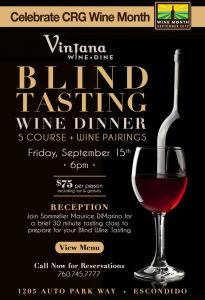 Learning is always fun. No matter how much you know about wine, there is always more to learn. To help you get on your way, I am holding a class on how to pair wine with food. There is a catch, I will be serving only Australian Wines. If you haven't heard what is going on down under, then you are in for a surprise. See what I am talking about here.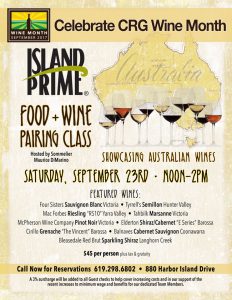 We cannot kick off a wine month without a festival. Whether you are looking for true love or a one night stand, The CRG Wine Festival is for everyone. Not only will we have live music, food, photo booths and wine tastings; but we are taking it to another level. There are interactive stations where you will get a chance to hone your skills and win tickets redeemable at the wine shop.  Get your friends together and participate in Family Feud. You can visit the bind wine tasting table, blind grape tasting table or blind aroma table. Maybe you 'd rather learn how to make wine or challenge yourself to blend my Baja wine, Costa Tierra. Afterwards, the wine shop will have wines for you to buy at ridiculously low prizes.  I guarantee when September is done, you will be on cloud nine with wine.