The Best Drinks of 2017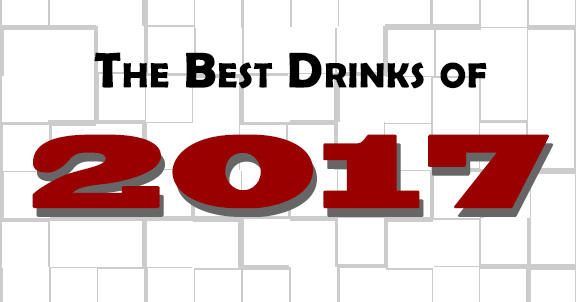 Do you remember the end of 2016, everyone was complaining that it was the worst year ever? 2017 rolled in as an extension of 2016 keeping everyone on edge.   2017 has been a tough one to swallow if we consider the state of affairs in politics, social-economic issues, racial and immigration tensions and the threat of nuclear war.  But I am a beverage guy and although I do think about these issues, I prefer to keep people's mind on the good things in life, fermented beverages. If I look back there where quite a few beverages that made me smile in 2017. In fact 2017 was actually a pretty good year to swallow.
What was good in 2017 is not the best stuff you will ever have, but the memorable beverages which made me smile. This day in age, that's all we can ask for, to drink stuff that makes us smile! I broke it down by month. These are my monthly highlights for 2017.
JANUARY
My  month of January is devoted to meeting with suppliers as I try to finalize our yearly program which goes into effect in April. These meeting consist of very little tasting as I had already tasted their products in December.  These meetings are merely to finalize the details of our program. However, last year while talking with a beer distributor, Craft Beer Guild, they showed me a line of new tequilas which they had just begun distributing. I was very impressed. So January goes to Villa Lobos Blanco.
FEBRUARY
I am not doing this for the plug, but it was really exciting to make the second vintage of Costa Tierra, and it came out even better than the first vintage. Costa Tierra is the wine I blended with my team, Ashley Phillips, Luis Garcia and Tammy Wong in Baja. It is a blend of Tempranillo, Cabernet Sauvignon and Barbera. You can find this at many of the Cohn Restaurants.
MARCH
I had two delicious wines this month. I tasted with a good friend of mine from San Francisco, Emily Wines MS who represents Skipstone Vineyards. The wines were big and delicious. However, they are not wines I can afford to drink all the time. So I decided to feature Jonata "Todos" Red Blend from Santa Ynez Valley. It too is expensive, but a bit less than Skipstone. I love wines from Santa Ynez Valley. I think they are some of the most balanced wines in California.
APRIL
During this month I was busy putting together the wine program for the new Bo Beau + Cache Restaurant. I was looking for inexpensive French wines I could serve by the glass for a budget minded neighborhood. I came across this wine from the Roussillon, it is what wine should be like. I really enjoyed the Carignan, however I ended up putting the Grenache Syrah blend on the menu. It made more sense the way the menu had come together.
MAY
In May I took a trip to the Alexander Valley and participated in the Alexander Valley Cabernet Academy. I met many winemakers from the valley and learned about the unique terroir and geology of the region. One wine stood out from the rest. The Hawkes Stone Vineyard Cabernet Sauvignon.  I was so impressed with this wine I later used it as a sample in my California Wine class at SDSU to show the difference between Napa and Alexander Valley.
JUNE
Every 4 months I sit down with my team at Coasterra and select a single barrel from Casa Noble Tequila. Our good friend Lisa Hickson brings us several barrel samples. We taste each one side by side and see which barrel is best suited for our program. We look for two things, a tequila that makes a great sipper but also one that stands out in our Noble Margarita. It's not easy. This June I found my favorite barrel to date, barrel #641.
JULY
This is a tough one. I spent July in Spain and Italy. I visited Arinzano Winery  in Pamplona where I came across some of the best wines in the region of Navarra. The wine which stood out was the Arinzano Chardonnay. Who would have thunk that Spain made delicious Chardonnays. However, I must make another shameless plug for the Pinot Grigio a sourced while in Italy. Marevento is a Pinot Grigo from Delle Venezia and is an easy drinking crisp wine. It is not complex, but it can only be found at the Cohn Restaurant Group. This wine was sourced from a small family winery, Domus Vini who has been growing grapes since 900 ad.  From one small family to another small family, this wine fit in perfectly at the Cohn Restaurant Group.
AUGUST
In August I had the pleasure of sitting down for a blind tasting dinner with Matt Lane, VP of the Americas for Torbeck Vineyards. Matt sourced some of the best expressions of Rhone style wines in the world such as Grange, Cote Rotie and Sadie Family's Columella and put them up against Torbreck wines . All were fantastic, but the wine that stood out was Torbeck "The Pict" Mourvdere from the Barossa Valley in Australia. It was a fantastic expression of a Rhone variety in the new world.
SEPTEMBER
August and September were really tough. I tasted so much cool stuff. I actually think that Torbreck was at the end of July and not August, but that would mean I could not put my shameless plug from July. Other great swallows in August and September were You and Yours Gin, a local gin in downtown SD.  I went to LA to taste Rieslings with Rudi Weist and had some stellar wines such as 2012 Siefersheimer Hollberg GC, Gunderloch Pettenthal GG 2016 and Sauer OVO Sylvaner. I had a $300 Tequila, Casa Dragones Joven and Silver. But I decided to list Resident Brewing Chasing Citra IPA. I love beer and drink probably more beer than anything else. I also like beer that is balanced and true to style. Their Perky Blonde is an excellent blonde, but the Chasing Citra is what I would order.
OCTOBER
Somm Con was right around the corner and I had to get ready for my Agave Seminar. I met with Jaime Mateo from Los Javis Distillery to look over the selections of Mezcals we were going to show at the seminar. I had tasted with Jaime before and this time was no different from the rest. Again the Mezcal which stood out was the Los Javis Tobala. The Tobala is a wild agave which grows in the high mountains of Oaxaca in among boulders and cracks in the hillsides. It can take up to 20 years to mature. And when it does, the piña remains small, like a basket ball with intense flavors.
NOVEMBER
Well this is going to be tough. This was the month of Somm Con. I tasted so many great wines at Somm Con, this is a very difficult task. Wines like Torello 225 Cava de Paraje Calificada Brut nature 2013 and Freixenet Casa Sala Cava de Paraje Calificada Brut Nature 2007 which Marnie Old showed in her Cava seminar were definite stand outs. Brouilly Jean-Louis Dutraive Domaine de la Grand 'Cour Vielles Vigne 2015 was delightful. The Albariño seminar with Jill Zimorski turned me on to Pazo Senorans Selección Anada 2009. Esteban's Morale's Derrumbas Blue Webber Mezcal from Zacatecas was also mind blowing. However, the best thing I swallowed was on my time off with Kevin Aarestad at the Aero Club. He bought us two glasses of Hibiki 17yr and Hibiki 21 yr Japanese whiskies. Although the 21 yr was more expensive and it had much more oak influence. I really enjoyed the 17 yr, it really showed the magic of Japanese whisky. That being said, it is not everyday you get taste to a 21 yr old Hibiki, so that is the best thing I swallowed in November.
DECEMBER
December 3rd was #SDSOMMDAY. #SDSOMMDAY is a day when many of the San Diego's sommelier get together and share bottles. This year it was held at Juniper and Ivy. Thank you to Brandon Bohgosian for hosting us and Max Kogod for organizing this affair. As one might imagine there was great juice being poured that afternoon. However, in the midst of Burgundy, Etna and Riesling one wine blew me away. The Raul Perez Albarin Blanco from Northwest Spain in an area known as Tierra de Leon, was mind-blowing.  Albarin Blanco is not Albariño, some believe that it could be closely related to Savagnin and was brought to Spain by French winemakers after the phylloxera attack at the end of the 19th century.  This wine is special in that Raul Perez takes on a whole other approach to white wine production. After fermentation the wine spends 4-5 years under Flor (a film of yeast laying over the wine sealing it from oxygen commonly used in Sherry production).   I'll say it again, this wine was mind-blowing; it made me smile from ear to ear.